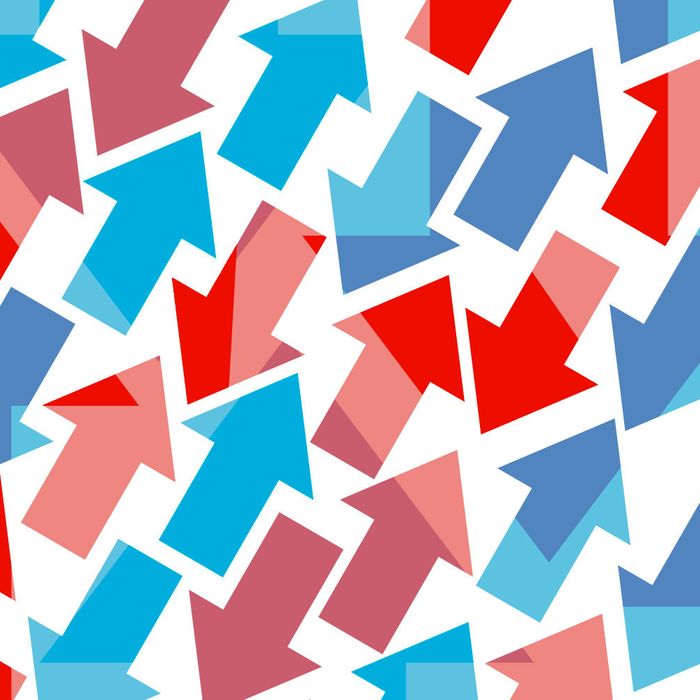 Soon the polls will be replaced by actual results.
Illustration: Jed Egan/Intelligencer
With many final polls in the field, under preparation or already released, we're getting a penultimate take on many key races, but it's not too late for last-minute trends.
1. Most Important New Poll(s):
A new survey from the gold-standard Marquette Law School poll shows Wisconsin governor Scott Walker dead-even with Democratic challenger Tony Evers. Emerson also has a battery of new surveys from three little-polled New England gubernatorial races. Democrats have solid leads in Connecticut, where Ned Lamont leads Bob Stefanowski by a 46-to-39 percent margin, and in Maine, where Janet Mills leads Shawn Moody by 50 to 42. But in New Hampshire Republican incumbent Chris Sununu leads Molly Kelly by 51 to 43.
2. Big-Picture Polls:
The generic congressional ballot seems to have really stabilized this week. Democrats hold a 7.5 percent advantage in the RealClearPolitics averages (it's ranged between 7.3 percent and 7.7 percent the last two weeks), and an 8.5 percent advantage in the FiveThirtyEight averages (it's varied from 8.3 percent to 8.6 percent the last two weeks). The same is true of the president's job approval rating, which is at 43.9 percent at RealClearPolitics (exactly where it was at the beginning of October) and 42.2 percent at FiveThirtyEight (exactly where it was on October 5).
3. Best News for Democrats:
In the Third Congressional District of Kansas, based in suburban Johnson County, incumbent Republican Kevin Yoder is getting waxed by Democratic political newcomer Sharice Davids, a Native American, a lesbian, and a former professional mixed-martial-arts fighter. She's been leading for a while, but her margin in a new Emerson College poll — 55 to 43 — is amazing for Kansas. A runner-up in good news for Democrats involves the growing signs that Ben McAdams has a real chance to upset Republican incumbent Mia Love in Utah's Fourth District; he led her 50 to 43 in a new Dixie Strategies/KUTV survey.
4. Best News for Republicans:
New polls in relatively underpolled states confirm GOP leads in key Senate races. In Tennessee, NBC/Marist has Marsha Blackburn over 50 percent and leading Phil Bredesen by six. And in North Dakota, Trafalgar Group shows Kevin Cramer leading Heidi Heitkamp 54 to 45 in a large-sample poll.
5. Biggest Outlier:
A new Berkeley IGS poll of California shows Senator Dianne Feinstein's lead over fellow Democrat Kevin de Leon dropping into single digits (45 to 36) with a dangerously high number of undecided voters (19 percent). A big chunk of these undecideds, however, is concentrated among Republicans who say they aren't inclined to vote for either Democrat, but a last-minute anti-incumbent lurch against Feinstein could make things weird on November 6.