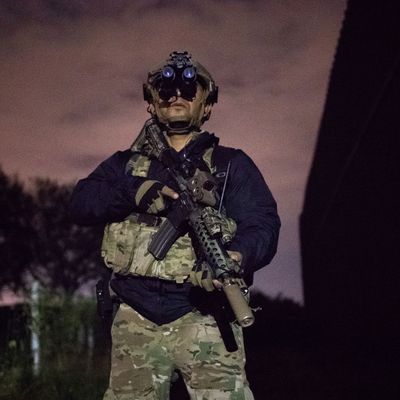 Agent Alex Suarez with the U.S. Border Patrol Tactical Unit guards the U.S. side of the border wall with Mexico in Brownsville, Texas, earlier this month.
Photo: Adrees Latif/REUTERS
The Republican Party believes that it would benefit them, politically, if thousands of criminal aliens stormed across the U.S. border right before Election Day, at the behest of the Democratic Party.
So, the president of the United States has spent the past several weeks claiming that Democrats are orchestrating an "invasion" of the United States, using a caravan of Central American asylum-seekers, Middle Eastern terrorists, and known criminals as its shock troops.
The White House knows that this is a ridiculous lie (one that just so happens to have neo-Nazi undertones). But, as a senior administration official recently told the Daily Beast, "It doesn't matter if it's 100 percent accurate. This is the play."
And so, the president will bring his "play" to a climax right before the midterm elections, by sending 5,200 U.S. troops to the border for no defensible reason:
The Defense Department will deploy at least 5,200 active-duty troops to the southern border by the end of this week to help harden security there, officials announced on Monday, part of an election-season response by President Trump to hold off a group of Central American migrants moving north through Mexico.




An initial group of 800 soldiers already is heading to Texas from Fort Campbell and Fort Knox, according to Terrence J. O'Shaughnessy, the commander of the United States Northern Command.
To see why this is nothing more than a political stunt, consider the following facts:
• After reaching a peak of around 7,000, the migrant caravan has already thinned to a core of about 3,500 asylum-seekers — who are themselves still 900 miles from the southern border of the U.S. Which is to say: It is not clear how many (if any) members of the caravan will actually reach the border, nor that they will do so within the next week.
• U.S. soldiers are not allowed to enforce civil immigration law, and thus, cannot actually assist border patrol in arresting migrants if they do reach the border and cross it illegally.
• There is no evidence that the caravan is populated by any significant number of violent criminals; by all accounts, the vast majority are families fleeing persecution, gang violence, or economic hardship in the Northern Triangle. Those fleeing violence or persecution have a legal right to seek asylum in the U.S. — and existing law requires them to set foot on U.S. soil before they can invoke that right. Which is to say: The migrant caravan is a legitimate enterprise, and there is no basis for thinking that its members will behave any more violently or uncontrollably than previous waves of asylum-seekers have.
• Thanks to Trump's draconian cuts to refugee admissions, even if the U.S. did rubber-stamp every migrant's claim to asylum, our country would still take in fewer displaced people this year than it did in 2017, or any other year, going back several decades.
So: It is not clear that these migrants will ever arrive at the U.S. southern border; if they do, they have legal right to seek asylum and there's no reason to believe they will assert that right in anything but a peaceful manner; America is perfectly capable of absorbing another 3,500 asylum-seekers; and even if none of those things were true, U.S. soldiers still wouldn't be able to provide anything but logistical support to border patrol — and it's hard to see why 5,200 troops are needed to serve that function.
But it's relatively easy to see why a political party that believes it can only win elections by sowing paranoid fear would want to engineer headlines about 5,200 troops headed to the border to counter the migrant "invasion" shortly before Election Day.