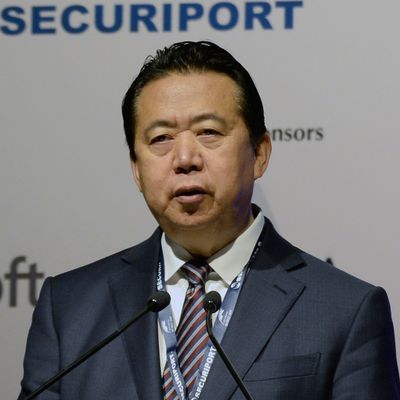 Meng Hongwei, president of Interpol, giving a speech in 2017.
Photo: AFP Contributor/AFP/Getty Images
Meng Hongwei, the president of the international law enforcement agency Interpol who mysteriously disappeared last week, was missing because he was detained by the Chinese government. On Sunday night, three days after Meng was reported missing, the Chinese Communist Party announced that he had been detained as part of an investigation by the party's corruption and loyalty watchdog, the Central Commission for Discipline Inspection. which suspected him of "violating the law.' " On Saturday, Interpol had demanded that China provide information about Meng's whereabouts, but officials in the country, which is currently celebrating a weeklong holiday, did not reply. On Sunday, after Meng's detention was confirmed, Interpol then announced that he had resigned from his post effective immediately.
The last person in contact with the 64-year-old Meng was his wife,
Grace, who told reporters before China's announcement that she had received a WhatsApp message from him containing nothing but a knife emoji after he had arrived in China, which came several minutes after a message which said, "wait for my call." When she heard nothing more, she alerted French police and reported him missing on Thursday.
The secretary general of Interpol heads the agency, while Meng had the symbolic but powerful position of running its executive committee, which works on official strategy. He was the first Chinese national to hold the position, which he was appointed to in 2016. And though Meng lives with his family Lyon, France, where Interpol is headquartered, he also retained an official role in China as the country's vice minister of public security. In the end, China clearly decided that his role at Interpol did not prevent them from detaining him and not even admitting it for days. China has been known to carry out such detentions for years. It is not yet clear what Meng did to make himself a target.
Interpol still hasn't confirmed whether or not he was visiting China on agency business. CNN reported earlier Sunday that the way Meng went missing was, in fact, pretty common when senior officials of China's ruling Communist Party are accused of violating its rules. The South China Morning Post, a newspaper known for its connections to China's government, itself reported that Meng had been detained for questioning by upon landing in China last week, and indicated he may have been the target of an ongoing anti-corruption campaign in the country — a campaign which Chinese president Xi Jinping has used to consolidate his power. In fact, according to the Times, Meng's presidency had alarmed some human rights groups at the time he was appointed, as they worried he would use Interpol resources to help China go after dissidents abroad.