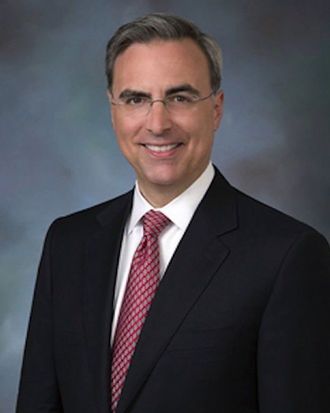 Pat Cipollone will replace Don McGahn.
Photo: Stein Mitchell Cipollone Beato & Missner LLP
In a recent interview with The New York Review of Books, John Dean said the role of White House counsel has evolved considerably since he held that post in Richard Nixon's administration. "When I was there, Nixon thought I was his lawyer," Dean said, noting that the president had him run "personal" chores as if he were his private attorney. "That was resolved post-Watergate," Dean added. "Under today's practice, the client of the White House Counsel is not the president, but rather the Office of the President."
It is far from evident that Donald Trump has learned that lesson in the 21 months he's been in office. But if he hasn't by now, chances are he won't no matter whom he chooses to replace Don McGahn, his outgoing White House counsel and an enabler of some of his worst excesses. For some time now, I've been one of McGahn's most vocal critics; right down to his handling of the nomination of his friend Brett Kavanaugh, he was pulling all sorts of institutional tricks to score one for Trump, like pushing for the judge's appearance on Fox News and limiting the FBI's role as it reopened a background investigation on the embattled Supreme Court nominee.
With Kavanaugh now seated, all of that is water under the bridge, clearing the way for McGahn to leave his tumultuous tenure behind and for the White House to settle on a new chief legal officer. On Tuesday, President Trump confirmed recent reports that he's chosen Pat Cipollone. The longtime Washington lawyer has deep expertise in complex litigation, regulatory matters, and what his law firm's website calls "defamation counseling" — he seems to be the type of lawyer you want in your corner if media organizations are out to get you with unsavory stories.
That may be one reason animating Trump's choice of Cipollone, who otherwise doesn't come across like a power player in Republican politics, Washington kingmaking, or McGahn's tight-knit circle at the Federalist Society; a search for his name on the organization's website, which includes such figures as Kenneth Starr and George Conway in its ranks, yields zero results. That's not to say Cipollone is a government neophyte — his service in the Department of Justice under George H.W. Bush earned him an "excellence in management" award, according to his biography. So at least he knows something about leading an office made up of other lawyers, a skill that could have come in handy as an inexperienced McGahn navigated the treacherous legal waters of Trump's early days as president.
More significantly still, Cipollone may be just what the Trump White House needs as it braces for a changing of the guard in Congress. If polls and prediction models hold, Democrats are expected to take over the House of Representatives, which means lawmakers will soon reclaim their oversight role — largely dormant in a Trumpified Congress — and begin investigating the host of controversies that have beset the Trump administration since day one. That's also an area Cipollone is familiar with — his résumé lists "congressional investigations" as one of his strengths, which Lord knows he'll need as the White House begins to get bombarded with subpoenas and document requests about matters big and small. As one Trump associate put it to the Washington Post in August: "Winter is coming."
And yet very little of the projected storm and how the White House protects itself seems to be on the radar of congressional Republicans. To them, the White House counsel's office exists for one and only one purpose: confirming judges to lifetime appointments. And so when Mitch McConnell declared that McGahn's departure would represent "sad news for our country" and a loss for the Trump administration, all he meant was that his man in the White House pushing Kavanaugh, a few bad apples, and a record-breaking slate of judicial nominees would no longer be there.
Is Cipollone up to the task of continuing the breakneck transformation of the federal bench? Unnamed sources told Axios over the weekend that he is. One of those sources just may be Leonard Leo, the Catholic fundamentalist who heads the Federalist Society and a Trump whisperer on judicial nominees. The National Law Journal reported on Monday that he and Cipollone sit on the board of directors of the Catholic Information Center, whose mission is to make "the Catholic Church alive in the hearts and minds of men and women living and working in our nation's capital."
If Cipollone and Leo are as close as their shared commitment to Catholic values suggests, then the fix is in: You can expect Cipollone to pick up right where McGahn left off — and to choose judicial candidates from the same largely white, largely male conservative brain trust that gave us Brett Kavanaugh, Neil Gorsuch, and about one-sixth of every federal appeals judge now serving in the country.
All bets are off as to everything else — and with a client like Trump, who won't really be Cipollone's client as far as protecting the White House is concerned — we can expect yet another wild ride. Neil Eggleston, President Obama's last White House counsel and a former colleague of Cipollone's at Kirkland & Ellis, a white-shoe law firm, told New York that he has high hopes for him. "Pat is an excellent lawyer and is used to high pressure situations," he said in an email. "I hope we will see greater respect for the institutions of government, including the DOJ and the FBI, during Pat's tenure than we did under his predecessor."