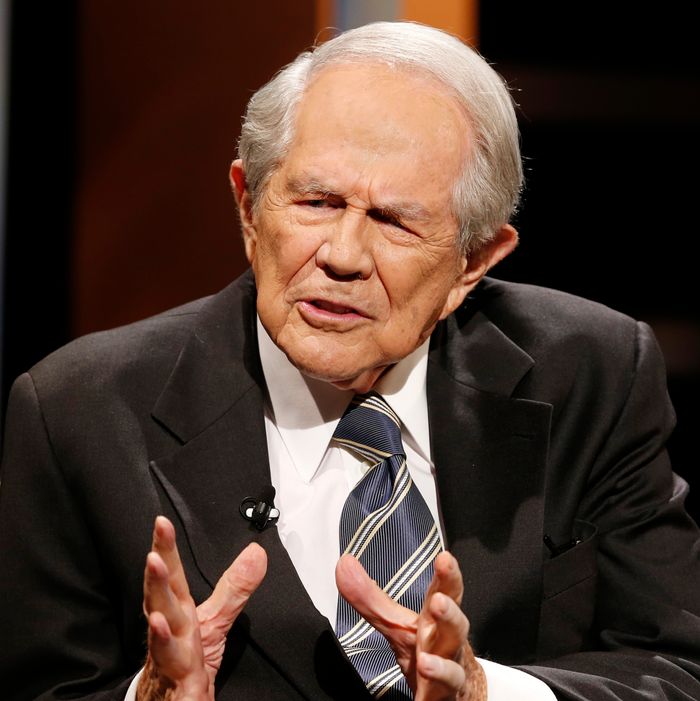 Pat Robertson at a presidential candidate forum in Virginia Beach, Virginia, on October 23, 2015.
Photo: Steve Helber/AP
There's nothing new about Christian right warhorse Pat Robertson saying offensively stupid things about politics that make you worry about his idea of Christianity. His infamous post-September 11 colloquy with Jerry Falwell blaming the catastrophe on America's tolerance for abortion and homosexuality was about as bad as it gets. On another occasion he suggested that Israeli prime minister Ariel Sharon's debilitating stroke was attributable to divine anger over his "dividing God's land" by ceding Gaza to Palestinians. He's also claimed that last year's massacre in Las Vegas was ultimately caused by "disrespect for authority" — and disrespect for President Trump.
Now the CBN founder has gone on his network to counsel caution in sanctioning Saudi Arabia over the apparent murder of journalist Jamal Khashoggi. His rationale was rather interesting for a Man of God, as Vox notes (based on reporting from Right Wing Watch):
Pat Robertson, founder of the Christian Broadcasting Network, appeared on its flagship television show The 700 Club on Monday to caution Americans against allowing the United States' relationship with Saudi Arabia to deteriorate over Khashoggi's death.




"For those who are screaming blood for the Saudis — look, these people are key allies," Robertson said. While he called the faith of the Wahabists — the hardline Islamist sect to which the Saudi Royal Family belongs — "obnoxious," he urged viewers to remember that "we've got an arms deal that everybody wanted a piece of…it'll be a lot of jobs, a lot of money come to our coffers. It's not something you want to blow up willy-nilly."
You have to figure Robertson got this idea from Secretary of State Mike Pompeo, who recently quashed staff concerns about the horrific civilian casualties accompanying the U.S.-backed Saudi war in Yemen on grounds that it "could undercut plans to sell more than 120,000 precision-guided missiles to Saudi Arabia and the United Arab Emirates." Or President Trump, who just shot down the idea of withholding future arms sales to Saudi Arabia over the journalist's killing, saying that "would be hurting us." Robertson probably finds it easy to adopt the views of his friends in the Trump administration.
You could argue, though, that the 1988 Republican presidential candidate (he finished ahead of ultimate nominee George H.W. Bush in Iowa) has by now become so contaminated by politics that he sees nothing wrong with an alleged follower of the Prince of Peace fretting about weapons sales in order to defend a a murderous authoritarian regime. It's the same twisted thinking that led him to call Trump "God's man for this job." Robertson is free to prefer the administration's policies at home and abroad. But he should really, really leave God out of it.