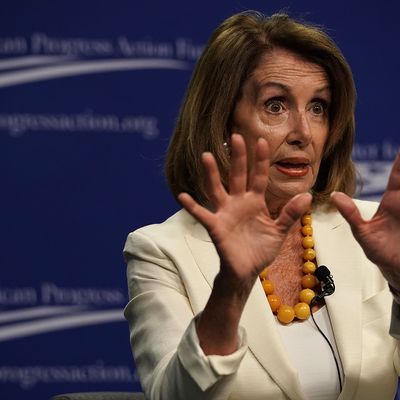 Nancy Pelosi is ready to go, but not just yet.
Photo: Alex Wong/Getty Images
One of the abiding realities of this 2018 midterm election is that Republicans just can't get enough of bashing House Democratic Leader Nancy Pelosi. Her image has adorned thousands of nasty attack ads, sometimes supplemented with attacks on her city (San Francisco), which even Republicans love to visit. As you can imagine, she relishes beating these people on November 6, and then enjoying the discomfort of the haters everywhere when she takes the House gavel from Paul Ryan.
But Pelosi also understands the discomfort her reputation has caused many Democratic congressional challengers — roughly one-third of whom have declined to express support for Pelosi's return as House Democratic leader after the elections (the balloting for party leader will occur in November) — about the same percentage as that of the actual members who voted for Tim Ryan instead of Pelosi in the last leadership contest in 2016. A lot of candidates have flatly rejected Pelosi, though most have hedged their bets by saying they'd wait to see who if anyone runs against her from within the Democratic Caucus. A really serious revolt could carry over to the formal balloting for a Speaker in January, at which time multiple ballots could be forced until a majority is secured (that hasn't happened since 1923).
Clearly Pelosi needs to mend some fences, and also needs to give a signal that the many Democrats who are calling for "new leadership" in the House and in the party generally won't have to drag her kicking and screaming out of office. So she's dropping hints now that she'll be retiring before long, as the Los Angeles Times reports:
"I see myself as a transitional figure," Pelosi said in an interview in which she professed utmost confidence that, should Democrats take control of the chamber on Nov. 6, she will again assume the top leadership position. "I have things to do. Books to write; places to go; grandchildren, first and foremost, to love."




She hastened to add she was not imposing a limit on her tenure. "Do you think I would make myself a lame duck right here over this double-espresso?" the San Francisco Democrat said Thursday in a downtown Miami cafe, with a raised eyebrow and a laugh.
"By implicitly limiting her time as speaker," the Times adds, "Pelosi could ease the pressure to stand aside by signaling her willingness for a new and younger generation of leaders to take over sooner rather than later."
But one member of that "younger generation of leaders," 56-year-old House Democratic Caucus chairman Joe Crowley, was upset in a June primary by a candidate literally half his age, Alexandria Ocasio-Cortez. So patience with Pelosi could soon run thin.
The only specific time line she's laid out involves the current occupant of the White House:
Pelosi would have stepped aside as leader, she said, had Hillary Clinton won the 2016 election. But with no other woman at the table, Pelosi said, "it was the most urgent of all moments" to keep her seat alongside President Trump, GOP leaders and the top Democrat in the Senate, New York's Charles E. Schumer.




"I feel a very strong responsibility to stay in this office for at least the next two years while he's president," Pelosi said over that double-espresso. "And let's hope it doesn't go any longer than that for him."
Pelosi is now 78, so her "transitional" period might not last all that long. Still, she's not much older than Joe Biden (75) or Bernie Sanders (77), so in theory she might stick around through a second presidential term for one of them to ensure a woman stays at the table. Her firm hand on the House Caucus tiller and her fund-raising prowess might well earn her a grace period.