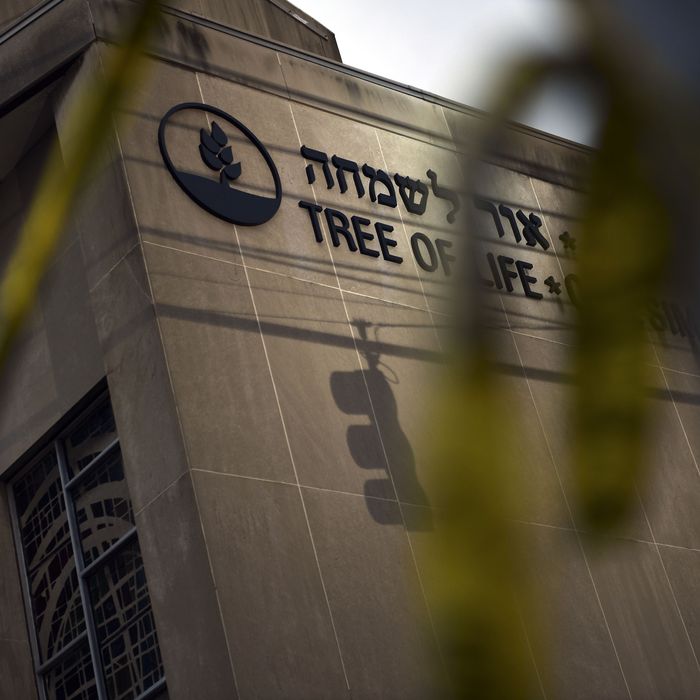 Alas, Jews are obliged to welcome the stranger.
Photo: BRENDAN SMIALOWSKI/AFP/Getty Images
On Saturday morning, a man who believed that Jews were trying to flood the United States with "hostile invaders" from Central America and the Middle East shot 11 people dead at Pittsburgh's Tree of Life synagogue, and wounded several police officers.
Hours later, President Trump said that if "there was an armed guard inside the temple, they would have been able to stop him" — ostensibly asserting that a single armed guard would have been more effective at instantly neutralizing a man with an assault rifle than a group of Pittsburgh's finest had been.
Days later, the president reiterated his claim that a caravan of Central American (and, in his telling, Middle Eastern) migrants heading towards the United States is actually a hostile "invasion" (orchestrated by the Democratic Party). He then blamed the recent uptick in political violence on the news media's conspiracy against him.
Many in Pittsburgh's Jewish community did not appreciate these sentiments. And the Steel City's mayor, Bill Peduto, asked the president not to visit until next week, so as to keep "the attention on the families," and to allow the city to focus on burying the dead (without having to tackle the various logistical headaches that a presidential visit inevitably imposes). A group of the city's progressive Jewish leaders asked Trump not to visit until he ceased undermining "the safety of people of color, Muslims, LGBTQ people, and people with disabilities." (Muslim groups have raised thousands of dollars for the victims of the Tree of Life shooting; beyond his past support for banning Muslims from the U.S., the president's current cabinet includes multiple people with ties to organizations that have called for the government to shut down mosques in the United States).
But Trump wanted to visit Pittsburgh on Tuesday. And so that is what he did.
The president did try to make his trip less divisive by conscripting the Republican and Democratic congressional leadership into joining him — but all legislators declined to do so. Local political leaders also refused to accompany the president on his visit. Instead, Trump set out for Pittsburgh with the first lady, his daughter Ivanka, and presidential son-in-law Jared Kushner (who is the grandson of Holocaust survivors). When they landed in the Steel City on Tuesday afternoon, multiple anti-Trump protests were already under way.
That said, some in Squirrel Hill's Jewish community were open to the president's visit, and a few held out hope that it would provide a modicum of comfort. "The president of the United States is always welcome," Rabbi Jeffrey Myers, who was leading services at Tree of Life at the time of the shooting, told CNN Monday. "I am a citizen. He's my president. He is certainly welcome."
"If it's simply a matter of offering comfort, condolences, I'm fine, he's our president," Larry Fingeret, a friend of one of the shooting's victims, told the New York Times. "But if he's going to start talking again as he did last Saturday, that if they only had guns in the building — this is not the time or place for that."
Before Trump's arrival, Pittsburgh held the first funeral services for those killed at the Tree of Life. The Times' account of the event is well worth reading:
Earlier Tuesday, before the president's arrival, it seemed like nearly all of Pittsburgh had come to Rodef Shalom Temple, an elegant, domed 111-year-old building where the first funeral — a service for David and Cecil Rosenthal, two brothers — was held.




The crowd, which filled the large sanctuary to standing room, was racially diverse, made up of those stooped with age and crying infants, Jewish people — Orthodox, Conservative, Reform and lapsed — and non-Jews, Pittsburgh natives and those that had flown in from elsewhere. Mr. Peduto was there, as were various other city officials and Scott Brady, the United States attorney for the Western District of Pennsylvania.




The service began with a quiet procession of firefighters in dress uniform from Engine 18, a station not far from Tree of Life, where David Rosenthal would spend his afternoons. One by one, they came to the front of the sanctuary and quietly saluted the two simple wooden caskets.
The White House has indicated that Trump's visit will be quiet and "understated," so as not to distract from memorializing the victims. Here's hoping the president keeps to his word.