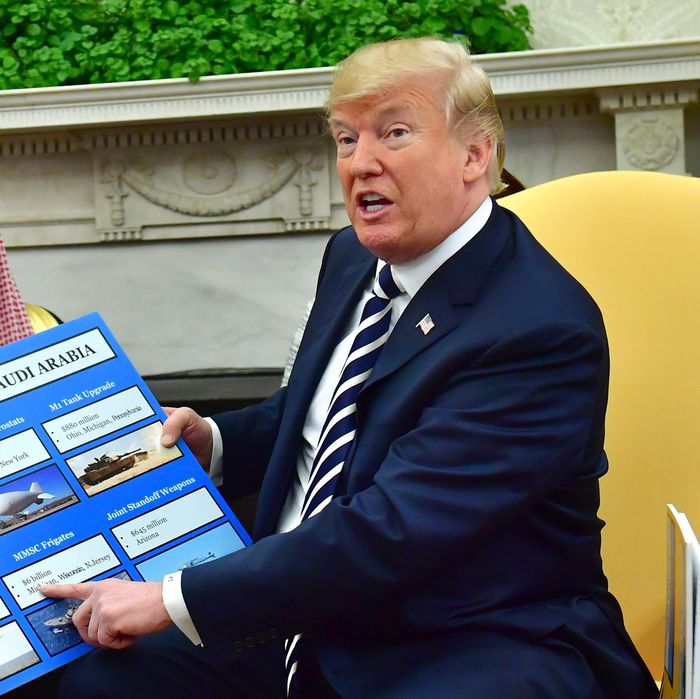 President Donald Trump holds up a chart of military hardware sales as he meets with Crown Prince Mohammed bin Salman of the Kingdom of Saudi Arabia (far left) in the Oval Office in March.
Photo: Kevin Dietsch-Pool/Getty Images
President Trump has newly vowed that Saudi Arabia will be severely punished if it is found to have killed Saudi journalist Jamal Khashoggi — the sternest response yet from his administration on the ongoing crisis — but Trump has not offered any details about what the punishment would entail, and has repeatedly signaled that the U.S. will keep selling arms to the Saudis no matter what.
International pressure has continued to build on the Saudis in the wake of Khashoggi's disappearance and alleged assassination on October 2. On Sunday, the U.K., France, and Germany called for a "credible investigation" into Khashoggi's disappearance, and to "identify those bearing responsibility" and "ensure that they are held to account." Sunday also saw the biggest drop in the Saudi stock market since 2014, thanks to the growing international pushback, which has apparently prompted investors to fear the Khashoggi crisis will lead to economic sanctions.
Some foreign companies and executives have already shunned a high-profile upcoming investment conference they had originally planned to attend in the Kingdom, suggesting the business-world blowback may also inflict damage on the Saudis. (Treasury Secretary Stephen Mnuchin is still planning to attend the summit, despite some pushback from Republican senator Marco Rubio on Sunday.) Companies in the U.S. defense sector, however, are worried about some blowback of their own, and have been expressing their concerns about losing the Saudis' business to the White House.
But the pressure is also building in Congress, where bipartisan alarm over Khashoggi's death, as well as ongoing frustration, mostly from Democrats, over Saudi Arabia's unapologetic bombing of civilians in Yemen, seems headed in the direction of legislative action, including the possibility of sanctions against the regime.
Turkey's government, which has been slowly leaking its evidence regarding Khashoggi's alleged assassination through the Turkish media, has been unsuccessfully trying to pressure Saudi Arabia, a chief rival in the region, to admit what happened. On Saturday, a Turkish paper close to President Recep Tayyip Erdoğan reported that one of the pieces of evidence the government possesses is an audio recording of Khashoggi's death captured by his Apple Watch, then recovered by Turkish authorities. They have also said they have video evidence of the assassination, but have not released that or any other evidence officially. Instead, the New York Times reported on Saturday, Turkey believes the U.S. is the only country with enough leverage to get the Saudis to acknowledge Khashoggi's fate.
In the week since the news emerged of Khashoggi's alleged death and dismemberment inside the Saudi consulate in Istanbul, Trump has expressed mostly requisite concern over the prominent Saudi critic's disappearance (though the president also felt it important to emphasize that Khashoggi was not a U.S. citizen, and thus not worth so much U.S. attention). Trump has also displayed a continued reluctance to assign blame to the Saudi regime, sounding a little like he has when shrugging off the U.S. intelligence community's conclusion that Russia interfered in the 2016 presidential elections. (In this case, U.S. intelligence reportedly intercepted chatter about a Saudi plot to detain Khashoggi, but he was not warned of the possible efforts.)
In a new 60 Minutes interview, the president called the alleged crime "terrible and disgusting" and said his administration was looking at the incident "very, very strongly." If Saudi Arabia was behind the alleged murder, a conclusion Turkish authorities seem to have evidence to back, Trump said his administration "would be very upset and angry," and there would be "severe punishment." He acknowledged that the regime could be guilty, but stressed that, "as of this moment, [the Saudis] deny it, and they deny it vehemently." Later Saturday, he added that he and his advisers expected to soon see the recordings of the assassination Turkish authorities say they have obtained, and that the Saudis would face "very powerful" consequences if guilty.
At the same time, Trump's son, Donald Jr. — who has no official role in the his father's administration but has become a right-wing pep squad leader on social media — has helped spread a partisan attack on Khashoggi falsely suggesting he was an Islamic extremist and that the media has been duped into overplaying his disappearance. Those lines of thinking happen to closely align with Saudi propaganda pushing back on the allegations, and the hawks who support the Saudis are promoting them too:
The Saudis, who have repeatedly denied they did anything to Khashoggi, yet have provided zero evidence to support their claim that he left the consulate the same day he arrived, attempted to threaten other world powers on Sunday — vowing to retaliate if countries tried to impose economic sanctions. The Saudi economy "plays an impactful and active role in the global economy," a government statement read. The Saudis did not specifically identify any foreign governments in their threat, but nonetheless promised that if any attempt to punish Saudi Arabia was made, the regime "will respond with a larger action."
The Saudis recently acted to break off all ties with Canada after it merely criticized the regime, but such bluster won't likely work against the U.S. What may work, as Akbar Shahid Ahmed has pointed out at HuffPost, is the considerable influence Saudi Arabia has worked to build in the U.S. — including its investment leverage and relationship with the U.S. business community, its considerable lobbying and PR power, and its potential ability to make U.S. lawmakers fear job losses should any arms deals be held up or cancelled.
On that last point, President Trump seems to already be convinced. He has repeatedly bragged about the big arms deal he signed with the Saudis last year, and has cited it again and again when responding to the Khashoggi crisis. In the new 60 Minutes interview, he noted the importance of protecting America's defense firms and claimed the U.S. had to beat out Russia and China to win the right to continue to sell billions in arms to the Saudis — and can't afford to lose that business moving forward. When speaking with reporters on Saturday at the White House, Trump added that while he intended to punish the Saudis if necessary, "it would be very foolish" to cancel the arms deal, since "we'd be punishing ourselves."
Riyadh couldn't have written better talking points. While Saudi-backed bots appear to have made unwavering trust in Saudi Arabia a social media trend, an op-ed published on the Saudi-owned Al Arabiya news site insists that if the U.S. imposes sanctions on Saudi Arabia, "it will stab its own economy to death." The Saudis could artificially increase the price of oil to cripple the U.S. economy, the op-ed argues, or change the country's oil-trading currency to the yuan, or stop exchanging intel with the U.S. And if that all wasn't enough, it continued, punishing Saudi Arabia could also hand over the Middle East to Iran, or allow Russia to tighten its grip on Syria, which are pretty dramatic threats for an innocent, reform-minded, Iran-hating regime to consider making — and it's not like any of these moves would just anger, or impact, the U.S.
Then again, it's not hard to imagine some inhabitants in the White House nodding along with such a list, and Trump may not need much convincing if he wants to believe.
Focusing back on the defense-sector impact, it is certainly true that U.S. history is full of questionable and reprehensible foreign-policy decisions in defense of U.S. corporate interests, but no president has ever expressed such naked devotion to the idea. Trump has also made it continuously clear that sees himself as a historically powerful and successful president, yet somehow he also seems to believe that a relatively small monarchy with a GDP nowhere near as high as the U.S., and of diminished strategic value in the Middle East beyond its oil reserves, possesses some kind of important leverage over America.
The Saudis may indeed hold some kind of sway over Trump or his son-in-law, Jared Kushner — who is a friend of Saudi Arabia's de facto ruler, Crown Prince Mohammed bin Salman (or MBS). But country to country, the U.S. holds the leverage, and while sanctions are one available option, ceasing to be Saudi Arabia's primary weapons dealer is undoubtedly the biggest and easiest stick. It won't instantly reduce the regime's militarily capabilities, though if the U.S. also stops providing mission support to Saudi warplanes, that would definitely decrease or end the regime's ability to strike targets in Yemen. Forcing the Saudis to eschew U.S. weapons in favor of Russian or Chinese ones would also require a long, arduous, and expensive makeover of their entire military, since U.S., Russian, and Chinese military tech is hardly interchangeable.
Up to now, President Trump has either looked the other way, shrugged off, or wholeheartedly endorsed the escalating aggression of MBS and the Saudi regime, who have done everything they can to cultivate a strong relationship with the impressionable president, and have even brushed off Trump's flamboyant, base-pleasing comments about how badly the Saudis need America and him to survive. Trump has gotten played, and if Saudi Arabia is found to have harmed Khashoggi, then repeatedly and vehemently lied about that, including to the U.S. — there need to be consequences. And if Trump ultimately decides that cutting weapons sales to the Saudi regime is off the table because it will negatively impact the U.S. defense industry's bottom line, that is not only a moral disaster, but a fundamental misunderstanding of U.S. power.