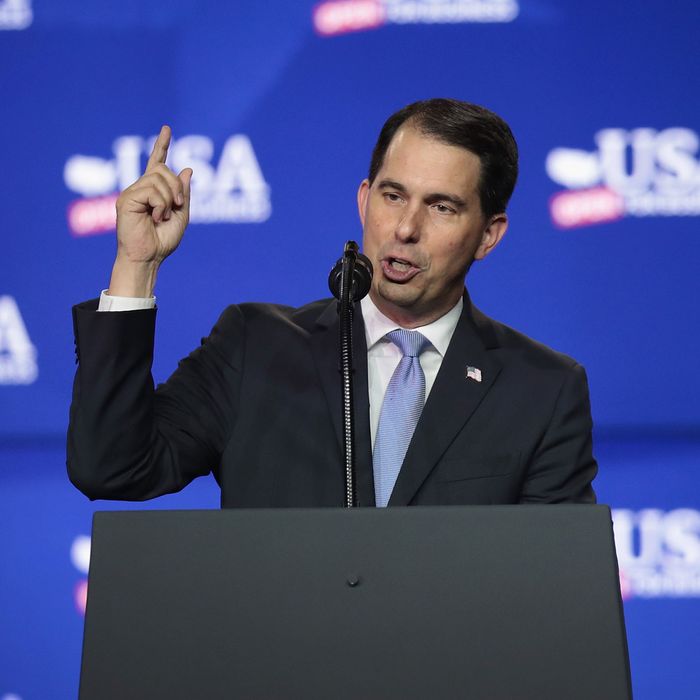 Wisconsin's Scott Walker is one of a number of incumbent governors facing voters in November with underwater approval ratings.
Photo: Scott Olson/Getty Images
With a few exceptions (such as New York, where the major drama ended with Andrew Cuomo's big win over Cynthia Nixon in the Democratic primary), national political observers consumed with the fight for Congress aren't paying a huge amount of attention to the 36 gubernatorial races on tap for November 6. But there are some barn-burners underway, along with some potential routs; the outcomes will help shape the political landscape in terms of redistricting and the 2020 presidential contest.
Accordingly, Morning Consult's latest quarterly batch of approval/disapproval numbers for the nation's governors is of considerable interest, particularly since governors tend to have a public identity distinct from their party and can sometimes buck partisan trends. The polling firm notes in its overview that all ten of the "most popular governors" at the moment are Republicans. But then seven of the "most unpopular" belong to the GOP as well. Since there are 33 Republican governors (as opposed to 16 Democrats and one independent), the party is overrepresented at both ends of the popularity scale. But some of the "underwater" incumbents are particularly interesting.
One of the "bottom ten," Kentucky's Matt Bevin, won't be up for reelection until next year. Five others (Oklahoma's Mary Fallin, Connecticut's Dan Malloy, New Mexico's Susana Martinez, Michigan's Rick Snyder, and Maine's Paul LePage) are either term-limited or chose not to run for reelection. All of them, to a greater or lesser extent, are a drag on their party's designated successor, even in deep-red Oklahoma (where Republican Fallin's approval ratio is a terrible 17/75) and deep-blue Connecticut (where Democrat Dan Malloy's is nearly as bad at 20/70).
Five other unpopular incumbents are running for reelection, and they are in varying degrees of trouble. Republican Bruce Rauner of Illinois (with an approval ratio of 25/62) has been looking toasty for months. Alaska's independent Bill Walker (25/54) is being mouse-trapped in a three-way race against Democratic former senator Mark Begich and Republican former state legislator Mike Dunleavy and will probably lose unless he and Begich can work out an arrangement whereby one of them endorses the other. Rhode Island Democrat Gina Raimondo (44/47) survived a primary challenge and is mainly favored to defeat Republican Allan Fung because of her state's heavily Democratic complexion. Similarly, Oregon's Kate Brown (39/46) leads her Republican opponent, Knute Buehler, mostly because of Oregon's partisan nature.
The most famous embattled incumbent of them all, Wisconsin's Scott Walker (42/50), is in his fourth close election in eight years. After trailing Democrat Tony Evers for months, Walker pulled even in the most recent survey from the highly regarded Marquette Law School outfit.
Governors with positive approval ratings aren't all safe, either. Iowa Republican Kim Reynolds (43/38) is struggling against deep-pocketed Democrat Fred Hubbell in a state Trump carried by nine points but that seems to be trending the other way now.
The overall gubernatorial results will be influenced by a combination of national trends in partisan preferences and turnout; retirements and term limits; individual candidate characteristics and funding; and the factor this post focuses on: incumbent popularity and unpopularity. Going into this election, Democrats had cumulatively lost 14 net governorships since 2010. They will almost certainly begin clawing their way back this year.