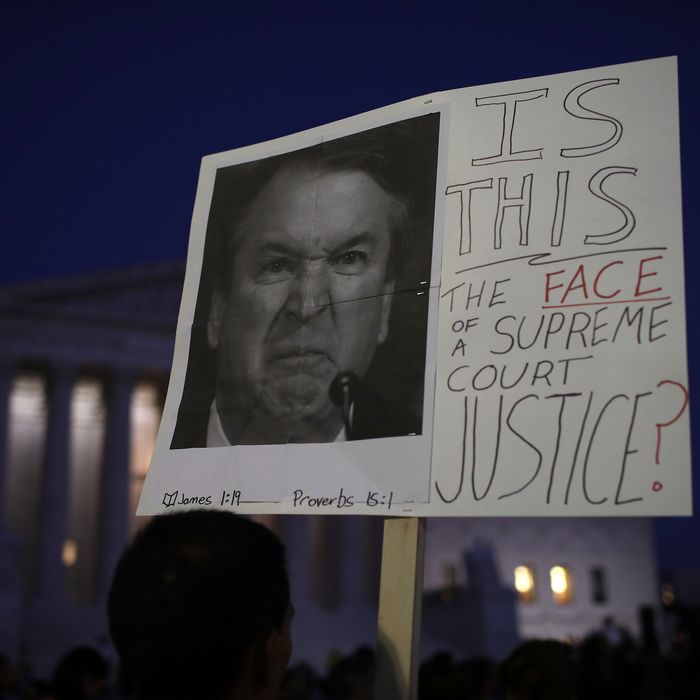 Protesters demonstrate against Brett Kavanaugh.
Photo: WIN MCNAMEE/Getty Images
Five days after the FBI began its investigation into Supreme Court nominee Brett Kavanaugh and the sexual-assault allegations made against him by Dr. Christine Blasey Ford, the probe is over. Though the White House is already exonerating him, it remains to be seen what kind of information senators can glean from the investigation. One thing that is clear, though, is that many Senate Democrats won't be satisfied with the narrow scope of the probe.
According to the Washington Post, FBI agents only spoke to six people as a part of the investigation. Five of them were connected to Dr. Ford and her story of an alleged 1982 sexual assault at the hands of Kavanaugh. Somehow, neither Kavanaugh nor Ford were among those interviewed:
Instead, the bureau interviewed three people who Ford said attended the party: Mark Judge, Patrick Smyth and Leland Keyser. The FBI also talked to two other friends of Kavanaugh's who were listed as attending a gathering during the same summer that Ford alleged she was assaulted: Chris Garrett, who went out with Ford for a time, and Tim Gaudette.
The FBI has only briefly looked into the other allegations against Kavanaugh. While an interview was conducted with Deborah Ramirez, who said Kavanaugh exposed himself to her at Yale, investigators did not, as far as Ramirez's legal team knew, speak to any of the 20 people she said may be able to corroborate her story. Julie Swetnick, who implicated Kavanaugh in a pattern of sexual assaults, was also not interviewed.
There's more: Several people who reached out to investigators to offer information said they were also left hanging. NBC News says dozens of potential witnesses have come forward to FBI field offices, "but agents have not been permitted to talk to many of them." The New Yorker spoke to several people who were also unable to get an audience with the FBI despite their ability to corroborate Ramirez's story and information refuting claims Kavanaugh made during last week's testimony.
…[S]everal other former Yale classmates said that they had reached out to the F.B.I. about Kavanaugh but had not received a response. Stephen Kantrowitz, a former Yale classmate, said in a text message that, "No one who lived in Lawrance Hall (so far as I know) has been contacted by the FBI What a charade."
Senator Dianne Feinstein, the top Democrat on the Senate Judiciary Committee, blamed the FBI's narrow list of interviewees on the White House. "The White House confirmation that it will not allow the FBI to interview Dr. Blasey Ford, Judge Kavanaugh or witnesses identified by Deborah Ramirez raises serious concerns that this is not a credible investigation," she said in a statement.
Senate Democrats are also sure to take issue with the White House's decision to prohibit the FBI from looking into whether Kavanaugh committed perjury during last Thursday's Senate hearing.
President Trump has insisted publicly he was not curtailing the FBI probe. But privately, the White House restricted the FBI from delving deeply into Kavanaugh's youthful drinking and exploring whether he had lied to Congress about his alcohol use, according to officials who spoke on the condition of anonymity to discuss a sensitive matter.
Of course, there's a good reason for the White House to keep the FBI from looking into whether Kavanaugh lied about his alcohol use: He quite cleary did.
This post was updated throughout.