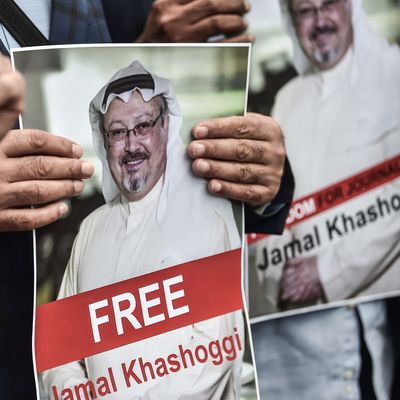 Photo: Ozan Kose/AFP/Getty Images
A week after the disappearance of Saudi dissident journalist Jamal Khashoggi, details about what happened to him at the Saudi consulate are beginning to emerge, along with indications that the U.S. had information of a Saudi plot against him.
According to the Washington Post, U.S. intelligence "intercepted communications of Saudi officials discussing a plan to capture" Khashoggi, a prominent critic of Saudi Arabia's regime. The purpose of the capture was not obvious in the overheard conversations, the Post reports:
The Saudis wanted to lure Khashoggi back to Saudi Arabia and lay hands on him there, this person said. It was not clear whether the Saudis intended to arrest and interrogate Khashoggi or to kill him, or if the United States warned Khashoggi that he was a target, this person said.
Meanwhile, top Turkish officials are saying definitively that Khashoggi was killed "on orders from the highest levels of the royal court," according to the Times. One official relayed gruesome details of the alleged attack to the paper:
The official described a quick and complex operation in which Mr. Khashoggi was killed within two hours of his arrival at the consulate by a team of Saudi agents, who dismembered his body with a bone saw they brought for the purpose.




"It is like 'Pulp Fiction,'" the official said.
The Saudi regime denies this. They say Khashoggi left the Saudi consulate in Istanbul, where he was attempting to finalize his divorce, shortly after he arrived. But they've yet to provide proof and Turkish officials continue offering details about the alleged assassination. Both the Times and the Post are reporting that a group of 15 men, including an "autopsy expert, presumably there to help dismember the body," arrived from Riyadh on the morning Khashoggi disappeared and left Istanbul later that afternoon. There are also reports that Turkish intelligence is in possession of a video showing Khashoggi's murder.
Turkey, however, remains reluctant to officially blame Saudi Arabia for Khashoggi's murder. A senior Turkish official told the Times that "Ankara hoped that Washington and the international community would take the lead in challenging Saudi Arabia."
Signs of such a challenge began to emerge Monday night when Secretary of State Mike Pompeo called on the Saudis to "support a thorough investigation of Mr. Khashoggi's disappearance and to be transparent about the results of that investigation."
But that's not enough for Khashoggi's fiance, who wrote an op-ed Tuesday imploring "President Trump and first lady Melania Trump to help shed light on Jamal's disappearance." She added that she believes Khashoggi is still alive, but conceded that her optimism may be an attempt to "hide from the thought that I have lost a great man whose love I had earned."