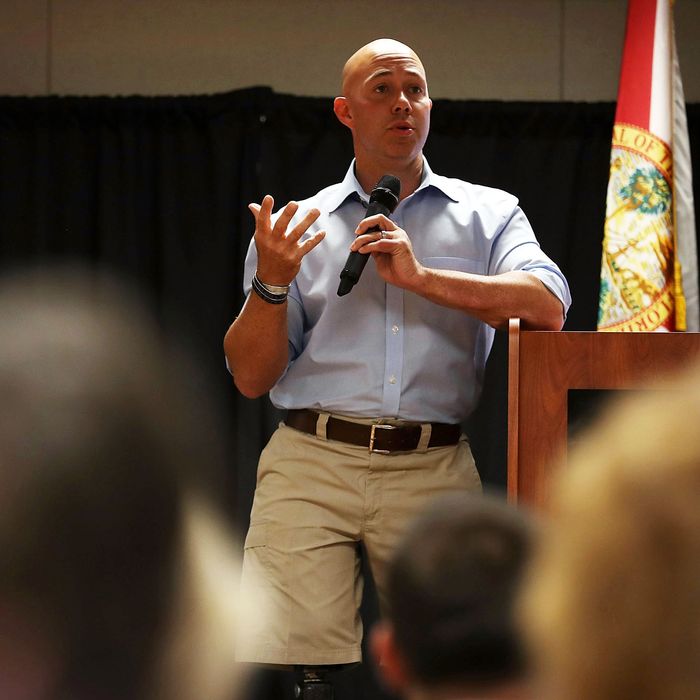 Republican congressman Brian Mast of Florida is the beneficiary of a late infusion of GOP cash in a district Trump won by nine points.
Photo: Joe Raedle/Getty Images
Of all the bad signs afflicting Republicans in terms of their shaky hold on control of the U.S. House, this report from Politico about where last-minute cash infusions are going is among the worst:
Two weeks until Election Day, a constellation of groups — including the National Republican Congressional Committee's independent expenditure unit; Congressional Leadership Fund, the House leadership-aligned super PAC; and America First Action, the principal super PAC backing President Donald Trump — are pouring millions of dollars into TV ads to help GOP members in Florida, Georgia, Michigan, New York, North Carolina and Virginia. It's a last-minute effort that Republican operatives say will shore up lawmakers in seats that once leaned Republican but have become increasingly competitive.
Focusing on suddenly endangered Republicans when you have 17 House seats where Democrats lead (according to the Cook Political Report's fairly conservative ratings) is not a recipe for success on Election Night. But of the ten beneficiaries of late money mentioned in the Politico piece, only one (Jay Webber of New Jersey) is among those Democrats are counting on to get to the 23-seat gain they need for House control. Two of the other nine (Brian Mast of Florida and Fred Upton of Michigan) are in races rated as "Likely Republicans" — not even competitive — by Cook. Four others (Karen Handel of Georgia, John Katko of New York, Denver Riggleman of Virginia, and Carol Miller of West Virginia) are in "Leans Republican" races — which again, should not be the highest priority in a potential Democratic "wave" election.
It looks like what's driving this unlikely map of "rescue" cash is the ability of Democrats to invest major dollars in districts where they were not supposed to seriously compete:
[A] Republican source familiar with the buys also acknowledged that "a lot of this is about the significant amount of Democratic resources going into lower-tier, fringe races, where a massive spending advantage could shrink a margin," adding that "this is about filling spending voids."
The supposedly safe Floridian Brian Mast is a good example:
[I]t was a recent DCCC ad buy against Mast that triggered the NRCC to wade into the coastal district Trump carried by 9 points, two GOP sources said. House Democrats invested in the seat in mid-October after Global Strategy Group, a Democratic polling firm, said candidate Lauren Baer was "within striking distance" of Mast. 




Back in May, Baer trailed Mast 18 points, according to a polling memo from Global Strategy Group; by late September, Baer, an ex-State Department official, was only 3 points behind the Republican incumbent.
And this situation illustrates the strategic flexibility the Democrats' big fundraising advantage in congressional elections this year has given them. If nothing else, Democratic money has broadened the range of competitive races on Republican turf, and forced the GOP to shore up an escalating number of weak points. It could be a difference maker on November 6.