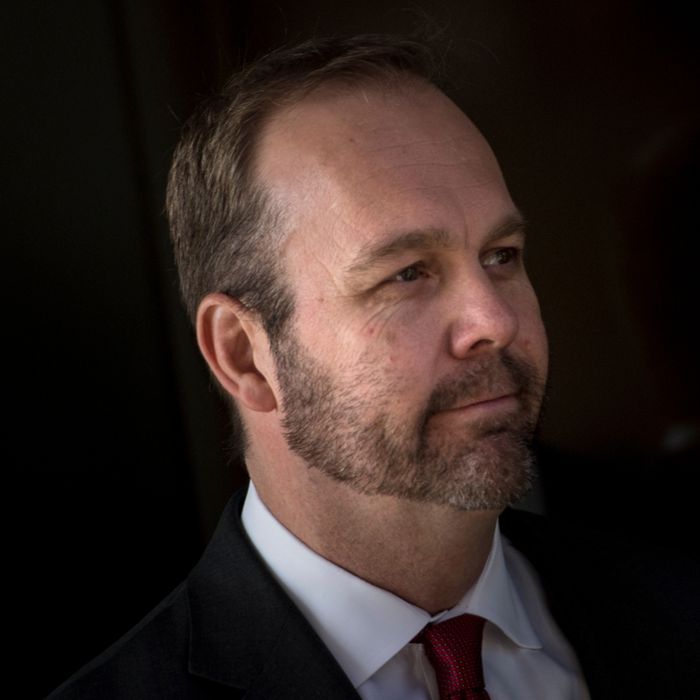 Former Trump campaign official Rick Gates.
Photo: BRENDAN SMIALOWSKI/AFP/Getty Images
Before Donald Trump locked up the GOP nomination in 2016, Rick Gates, the onetime deputy to former Trump campaign manager Paul Manafort, reached out to Israeli intelligence firm Psy-Group and asked for proposals for running an online disinformation campaign, according to the New York Times.
Gates wanted to use fake social media personas to ensure Trump was the favorite of delegates at the Republican National Convention. He wanted to collect opposition research and build "intelligence dossiers" on Hillary Clinton and her aides. And he wanted to use social media to sow division and deepen rifts among the American electorate. The goal was always to help Trump win the presidency.
The Times says there's no indication that the Trump campaign acted on the plans from Psy-Group, but the firm's owner, Joel Zamel, did land a Trump Tower meeting with Donald Trump Jr. in August of 2016. The meeting also included Blackwater founder Erik Prince and George Nader, the adviser to the UAE crown prince and the go-between for Prince's meeting in the Seychelles with a powerful Russian businessman.
Zamel's lawyer tells the Times that the Trump Tower meeting was cursory. The Psy-Group owner only outlined for Trump Jr. "the capabilities of some of his companies in general terms," the lawyer said. Special Counsel Robert Mueller is looking into that and other questions regarding Zamel.
Even if the Psy-Group's plans were ultimately discarded, Gates's solicitation of the company shows the Trump campaign's willingness to play dirty online. The first proposed targets of these tactics were delegates to the Republican convention. Here's what Psy-Group said it would do:
After scouring social media accounts and all other available information to compile a dossier on the psychology of any persuadable delegate, more than 40 Psy-Group employees would use "authentic looking" fake online identities to bombard up to 2,500 targets with specially tailored messages meant to win them over to Mr. Trump.




The messages would describe Mr. Cruz's "ulterior motives or hidden plans," or they would appear to come from former Cruz supporters or from influential individuals with the same background or ideology as a target. The barrage of messages would continue for months and include "both online and offline" approaches, even telephone calls.
Another part of the proposal described how general election voters would be targeted and manipulated:
A third document emphasized "tailored third-party messaging" aimed at minority, suburban female and undecided voters in battleground states. It promised to create and maintain fake online personas that would deliver messages highlighting Mr. Trump's merits and Mrs. Clinton's weaknesses or revealing "rifts and rivalries within the opposition."
Sounds familiar, doesn't it?