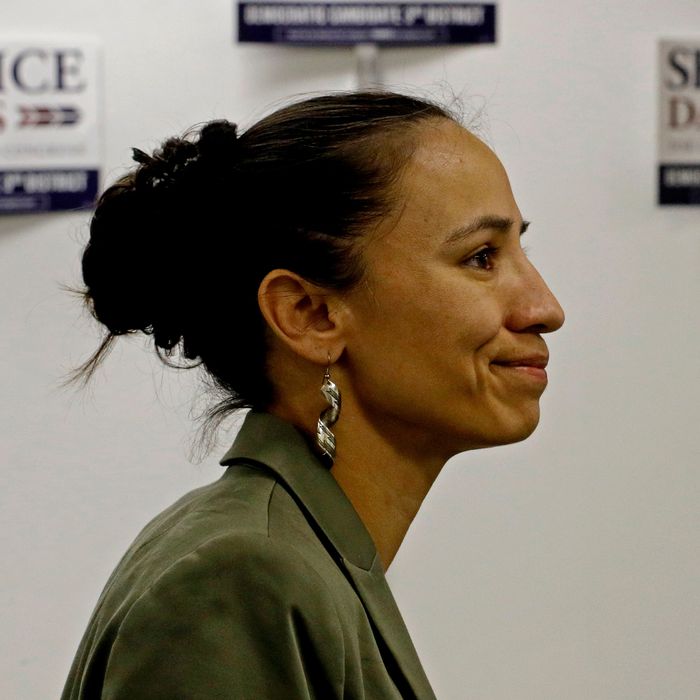 Sharice Davids is likely going to Congress, not "back to the reservation."
Photo: Charlie Riedel/AP/REX/Shutterstock
Normally the social media ravings of local party activists don't merit any serious attention; these are the ground troops of American politics, who often get carried away. But occasionally you run across such a classic of evil invective that it just has to be shared. It comes from Kansas, where Republicans are used to being embarrassed by extremists like their gubernatorial nominee Kris Kobach. And the target is Democratic congressional candidate Sharice Davids, who is in a close race with incumbent Republican U.S. Rep. Kevin Yoder. The Kansas City Star has the story:
A local Kansas GOP official lashed out at Democratic congressional candidate Sharice Davids on social media earlier this week, saying "your radical socialist kick boxing lesbian will be sent back packing to the reservation."




The Facebook message was written by Republican precinct committeeman Michael Kalny of Shawnee and sent to Anne Pritchett, president of the Johnson County Democratic Women's north chapter.
Davids is indeed a lesbian, and a former professional mixed-martial-arts fighter. She's also Native American. She is not, however, any sort of "radical socialist"; in the Democratic primary for this House race, she defeated the self-identified progressive backed by Bernie Sanders and Alexandria Ocasio-Cortez. And she grew up in the suburban 3rd congressional district of Kansas, not "the reservation." But Kalny was clearly on a roll and wasn't going to let facts get in his way:
"Little Ms. Pritchett- you and your comrades stealth attack on Yoder is going to blow up in your leftist face," Kalny wrote. "The REAL REPUBLICANS will remember what the scum DEMONRATS tried to do to Kavanaugh in November….




Roughly 50 exclamation points followed the end of the message.
Kalny's prophecy of what will happen on November 6 is not looking terribly prescient, either. A couple of weeks ago the National Republican Congressional Campaign Committee cancelled a million bucks in planned advertising on Yoder's behalf. It wasn't because they thought he was a lock; The Cook Political Report rates the race as "Lean D." You know, D as in "DEMONRATS."