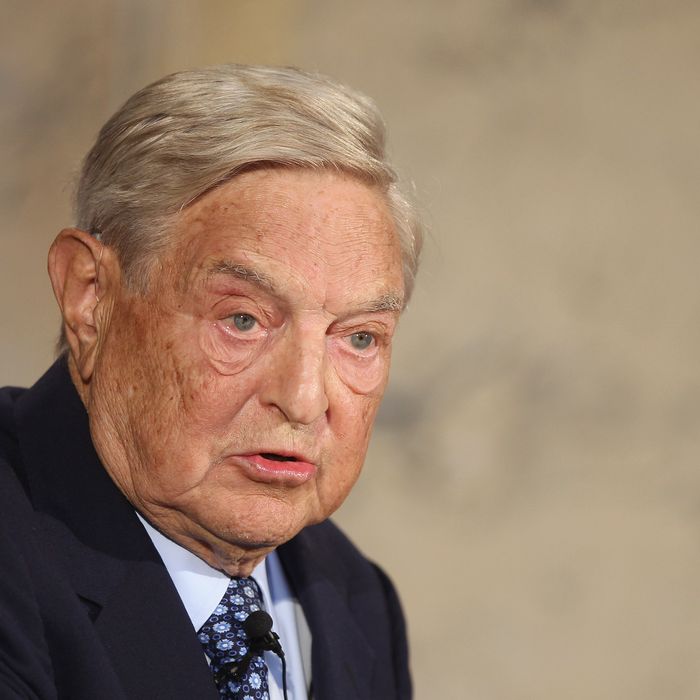 Billionaire investor George Soros.
Photo: Sean Gallup/Getty Images
An employee at the home of billionaire philanthropist George Soros found a bomb in the mailbox and opened it Monday, according to local police. The bomb didn't explode and the employee moved it to the nearby woods before calling the police.
A law enforcement official told the Times the bomb was "proactively detonated" and no one was injured. Soros was not home at the time.
Local police have turned the case over the the FBI's New York office, which tweeted on Monday evening that it's "conducting an investigation" near Soros's home. "There is no threat to public safety, and we have no further comment at this time," the tweet said.
Soros, long a bogeyman for the right, has been in the news recently after being accused of orchestrating the migrant caravan currently working its way through Mexico. Last week, Florida Republican congressman Matt Gaetz floated the completely unsubstantiated theory that Soros was responsible for cash handouts being made to the migrants.
President Trump tweeted the same video, but didn't mention Soros. But earlier this month Trump did tweet that Soros was paying protesters fighting against the confirmation of Supreme Court justice Brett Kavanaugh.
The attempted bombing of Soros's home comes as Trump attempts to rally the Republican base by casting Democrats as an "angry, ruthless, unhinged mob." Not because they're trying to maim members of the other side by delivering bombs to their home, but because they're shouting at Republicans while they eat dinner.