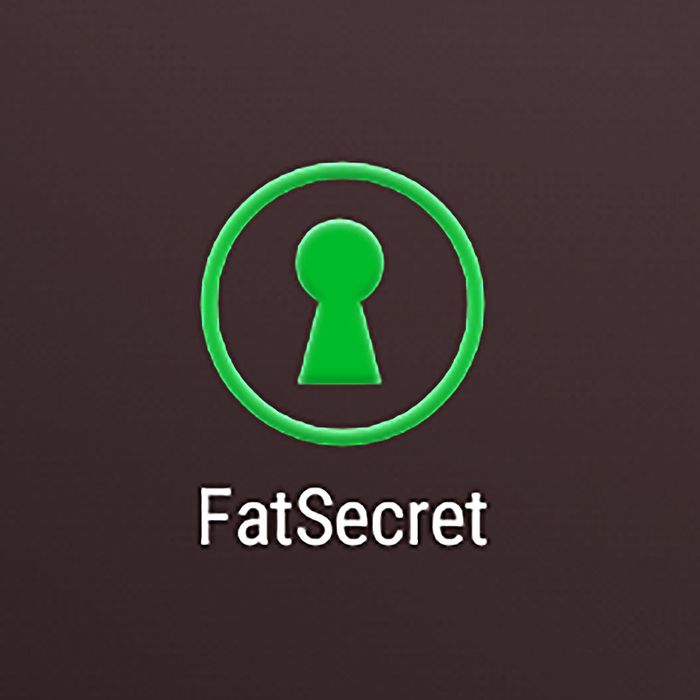 The icon for FatSecret, a really fantastic calorie-counting app with a really bad name.
Photo: FatSecret
This spring, while putting on a suit jacket that had fit me fine last year, I found that I could barely button it, and only if I shifted things around and stood very, very still. (I also discovered that Donald Trump and I now share the same ostensible BMI — a real moment of looking into the abyss.) I bought a crappy Jos. A. Bank blazer for formal occasions this spring and summer, and decided to start tracking my diet again.
The last time I did this was in 2012, when I was living in L.A. and doing what everyone who moves to L.A. does — I joined a gym, watched what I ate, and worked out a lot. (If New York constantly reminds you how not rich you are, L.A. constantly reminds you how not hot you are.) I used an app called MyFitnessPal, which I kept on my phone and could also use on my laptop, and carefully logged my meals and snacks. I became aware of the stunning number of calories in tortilla chips and IPAs, and became a fan of raw almonds, apples, and chicken breasts.
I reinstalled the app on my phone and quickly discovered that, like everything else good from the internet in 2012 (Instagram, Grooveshark, @horse_ebooks), MyFitnessPal had fallen from grace. It had been bought by Under Armour in 2015, and it was now filled with endless entreaties to become a premium member for only $9.99 a month (or just $49.99 a year). There was also the not-so-great news that 150 million MyFitnessPal accounts had been hacked earlier this year, meaning that whatever password I was using circa 2012 might be floating around the web.
I tried MyFitnessPal's closest competitor, Lose It, and found myself equally disenchanted. Lose It's big promise is that you can snap photos of your food before you eat it, and it'll calculate how many calories are in your meal. This worked fine if I snapped a pic of, say, a can of ginger ale, but not so great if I snapped a pic of a chicken-salad sandwich. Lose It also kept trying to lure me into signing up for a $39.99 a year premium membership, which promised to help me do things like keep track of how much water I drank.
Hunting around further, I found a recommendation for another app, hidden deep in the App Store. It's buried underneath 39 other options if you search "calorie counter"; you have to scroll for a significant amount of time to even find it. But the app was fantastic. There were no ads, a clean interface, a huge database of foods, the ability to easily track macros, and all of it with a simple and austere mobile app and website that was quick to load and fast to respond. The only problem was its name: FatSecret.
FatSecret. It hung there on my phone's screen everyday when I went to log in my two hard-boiled eggs and an apple for breakfast. Fatsecret.com. That was the URL I had to type in every time I wanted to log in my lunch of lentils or chana masala.
The name FatSecret seemed problematic from every angle. On the one hand, it felt like a taunt from the app-makers and the not-so-healthy parts of my brain. "Oh, you think wearing an untucked button-down is fooling anyone? Nice try, Chunk." Taken from another angle, it made it seem like being overweight was shameful, something to be kept secret. And I did hide the app in a folder with a transit app that I rarely used, renaming the folder "Other." But that just meant that I either had to dig for the app even more, or pull down in iOS and type in "FatSecret" to pull it up to log calories.
I realize that this is extremely silly. With the exception of my wife, nobody sees my phone's home screen. On the other hand, per iOS 12's new Screen Time feature, I've picked up and looked at my phone on average about 60 times per day in the past week. That's more often than I look in a mirror. That's more often than I look at pretty much anything, with the exception of perhaps my daughter's face. And if my daughter's face had "FatSecret" floating on top of it, my phone would win in a walk-off.
Curious about why such a good app had such a bad name, I talked to Lenny Moses, an astoundingly affable Australian from Melbourne, and the CEO and co-founder of FatSecret. Moses, a lawyer by trade, and his brother Rodney, a practicing physician, started the app and the company back in 2007. "We named it after the idea of 'a big, fat secret,'" explains Moses. "What we want to do is provide information that may be secret to you and help you understand your diet better."
When I gently pointed out that the name could be taken the wrong way, it was clear that I wasn't the first person to have this conversation with him. "Maybe someday we'd go with another name, yeah?" says Moses. "But we've already had it for nearly ten years now."
When I explained my worries that the "secret" part of the name could suggest that being overweight was shameful, Moses remained unfazed. "We'd never want to suggest that anyone should be ashamed about where they are. We have people who use the app to lose weight, we have people who use the app who are happy with their weight who just use it to keep track of their macronutrients, or we have enterprises who use it for their wellness initiatives. Horses for courses." ("Horses for courses," he explained to me, is an Australian idiom roughly equivalent to "different strokes for different folks.")
He and Rodney have dreams of hiring someone to help them with machine learning to mine the ten years of user data to see what works (and doesn't work) for people seeking to lead a healthier lifestyle. "We believe that if you provide people with information, they'll make the choices to become healthier," says Moses.
After talking to Moses, I was still not convinced that FatSecret is necessarily a good name — but I was also convinced that the app-makers weren't somehow mocking me. I moved the app back to my home screen, out of its hidden "Other" folder. Why keep it a secret?