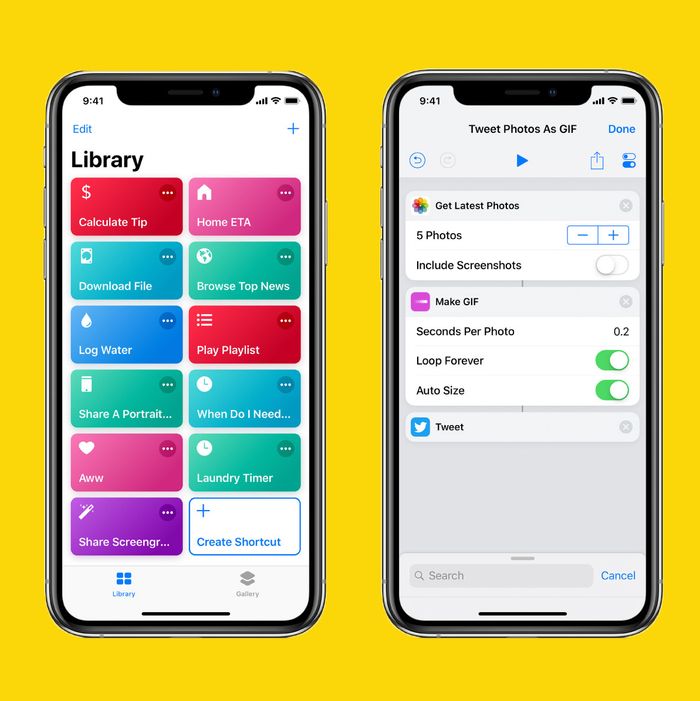 The newest version of iOS makes room for a handy new feature called "Shortcuts." The Shortcuts app, originally called "Workflow" and developed outside the company, was so worthwhile that Apple decided to acquire Shortcuts and bake it into its latest operating system. The idea is that you — yes, you! — can transform multistep processes like calculating a tip or navigating yourself home into custom single-button actions.
The process of making Shortcuts is simple and intuitive: Search for the individual action you want to perform and drag and drop each action into the necessary order. To get you started, here are some useful ones to add to your arsenal. To make these, download the Shortcuts app from the App Store here, and copy the steps you see below.
Navigation
By far the most convenient thing Shortcuts offers is mapping tools, so that rather than having to search for your location, and travel time and juggle two or three apps to figure out your commute, you can just give it a single click.
For instance, here's a shortcut that gets your location via GPS, and then calculates how long it will take you to get to your office (or whatever location you want). Then at the end, it generates a text message that you can send to fill people in on your status.
Easy! Here's a similar one that tells you how to get home on the subway in one tap.
For people who have to run around to different appointments, this one digs into your calendar, pulls the address from your next appointment, and then plugs that into your preferred mapping application.
YouTube
This shortcut I found on Reddit is super simple. It doesn't work with everything, but it lets you download most YouTube videos to your phone locally, in case you're going offline for a while. Just go to this link on your phone to add the shortcut. Then, on any YouTube page in Safari, go to the share sheet, hit Shortcuts and tap the "Download YouTube" icon. Then you can either share it or save it to your camera roll.
Instagram
I made this simple shortcut that combines your photos into a grid, with a small ten-pixel barrier between them. It lets you preview the photo before adding a caption and automatically posting it to Instagram.
Claps
You know the text meme where you put clapping hands in between every word? That can be annoying to type out, so I created a shortcut that just replaces normal spaces with the clap emoji. Like so:
To use this one, click here.
Fake Alert
This shortcut is no-frills but also very useful. Let's say you're trapped in conversation with someone and need an excuse to leave. Activating the shortcut starts a 30-second timer. Once the countdown ends, a loop begins that will send you 12 push notifications at irregular intervals between two and five seconds apart. Leave the sound on, let the constant dings make thing sufficiently awkward, and then tell your (I assume) enemy that you need to get away and "deal with this thing." Problem solved.
#resist
This one just drafts a tweet to the president reminding him how not normal things are.
Venmo
This last shortcut is incredibly annoying and should be used responsibly. Honestly, I'm probably committing some sort of crime by distributing a weapon this powerful, but here goes.
Using the looping function, I've created a tool that sends a specified contact 50 individual Venmo requests for $69. A request fires off every 30 seconds.