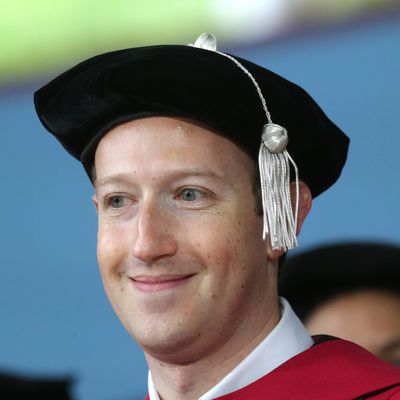 Photo: David L. Ryan/Boston Globe via Getty Images
Last year, several classes in Cheshire, Connecticut's elementary and middle schools switched to a new classroom model, where lessons were supposed to be tailored to every student. The kids and their parents were caught off-guard that first week of school. "We walked into math class," recalled Lauren Peronace, now an eighth-grader, "and my math teacher said, 'Everyone open up your Chromebooks. We're going to go on a website — Summit.'"
Reactions were mixed. Most everyone in Cheshire, which is between New Haven and Hartford, is there for the public schools, which are among the area's best. Some parents were skittish about the creep of more technology into the classroom, especially when they found out Facebook engineers had helped build the software and Mark Zuckerberg was spending millions promoting it. Others were at least cautiously optimistic. "My son initially thought it sounded cool," said one parent, Theresa, who asked to have her last name withheld because of all the drama that followed. "The teachers told him, 'You're going to be on your own; you'll be independent; you're going to move at your own pace."
The program had come with money for 130 Chromebooks, so every student could have one — courtesy of the Chan Zuckerberg Initiative, Zuckerberg's philanthropic LLC, and Summit's other wealthy backers. But to hear the administrators explain it, the technology would be only one piece. The Summit Learning Program, which originated at a series of West Coast charter schools between 2012 and 2013, is conceived as a comprehensive program of "personalized learning" that promises to put students in charge of their own education. It's now being used in some 380 districts and charter schools nationwide. Rather than having a teacher stand at the front of the room and talk, it emphasizes group projects, dialogue between students, and one-on-one time with teachers, guaranteeing at least a ten-minute "mentoring" session for each student every week. It also makes use of specialized software for regular lessons and assessments. Cheshire's teachers had gone to training that summer in Providence, Rhode Island, at an event also funded by Summit.
But the implementation over the next few months collapsed into a suburban disaster, playing out in school-board meetings and, of course, on Facebook. The kids who hated the new program hated it, to the point of having breakdowns, while their parents became convinced Silicon Valley was trying to take over their classrooms. They worried Summit was sharing their kids' data (it is, with 19 companies at present, including Amazon and Microsoft, according to its website), or, worse, selling it. It isn't, but given that the guy who'd helped buy them all laptops had created a $500 billion company out of vacuuming up data and creating economic value from it, it seemed reasonable to have suspicions that the learning platform backed by CZI might also be data-hungry. Concern turned into exasperation when bizarre and sometimes inappropriate images appeared on their kids' screens on third-party websites used as reading assignments: a pot plant, a lubricant ad, and then the coup de grâce, an ancient Roman statue of a man having sex with a goose.
Ultimately the superintendent halted the program, making Cheshire the only one out of hundreds to do so. To the program's supporters, this makes it a fluke, the only one that never got past the learning curve. To detractors, the Cheshire parents are among the most articulate voices on Summit's perils, the model of successful resistance.
++
At the beginning of 2017, kids in fifth through eighth grades were put on the program. For Lauren Peronace, the transition meant an hour of "personalized learning time" each week in math class, where they worked through "playlists," watching videos and reading lessons, and then taking assessments whenever they felt ready. "Basically we would do the math work we would be doing with a teacher any other year — alone," she recalled. She and I spoke in September at a coffee shop in downtown Cheshire, while her mother, who is the assistant superintendent of a neighboring district, sat beside us, tapping out emails on her phone. "I found that odd," Lauren continued, sipping a hot chocolate. "But I was like, 'Maybe it will work.'" But as the weeks went on, and a blue line inched across her screen showing her progress, she became more and more sure it wasn't working.
She was outpacing many of her classmates, and so the lessons they did on other days, as a group, weren't matching with her homework. She also felt she was retaining less than before. "It was like, Wow, I kind of miss having my teacher here to do this with me." The mentoring sessions didn't help, because most of the teacher's time, understandably, went to kids who were struggling the most. Peronace says she only met with the teacher directly once a month, and even then only for a few minutes (she and her friends timed the sessions, she admitted with a giggle). "That's when we were starting to think, 'Is the computer taking over? What's going on?'"
They also noticed the computer was easier to trick than a teacher. They could skip the lessons and pass the multiple-choice tests, if they were so inclined, either by making educated guesses, or by working the odds, retaking them until they answered eight out of ten questions correctly (even though the teacher would get pinged after a few consecutive failures). Other students realized they could open two separate browser tabs, one with the questions and another with the answers, and cheat their way through.
Peronace's experience wasn't universal — it fell in the middle of the spectrum. Another parent, Lucy Kampf, says both her son and daughter loved the program. Her daughter, a perfectionist, likes to work rapidly, then nitpick over details once the bulk of the work is done — and Summit gave her flexibility. "She didn't feel like she was being taught by a computer, whatsoever," Kampf said.
Then there were some horror stories. Heidi Wildstein, a pediatric nurse at Yale, said her sixth-grade son and his friends referred to the progress marker as the "blue line of death." Sometimes it was impossible for her son to answer a test question correctly, due to glitches in the software, and as an A+ student, these moments freaked him out. "He completely — completely — fell apart," she said. "He was clinically upset." Some mornings, it was a battle getting him to school. Wildstein showed the software issues to the assistant superintendent, who ultimately found a solution. The situation improved, but Wildstein says the software still made her son's class anxious and competitive.
Nothing about the platform said Silicon Valley more than the open-source approach to the "playlists." Teachers were encouraged to customize them, to add and subtract — and Cheshire's teachers were working on this, Superintendent Jeff Solan said in an email — but the base material was often just a bunch of links, to sites ranging from Kids Encyclopedia to SparkNotes to the BBC. I interviewed several educators who were involved in developing the platform in 2014, and when I mentioned this to one, he agreed they were "shoddy." "We knew it," he said. They were in such a hurry, he said, "we were just throwing things in there, that, at least from a Google search, looked reputable."
And there was the question of data. Summit is clear about the 18 partners it shares its data with, and subjects itself to its own strong privacy agreements in addition to the legal protections around student data already in place, but parents and other locals were nonetheless concerned. "The Chromebooks were free. Nothing's free. There's always a reason," said Mary Burnham, a retired educator who was part of the campaign against Summit. "If somebody's giving you something free, chances are, they want something back, or they're already getting something from it. As best I can tell, with Summit, it's data."
The Cheshire schools' information sessions didn't ease troubled parents' minds. "They just tried to hush it away," Theresa said. "I went away feeling like I had been in an infomercial — like somebody was selling me a set of knives I didn't want or need." (Solan told me the district planned all along to evaluate the program, via feedback from families and teachers, in addition to test scores.) A sense of urgency kicked in. If the program wasn't suspended soon, at least until it could be assessed better, the concerned parents thought, it would spread to every grade.
++
These clearly aren't the reactions Zuckerberg pictured when he started backing the program roughly four years ago.
Like several other tech barons, the Facebook CEO donates heavily these days to various "personalized learning" projects. The modern notion of personalized learning, in which lesson plans are adapted for each individual student, dates back to the Progressive era, and is the general basis for Montessori- and Waldorf-style education, but has never taken hold broadly in the U.S. It has always required teaching resources most schools simply don't have. Zuckerberg and his colleagues believe technology can cover that gap. Zuckerberg told an audience in Lima, Peru, two years ago that he hoped to "upgrade" a majority of the country's schools within a decade, then take the model overseas. "When you visit a school like this, it feels like the future — it feels like a start-up," he said. "You get the feeling this is how more of the education system should work."
His involvement with Summit started in 2014, after his wife, Priscilla Chan, toured a secondary school in Sunnyvale, California. It was part of a network of charter schools — branded Summit Public Schools — which are concentrated in the Bay Area and Washington State. Chan, a pediatrician and onetime science teacher, was intrigued by the network's high achievement rates and by the diversity of its students.  "I walked into the school and I didn't recognize where I was," she told an audience at the George W. Bush Center in Dallas last year. "My question was like, 'What is this? Where am I? Because this is what I see folks actually doing in the workplace: problem-solving on their own, applying what they're learning in a way that's meaningful in the real world.'"
The Summit schools are the brainchild of Diane Tavenner, a former teacher. "Every element of our schools has a deep root in research," Tavenner told me over the phone. They aim to prepare kids for college and the job market by making them self-starters, skilled at solving problems and teaching themselves. To that end, they focus on "inquiry-based, authentic, and hands-on" methods. The software is supposed to let kids set their own pace, while the teachers give them individual coaching.
In 2011, Newsweek named Summit Preparatory Charter, the first of 11 Summit schools, one of the country's ten "miracle high schools" for "taking students at all skill levels, from all strata, and turning out uniformly qualified graduates." By 2014, Tavenner said, other schools had already been asking how they could replicate Summit's model. They said, "We don't have the tools and resources that you have," she recalled. "How can we get what we need to do similar work?" So her staff had been working on resources they could export. Chan, after her visit, urged Zuckerberg to see the schools for himself. He was so impressed, he has said, that he immediately offered to help on the technology front.
One teacher involved in the program development, who has since left the Summit network, told me he and his colleagues loved working with the network's original software engineer, Sam Strasser. "All of a sudden, Sam had a team with him, and it was a Facebook team," the teacher said. "We were like, 'Great! Sam is awesome. Give him more people.'" But as the software took shape, he said, he and his colleagues began to feel the administrators were excluding them from the conversation.
I spoke with several educators from that early group, all of whom now feel disenchanted. Some of the problems that Cheshire families would later notice were apparent early on. One teacher estimated that 30 percent of his students excelled on the new platform; they loved working at their own pace and going deeper into their favorite subjects. But near the end of the year, he said, the other 70 percent of students hadn't advanced far enough to pass. The teachers started holding "Thursday Night Lights" sessions, where they'd stay until about 8 p.m., helping students rush through the playlists and take assessments while the information was fresh in their memories. To make up for the rest, he said, teachers found "workarounds," like rounding up half-points in students' grades, or coming up with reasons to excuse students from certain segments. (The other educators confirmed this.) "Looking back," he said, "it was grade inflation, and it was cheating the system that we had spent the whole year trying to figure out and couldn't make work."
Another teacher told me she felt confined as an educator. She was banned, for instance, from incorporating outside reading assignments into the assessment model. "It didn't allow me to be responsive with students," she said. "I think it's really ironic, because it felt like the people aspect, the relational aspect, was really taken out." She felt uncomfortable with how much time kids were spending on screens, but she found it necessary if they were going to keep up.
Summit maintains that these early problems were simply growing pains. "When Summit Public Schools first piloted an entirely new way of doing things in the classroom, we were building a model of education that was new and different, not only to our teachers but also to our parents and students. Since those early days, the model has been refined and perfected and now, demand by teachers and families drives our growth," a spokesperson said in a statement. "They report improvements in students that until now, have been largely missing in public education — skills like self-direction, strong work habits, and a joy of learning — all of which will serve to set students up for success long after they've left school. Change can be uncomfortable, but it is the only way to make important and impactful innovations."
Nevertheless, after that bumpy first year, the model began spreading: first to a total of 19 schools besides those in the Summit network; then to 100 more in 2016. Since then, responsibility for the software tool has been transferred from Facebook to the Chan Zuckerberg Initiative. (Summit, the charter-school group, technically still owns the software, along with the rest of the educational program, including the curricula and the teacher-training regimen.) The Summit model is now in more than 380 schools, reaching some 72,000 students. Bill Gates, Michael Bloomberg, and the Bezos Family Foundation have also joined the donor pool.
++
As the school year in Connecticut went on, some parents tried to move their kids into classes that weren't using the platform — but administrators said they couldn't, because it would disrupt the distribution of students to teachers. A few reportedly pulled their kids from the district. And a cadre of others committed to getting the program suspended.
They created a group on Slack, the workplace messaging system, and a private forum on Facebook, where they could share links to relevant news articles and social-science research. Several posted about inappropriate material in their kids' lessons. Often it was tame — a time-lapse image of a marijuana plant growing; a speaker in a video saying, "Now for the fun part," before he talked about sexual reproduction — but others were worse, like the advertisement for K-Y Jelly, a lubricant, that popped up on Theresa's son's screen. One parent joked that they should be on the district's payroll, for all the time they were spending screening their kids' curricula. (To others, it all seemed overblown. "In this day and age, we can't keep our kids from that kind of stuff," Lucy Kampf said. A seventh-grader, she said, could learn anything she wanted about sex with just a few keystrokes.)
As controversy spilled over into the town's primary Facebook forum, school-board meetings became packed and increasingly volatile. At a December meeting, the district asked a cop to stand guard. Theresa and others also contacted the town council, their state legislators, and the State Board of Education. "We just found ways to put pressure on and expose things," said Mike Ulicki, who had a daughter in seventh grade. "We were trying to shine a light, as professionally as we could."
Then Ulicki found the photo.
One evening in December, he was clicking through lessons for the coming semester. Much of his daughter's social-studies curriculum consisted of links to websites she could read. Ulicki opened a link for the website factsanddetails.com, which is run by a veteran blogger who teaches English overseas. ("I am not professor (sic) or an expert on the subjects I write about but I have done a fair amount of reading about them," the About page reads. "I want to apologize for the small errors and editing mistakes … I am currently a one man operation, producing a huge volume of material and editing it myself.")
As Ulicki scrolled down the page, one picture of a statue caught his eye. He leaned closer. It was a naked man face-to-face with a massive bird, connected at the man's crotch. Lest anyone mistake what was happening, the caption explained it: "sex with a goose."
Ulicki posted the image on Facebook. As outraged comments multiplied on the thread, a school-board member announced he would call for a vote at the next meeting on whether to keep the program in place. But before the meeting could happen, they all received a letter from the superintendent's office, announcing that Summit was being removed by executive order. The letter blamed "misunderstanding and misinformation within the community," in addition to "issues in the platform."
++
How much this one district's experience speaks to the Summit project overall is debatable. To date, it's the only one, out of several hundred districts and charter schools, that has yanked the program in response to parent protests — though at least two others, in Wisconsin and in Pennsylvania, have also introduced a non-Summit option for the disgruntled families. Jeff Solan, the Cheshire superintendent, said he wishes he'd given everyone a choice from the start. "If we had it to do over again," he said, "we would have taken much more time to explain the change and solicit family volunteers for participation." This seems to have helped in other districts. Lisa Prouty, a parent in San Diego County who's become an evangelist for the program, said her son's charter school started with just 36 students voluntarily trying it out. "We all wanted it to succeed, and we all saw that it could — and then it did," she said. "It was just the biggest blessing for us to find it." But having universal buy-in, she said, was critical.
Tavenner said the learning curve can be just as steep for parents as for students and teachers. She described to me how her own husband struggled when their son started the program. He was accustomed to working through math problems with their son in a textbook. "That felt comfortable, because he knew what his job was as a dad," Tavenner said. "He knew what it meant to be a parent in the former model." It took time to get used to watching online videos with his son and learning side by side. That initial frustration, Tavenner believes, drives a lot of of the parents' angst. She said similar complaints usually cease after a semester or two. "It's a very small number who are concerned," she said, but social media can make their numbers seem inflated.
Tavenner said the organization does conduct research on outcomes, but it has never done aggregate surveys of families' and teachers' opinions — let alone had aggregate independent surveys done — because it's more focused on helping schools meet their individual goals. Nor is there much empirical, independent research on how Summit is working in terms of student achievement, mental health, and other metrics — but then, this is true for all the "personalized learning" programs being pushed by tech billionaires. John Pane, a scientist at the RAND Corporation who has studied the matter more extensively than anyone, said the conditions haven't been ideal yet for a large-scale test. In general, Pane has noticed some slight improvements in math learning among personalized-learning classrooms, but in some schools he's seen drops. Still, he said, as these programs go, Summit appears to be better than most. He appreciates that it's transparent about the science that went into its design, and that it offers schools an array of resources.
As for the data concerns, it does seem reasonable for parents to worry, because whatever legal protections a given tech company offers, you only need to read the news to know how often even major companies suffer damaging data breaches. Summit deserves credit for listing the 18 "partners" with whom it shares children's information and for promising that schools and parents "own" the data at the end of the day. It has signed on, along with CZI, to the Student Privacy Pledge (which holds both organizations to legally enforceable standards). I asked Elana Zeide, a leading expert on student privacy and a visiting scholar at UCLA, to scrutinize the current agreements, and she concluded that they're about as strong as anyone could hope for. She pointed out that Summit is also subject to state and federal privacy laws that apply specifically to groups that receive students' personal information from schools. "I do think they're acting in good faith," she said. She sees no reason to think they're selling data.
But any connected classroom poses security risks. In 2017, the FBI announced major security lapses at two large education-technology companies, leading to the release of millions of students' data. In one case the data was accidentally opened to the public, and in the other it was posted for sale on the dark web. And last month, nearly 50 million Facebook users had their accounts hacked, the biggest breach in the company's history. Tavenner said Summit takes pains to protect data, and only shares it with companies that make similar commitments. Time will tell how secure it really is.