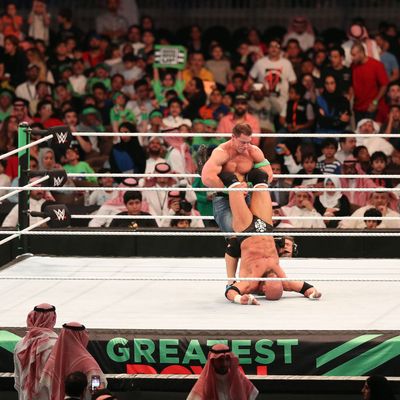 John Cena and Triple H during a WWE event in Saudi Arabia in April.
Photo: STRINGER/AFP/Getty Images
If you decided, right now, that you wanted to go to Saudi Arabia to attend the WWE's Crown Jewel event this Friday — yes, there is a WWE event being staged in Saudi Arabia this Friday — I have bad news for you: It's sold out.
That it is happening at all is amazing and distressing. If you go to SaudiTickets.sa — the official ticket retailer for the event, a site that appears to be the English-language entry point for entertainment event ticketing in the Saudi Kingdom — tickets for every other event on the site, from "Spring Music Concert" to "Classical Sounds" to "Children's Events," are listed as "coming soon." An exhibition tennis match between Rafael Nadal and Novak Djokovic event listed there is up in the air as the two players try to "understand the situation better." Everything is on hold. Except for the WWE event. That one is green light, go.
Since the brutal murder of Washington Post columnist Jamal Khashoggi on October 2, many businesses that had previously been on board with Mohammad bin Salman's Saudi Vision 2030 plan have taken a sharp U-turn, with many corporations backing out of last week's Future Investment Initiative, the so-called "Davos in the Desert," in Riyadh last week (though, perhaps inevitably, Halliburton was still there, signing deals). But not the WWE, even though John Cena, the biggest name in the organization and the WWE's current media crossover darling, is reportedly not attending (though he has not made a formal announcement, yet). Much of the rest of the world is blanching at the murder, and the crown prince seemingly behind it. But the WWE is staying its course.
This isn't just any WWE event. The Crown Jewel event is sort of an NCAA Tournament crossed with an old-timer's game, with current stars like Brock Lesnar, AJ Styles, and Daniel Bryan competing alongside some of the biggest names in wrestling history, including The Undertaker, Kurt Angle, Kane (who, as Glenn Thomas Jacobs, does double duty, seriously, as the Republican mayor of Knox County, Tennessee), Triple H and, most notably, Shawn Michaels, one of the most popular wrestlers ever, who hasn't appeared in a match since 2010. It's a signature, pivotal event on the WWE calendar, created specifically for Saudi Arabia. The WWE had a wildly successful event in April called Greatest Royal Rumble (which, not coincidentally, featured all sorts of in-ring propaganda about the greatness of Mohammad bin Salman). It's the sheer, massive scale of this event, which WWE storylines have been leading up to for months, and the contract the WWE claims it must honor, which the company cites as the reasons it can't cancel the Crown Jewel.
What makes the WWE's position on this even more remarkable is how much it is out on an island, with senators from both parties imploring the company to cancel. It is impossible to imagine any major North American professional sports league holding an event in Saudi Arabia at this point: Not even NFL commissioner Roger Goodell would dare stick his neck out like that, no matter how much money there might be in it for his league. And that the WWE is still willing to, despite its increased attempts at "legitimacy" in recent years, is a sign that the organization is still playing by its own rules, for better or worse, and that those rules are, as they have always been, a cruder and more unapologetic version of the NFL's cocky conservative swagger. This is, after all, a company still run by Vince McMahon, who is not only a longtime friend (and head-shavee) of President Trump (who is himself in the WWE Hall of Fame), but also the husband of Linda McMahon, who currently runs the Small Business Administration for Trump, following several failed attempts to become governor of Connecticut. If anything, the WWE resembles Halliburton far more than it does Major League Baseball.
But in other ways, this is a new era for the WWE, which has mainstreamed in the last few years in a way that would have seemed inconceivable a decade ago. Cena has followed in the footsteps of The Rock to become a reliable crossover movie star and personality, and the WWE has made a habit of taking stars from other "fighting sports" and making them their own, from Lesner to Ronda Rousey, who is currently the WWE's women's champion. You can now catch wrestling clips and highlights on SportsCenter; ESPN actually has a full-time reporter covering the WWE. "WWE Smackdown," one of the signature WWE weekly programs, is moving from USA Network to FOX next year, which means one of the four major terrestrial networks will be showing live wrestling for two hours a week, year-round.
Such high-profile, mainstream exposure might push other leaders of organizations to temper their baser instincts; both NASCAR and the UFC, for instance, have bent, even if only slightly, to the media organizations with whom they've signed big deals (oftentimes despite the protests of their most loyal fans and backers.) Which is why it's so disturbing that the WWE is plunging forward with the Crown Jewel event. On top of which, it seems to be doing so under the cover of the Trump administration, which, lest we forget, hasn't exactly been laying down the hammer on Saudi Arabia in the wake of Khashoggi's killing. On Sunday night, the WWE tried to get itself some good press by having its first-ever all-female pay-per-view event, called Evolution, which was a success. But it also couldn't help but serve as a reminder that no women wrestlers are allowed to compete in Saudi Arabia. (They are only permitted to attend, with male escorts, as "fans.") And as big as Evolution was, the Crown Jewel event is clearly the focus of most of WWE's energy, with its historic roster of talent returning and a persistent rumor that Hulk Hogan, of all people, will be at the event, as well. According to The Daily Beast's look into WWE's finances, the Royal Rumble event back in April netted the company $45 million, which is far above what's typical, and it is likely that the Crown Jewel will bring in even more. Saudi Arabia is where its bread is buttered, and that didn't start with the Crown Jewel … nor is it disconnected from Trump.
One potential pitfall, though, which the WWE may have overlooked, is with its own fan base, which the company tends to obsessively court. When the Crown Jewel was promoted during the Evolution event, the crowd in New York lustily booed.
There has been much talk among wrestling fans of boycotting the Crown Jewel and even the wildly profitable WWE Network, which will be broadcasting the event, in the wake of the WWE's decision. And every mention of the event is guaranteed to be a heel-turn; even the beloved Undertaker got booed when he mentioned it on a recent show. Fans are making their views on this heard, loudly. And that's where we are now: Your average rasslin' fan is showing dramatically more evidence of a social conscience than anyone in the White House.