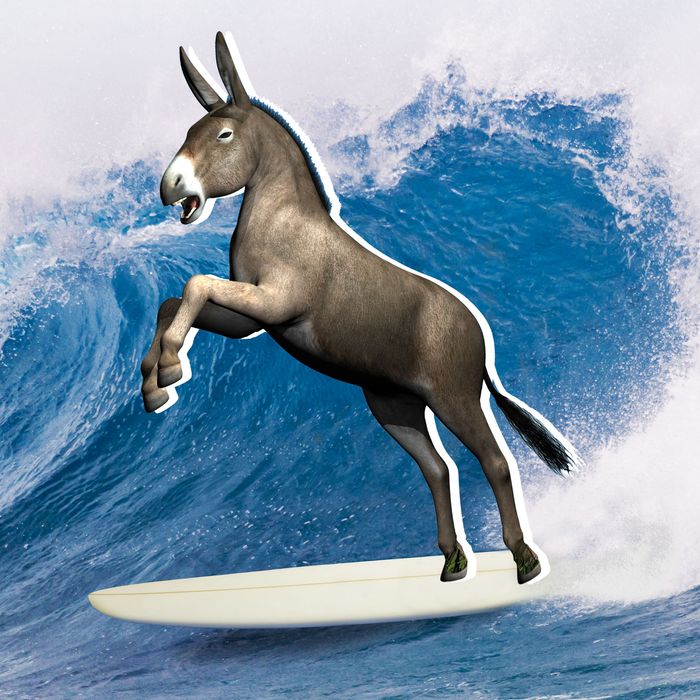 Surfing a wave of money.
Photo-Illustration: Elenarts/John Lund/Getty Images
Donors to U.S. political campaigns are facing a dilemma in October: The more likely you are to know about a campaign, the less likely it is to need a donation from you. Take Senate hopeful Beto O'Rourke, who has raised over $62 million, almost half of that from small donations; with just eight days until November 6, $60 to Beto isn't much more than political retail therapy. But down-ballet, where attorney general and state legislature candidates operate on a fraction of the budget and attention of a national race, small donations represent an astronomically higher return on investment. Traditionally, Republicans have invested more resources on the state level, one reason that the party holds 26 trifectas — that is, control of the governor's mansion and both state houses — to Democrats' 8. But targeted, smart donations could help to balance that inequality. (Or inflate it — a Republican analysis is to follow.)
Likewise, in states like Arizona and Florida, where Democrats hope to flip the state legislature or bring it close to parity, candidates like Ralph Atchue and Debra Bellanti scrape together runs on $50,000 and $75,000. "For a lot of these campaigns, an injection of a few thousand dollars is the difference between canvassing or not, radio or not, digital ads or not," says Sean McElwee, co-founder of the progressive think tank Data for Progress. "We've raised about $600,000 this cycle, which would be a rounding error in Beto's campaign. A lot of these state chambers are going to be very narrowly decided, and they have incredible control over people's lives."
Consider attorney Manka Dhingra, who won a Washington special election last year in a state senate district just east of Seattle, flipping the chamber and giving Democrats a statewide trifecta. In the year since, Washington — which often acts as the vanguard on progressive issues — passed legislation to enact automatic voter registration, ban bump stocks on semiautomatic weapons, outlaw gay conversion therapy, and mandate birth control coverage in all health plans offering maternity care. Having raised almost $1.5 million, her campaign was a bit more expensive than the state senate average of around $500,000. But, in terms of impact, a donation to Dhingra in 2017 was about as cost-effective as small-donor funding gets: spending smart money on a normally obscure seat to push a state party toward a strong legislative position.
By the simple virtue of making it really easy to give, the website and nonprofit ActBlue has helped expand the influence of small donors in the Democratic Party. Founded in 2004, it lends its PayPal-like software to any Democratic candidate, fundraiser, or local party affiliate. Register your information and simply click to begin donating to candidates, ranging from centrist red-staters to members of the Democratic Socialists of America. The service has seen a huge increase in use, growing from just under $1 million raised in 2004 to over $1 billion raised for the 2018 midterms; last midterm cycle, ActBlue had so many contribution in October that it crashed the Federal Election Commission's server. If 2014 was a banner year, with 12 percent of House candidates' money coming from ActBlue, this midterm has shattered that record — so far, 34 percent of House candidate funds have been raised on ActBlue. "Half of our contributions come from mobile devices," says CEO Erin Hill. "We want to meet donors where they are."
While ActBlue has streamlined the donation process, research-intensive sites like Data for Progress and Daily Kos have been fine-tuning formulas for how to give wisely, creating lists of candidates with the highest possible return on investment. These organizations have provided answers to the vital last-minute question: if you want to give $1 or $100, where will it have the greatest effect? These lists allow you to pick your own political priority. Perhaps you want to focus your donations on progressive women candidates, or to give to the candidates most likely to tip the balance in a close state legislature. "I went into this thinking that we've reached some sort of political equilibrium, where giving money to candidates is reasonably efficient," said McElwee. "But that's 100 percent not true. We're like a small-market Robert Mercer, finding arbitrage opportunities to fund the candidates who should have more."
How to Give …
… If Your Priority Is Flipping Legislatures in Key States …
Flippable, an organization dedicated to turning whole chambers from red to blue, has focused on ten states wracked by gerrymandering and voter suppression, in the hope of giving Democrats legislative command before the 2021 redistricting. Many of the 23 candidates they endorse on their ActBlue page are running in Michigan, Pennsylvania, Wisconsin, and Florida. "Florida is the worst offender on everything," says co-founder Catherine Vaughan. "They have terrible voting laws, it's gerrymandered to bits, and it has the fifth worst teacher pay in the country. But, it's also flippable. There's well over a dozen seats in the Florida legislature that Hillary won, and they need five seats to turn it blue." Five is a lot when there's only 40 Senate seats, but a major swing state with more accessible voting laws and balanced districts could have a serious impact on national politics: since 1996, the presidential candidate that has won Florida has won the Electoral College.
… If Your Priority Is Helping Women in Pivotal Races …
Data for Progress has identified eight women running in state legislatures that could tip the balance or otherwise excel in progressive politics. "There are a lot of barriers to entry in politics that disproportionately affect women," says McElwee. A fund like this helps not only to enfranchise women currently campaigning, but to motivate future candidates to get in the running. Vaughan points to the 2017 special elections of Florida state senator Annette Taddeo and state representative Margaret Good as victories that helped inspire candidates for 2018.
Among the women on the DfP list are Padma Kuppa and Dayna Polehanki, who are running in red Clinton-won legislative districts in Michigan. And in the Texas senate, there's Rita Lucido running for a Galveston-area seat and supporting new flood infrastructure and health care expansion. Democrats need to win just two seats in the Texas senate to be able to block Republican legislation, like past efforts to limit abortion access and transgender rights.
… If Your Priority Is Breaking State-level GOP Trifectas …
26 Republican trifectas mean that the party dominates local policy in over half of the United States. Daily Kos has focused on the gubernatorial candidacies of Andrew Gillum, who's currently leading in Florida, Stacey Abrams in Georgia, Gretchen Whitmer in Michigan, Richard Cordray in Ohio, and Tony Evers in Wisconsin. Sam Wang, a Princeton neuroscientist and elections wonk, has singled out the Wisconsin gubernatorial race as the single most impactful donation to make this year, as Evers has the potential to topple a national figure in Scott Walker and ensure that Democrats are at the table with veto power for the 2021 redistricting. To donate to governors specifically, click the drop-down option to allocate funds toward your candidate of choice.
Flippable, meanwhile, is focused on the legislature, including opportunities to break the Republican trifectas in Pennsylvania, Wisconsin, and Michigan. Last year, Democrats picked up trifectas in New Jersey and Washington, and in the midterms they hope to grab at least one more, with a two-seat opportunity to flip the state senate to Democrats in Colorado. "Already, Colorado is a leader in environmental justice" says Vaughan. "If they can get those two seats, Democrats will be able to amplify that, and write legislation to mend Colorado's housing crisis."
… If Your Priority Is Winning Key State-level Positions …
Attorney general seats offer a flexible opportunity for parties to check national policies counter to their interests, and to defend against overreach if they're on the wrong end of a trifecta. "Under Obama, Republicans used state attorneys general to attack policies, and launch lawsuits against Obamacare," says Carolyn Fiddler, communications director at Daily Kos. "In states like Arizona and Nevada, Democrats have a chance to block Trump administration policies and keep Republicans at bay in trifecta states." The six candidates identified by Daily Kos represent the best chance to swing AG numbers toward a balance: Republicans hold 27 AG posts to Democrats' 22.
Secretaries of state, meanwhile, present Democrats with a chance to protect voting rights — the pivotal goal for Democratic hopes to expand their electorate. The GOP holds 28 secretary of state offices to Democrats' 17, and Daily Kos has targeted six candidates to bring that number toward parity. In Colorado, there's Jena Griswold, running against a Republican incumbent opposed to same-day voting registration and universal vote-by-mail. If Jocelyn Benson is elected in Michigan, she can combat Republican efforts to get rid of straight-ticket voting, which would create longer waits mostly in African-American precincts. "The secretary of state is essential to making sure voters have ballot box access," says Fiddler. "Or [to] limiting that access, in Republican cases."
… If Your Priority Is Turning New York State Into a Progressive Powerhouse …
Since 2010, the New York state senate has been in Republican control, limiting Democrat's hopes that the state could become the East Coast's answer to the progressive powerhouse of California: a state with serious economic power-drafting policies ripe for adaptiation by other Democratic states. With a blue trifecta in New York, legislators could also reform the state's notoriously cranky voting laws.
Data for Progress has identified eight candidates with the opportunity to flip the Senate, including Andrew Gounardes in SD-22 — one of the last Republican bastions in New York City — and Monica Martinez, an immigrant from El Salvador running in SD-3, a district which Obama won by double digits, but which went to Trump in 2016.