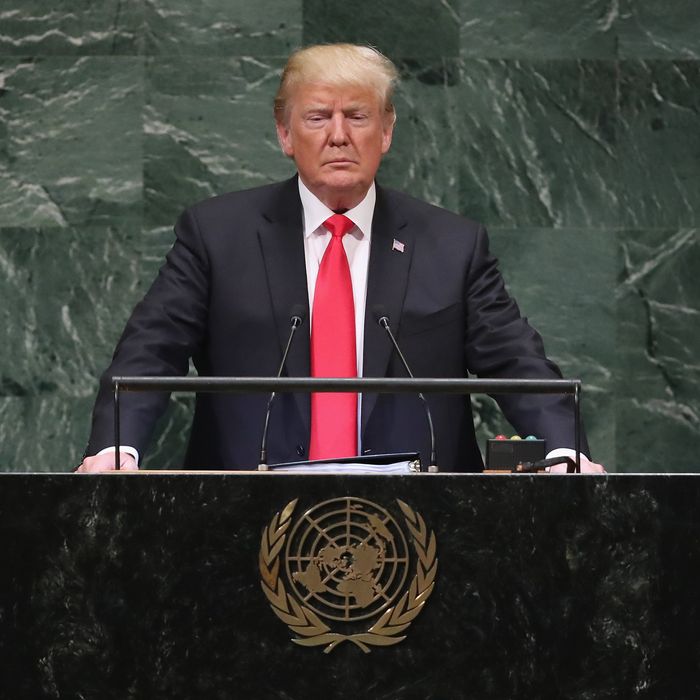 President Trump at the U.N. in September.
Photo: John Moore/Getty Images
The Trump administration on Monday stopped granting visas to the same-sex partners of diplomats and officials at U.S.-based international organizations, reversing a policy put in place by former secretary of state Hillary Clinton in 2009.
Straight couples have always needed to be married in order for the partner of a diplomat or U.N. official to receive a visa of their own. The same was not true of same-sex couples, for whom a domestic partnership was enough for both to receive visas.
Now, diplomats and officials at these organizations who are in same-sex relationships will face the choice of either getting married or separating. For those same-sex partners already in the U.S. and currently holding a visa, a deadline has been set. If by the start of 2019 they're not married, they have 30 days to leave the country.
The justification for this move is that gay marriage is now legal in the U.S., so it's only fair that gay and straight couples play by the same rules. The U.S. mission to the U.N. explained the change in July, Foreign Policy reports:
"Same-sex spouses of U.S. diplomats now enjoy the same rights and benefits as opposite-sex spouses," the U.S. mission wrote in a July 12 note to U.N.-based delegations. "Consistent with [State] Department policy, partners accompanying members of permanent missions or seeking to join the same must generally be married in order to be eligible" for a diplomatic visa.
In a statement to NBC News, a State Department spokesman doubled down on this reasoning, saying the policy change is "to help ensure and promote equal treatment" between straight and gay couples.
But this line ignores the reality in most countries, where gay marriage is not legal. That means many gay couples would have to come to the U.S. on a tourist visa to get married before they could return for one of them to work for the U.N. Some couples could also face a decision between getting married in order to stay together in the U.S., or being persecuted back home.
"The problem with the new policy is that it doesn't take into consideration the fact that LGBTI people still face a very challenging global environment," U.N. human rights official Fabrice Houdart told NBC News. Or, as former U.N. ambassador Samantha Power put it in a tweet, the move is "needlessly cruel & bigoted."