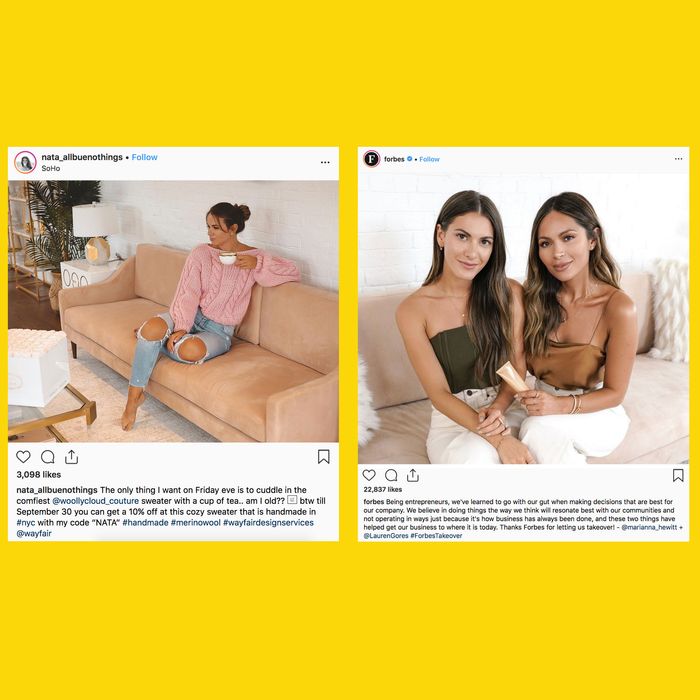 Photo: Screenshots via Instagram
Wow. I love this pink couch. What a good pink couch. I wonder where I could buy a pink couch such as this. Maybe I'll ask this influencer where she got her good pink couch.
Or I guess I could ask these two ladies where they also got the same good pink couch. With the same set of white brick walls to back it up. What a coincidence!
These walls feel mighty familiar. I know it's not in the picture, but something tells me that she could also tell me where to buy this dang couch.
Alternatively, I guess I could just do what these folks are doing and borrow the aforementioned couch for some pictures and then go back to my velvet-couch-less apartment. The couch in question, as highlighted by this excellent piece from the New York Times, is located in a $15,000-a-month Soho apartment owned by Village Marketing, a company that works with advertisers and influencers. Nobody lives in the fully furnished space. It exists solely for Instagram influencers to pose in its marble bathroom, gaze over the city from the roof deck, and eat pastries while splaying, gracefully, on the gold, four-poster bed.
From the Times:
Vickie Segar, the 35-year-old founder of Village Marketing, came up with the idea for an apartment tailored to social media after noticing that many influencers — especially those living in New York, with its cramped, dim living spaces — were having a hard time getting the shots they needed. Some were even booking hotel rooms or making covert visits to furniture stores to get their work done.
The apartment is booked through October. The couch, in case you were wondering, is a custom job from Wayfair dyed a specific shade of millennial pink.