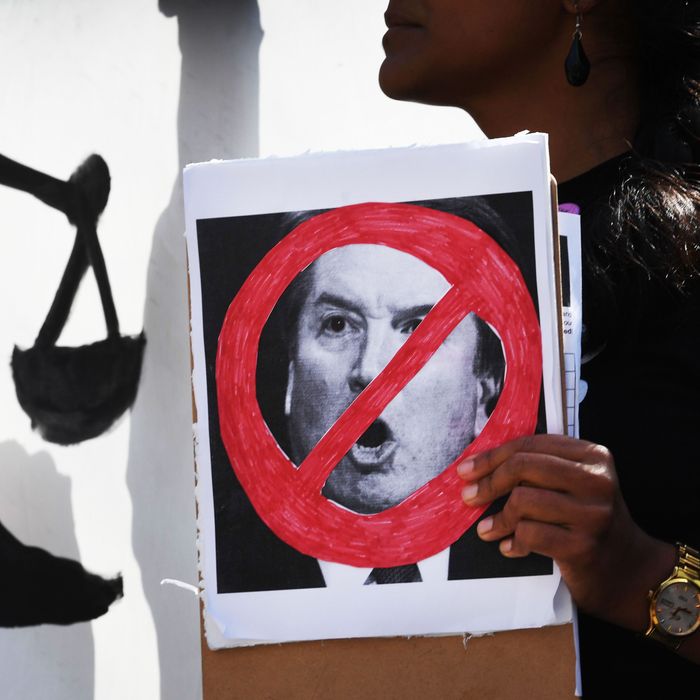 Washington was so absorbed with the Kavanaugh hearings last week that Trump signing a bill to keep the federal government open got lost in the shuffle.
Photo: Mark Ralston/AFP/Getty Images
Want a good indication of how the drama involving Brett Kavanaugh and Christine Blasey Ford riveted the chattering classes of Washington late last week? On Friday, the president signed a so-called "minibus" bill appropriating roughly $850 billion for the Defense, Labor, Education and Health and Human Services Departments for the fiscal year that began on Monday. Just as importantly, the bill extended (through the device known as a "continuing resolution") current spending for all the departments not covered by regular appropriations bills until December 7. That includes the Department of Homeland Security, whose border wall spending has frequently been a target of Trump threats to veto appropriations and/or shut down the federal government.
So in other words, this bill funded much of the federal government and most definitely avoided a government shutdown, which would have otherwise begun over the weekend. And hardly anyone noticed.
Now it's true that this development had been widely anticipated, despite occasional Trumpian muttering about his border wall, the perfidy of immigrant-loving Democrats, and the weakness of congressional Republicans.
As congressional Republicans kept reassuring us all and each other, Trump was bluffing, and so he signed that "ridiculous Spending Bill" in what amounted to peaceful silence as Washington hung on every word from Kavanaugh and Ford and Flake and Graham and all the other characters in the confirmation drama.
Government employees affected by the non-shutdown and the specific provisions of the appropriations measures noticed, of course. And so, too, did Christian-right types who were angry that their pet appropriations riders were left out. Here was the headline from CNS News on the story about the bill: "Trump Signs 'Minibus'-CR That Funds Planned Parenthood and Aborted Baby-Parts Research."
Some of the same disgruntled conservatives may hope that Trump opts for a government shutdown when the continuing resolution runs out in December. It may be all they want for Christmas. But for now, there aren't too many people noticing enough to share their outrage.