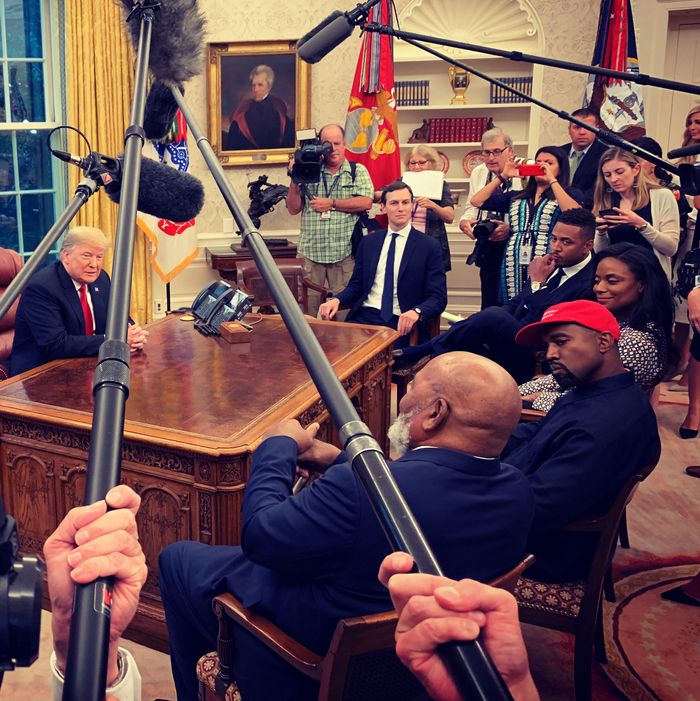 Yep, this is real life.
Photo: Olivia Nuzzi
It has rarely happened before in this administration, but on Thursday afternoon, Donald Trump wasn't the most puzzling figure sitting in the Oval Office. He wasn't the most talkative, either. And he wasn't even the one wearing a Make America Great Again hat.
Such distinctions belonged to Kanye West.
It was, in the president's words, "Quite something."
West sat across from Trump and engaged in a sprawling and at times philosophical conversation that touched on criminal-justice reform, the state of inner cities, mental health, the possibility of Kanye 2024, female energy in the Kardashian family, the concept of time, and the universe. West did most of the talking.
They were joined by Jim Brown, the legendary former Cleveland Browns running back, as well as Ivanka Trump and Jared Kushner. When I entered the room, the president was already speaking. He was explaining that people know Brown for his years in the NFL, but he's "an even better lacrosse player."
Addressing the media encircling the Resolute Desk, he went on, "These are two friends of mine. Kanye's been a friend of mine for a long time, and Jim is — Jim came out of nowhere and he said, 'I like what the president's doing,' a long time ago. And we met, and I just appreciate it very much." He praised the state of employment in the country under his leadership. He then mentioned his dealings with North Korea and the fact that Secretary of State Mike Pompeo had just returned from a trip to Pyongyang. "No more missiles going up. No more nothing," Trump said. West responded, "I like the North Korea."
Trump moved on to the topic West was ostensibly there to discuss. When the New York Times' Maggie Haberman first broke the news of the upcoming meeting earlier this week, she reported that West was specifically interested in speaking about improving employment prospects for former convicts and creating jobs in his hometown of Chicago. Trump brought up his decision to commute the life sentence of Alice Johnson, a 63-year-old grandmother who'd been incarcerated since 1996 for a drug-related conviction, in early June. The commutation came as a result of the influence of Kim Kardashian West, Kanye's wife, who visited the White House to discuss the case with the president. "She was very unfairly treated," Trump said of Johnson. "And there are many other people like that."
Referring to a prisoner whose case he is raising with the president, West said, "Really, the reason why they imprisoned him is because he started doing positive for the community. He started showing that he actually had power, he wasn't just one of a monolithic voice, that he could wrap people around. So, there's theories that there's infinite amounts of universe, and there's alternate universe. So it's very important for me to get Hoover out, because in an alternate universe, I am him. And I have to and get him free because he was doing positive inside Chicago."
He went on, "People expect that if you're black you have to be Democrat. I have conversations that basically said that welfare is the reason why a lot of black people end up being Democrat. First of all, it's a limit to the amount of jobs. So, the fathers lose the jobs, and they say, 'We'll give you more money for having more kids in your home,' and then we got rid of the mental health institutes in the '80s and '90s, and the prison rates just shot up. And now you have Chi-raq, people call it Chi-raq. Which is actually — our murder rate is going down by 20 percent every year. I just talked to the superintendent. I met with Michael Sacks, that's Rahm's right-hand man," West said, referring to Rahm Emanuel, Chicago's mayor.
From where I was standing amid the forest of reporters and cameras, it was difficult not to notice in the backdrop the prominent portrait of Andrew Jackson that has been on display since Trump moved in. Later on, when he was asked about characterizations of the president as racist, West said, "As black people we have to take responsibility for what we're doing. We kill each other more than police officers."
"So, I think it's the bravery that helps you beat this game called life," West continued, "You know, they tried to scare me to not wear this hat — my own friends. But it's hot! It gives me, it gives me power in a way. You know, my dad and my mom separated, so I didn't have a lot of male energy in my home. And also, I'm married to a family that, you know, not a lot of male energy going on. It's beautiful though! But there's times where, you know, it's something about — I love Hillary. I love everyone, right? But the campaign, 'I'm With Her,' just didn't make me feel, as a guy that didn't get to see my dad all the time, like a guy that could play catch with his son. There was something about, when I put this hat on, it made me feel like Superman," West said, referring to the red MAGA hat on his head. "You made a Superman — that's my favorite superhero. You made a Superman cape for me, also, as a guy who looks up to you … looks up to American industry guys, nonpolitical, no bullshit — put the beep on it — however you wanna do it, five-second delay …"
As he concluded, he rose to walk around the desk. "I love this guy," he said.
At one point during his ten minutes of remarks, West said, "Time is a myth." He also revealed he had been diagnosed — wrongly, he said — with bipolar disorder. He called himself a "crazy motherfucker."
Trump said West is "a smart cookie." After the spectacle, they had a lunch of roasted chicken, fingerling potatoes, and sautéed asparagus.