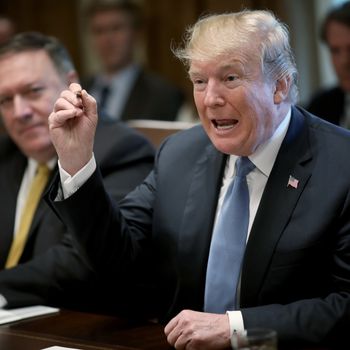 Trump readies his writing pen.
Photo: Win McNamee/Getty Images
Seventeen months after the launch of the Special Counsel investigation into potential collusion between the Trump campaign and Russia, President Trump will finally answer questions from Robert Mueller, according to multiple reports.
The questions will focus solely on alleged collusion, not on the many times Trump may have obstructed justice during the investigation. That means no questions about the firing of former FBI Director James Comey and no questions about Trump's highly questionable tweets.
The most notable detail about the interview, though, is that it won't be conducted in person. Rather, Trump's answers to the 15 questions will come in writing. Even though Mueller's office has insisted on asking follow-ups and subjecting Trump to a second round of questions, CNN reports that the process for doing so is not at all clear:
There may be more rounds of questions after the first answers are returned. The special counsel had insisted that there be a chance for follow-up questions as well. But after a prolonged back-and-forth over months, the two sides agreed to start with a first round of questions.
It's also unclear if an in-person interview will follow the written portion, though Trump said Thursday on Fox & Friends that he's willing to do both. "Well, it seems ridiculous that I would have to do it when everybody says there's no collusion, but I'll do what is necessary to get it over with," Trump said.
The agreement to respond to questions in writing comes after a drawn-out battle about whether Trump would be questioned by Mueller at all. Exactly a year ago, Trump's lawyers were signaling a willingness to allow him to sit down for a face-to-face interview with the Special Counsel's office. By March though, with the interview still a point of contention, Mueller apparently raised the idea of subpoenaing Trump. That didn't help his cause. By the end of April, those close to Trump predicted that he'd never grant Mueller an interview.
A breakthrough appeared to come early last month, though, when Mueller signaled his willingness to let Trump provide answers in writing. This remains the preferred method of interrogation for Trump's lawyers, even if he's been insisting for months that he'd be happy to sit down with Mueller and talk it all out.
The worry all along, for the lawyers at least, has been that if Trump opens his mouth in an interview with the Special Counsel, he'd almost certainly lie. An interview, Trump has said, could be a "perjury trap." Responding in writing reduces the chances of Trump springing such a trap. At least that's the idea. But anything can happen with the most unrepentant liar in modern American history providing answers.