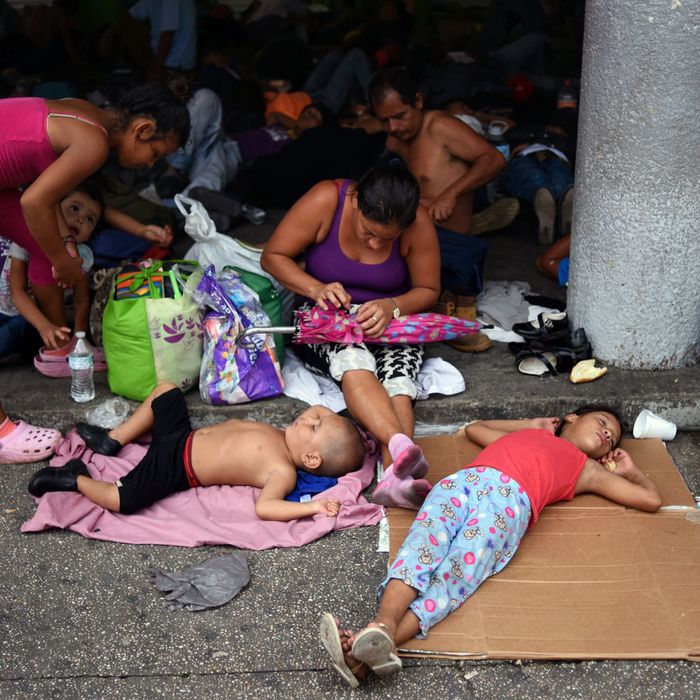 Honduran migrants rest in Tapachula, Chiapas state, Mexico.
Photo: JOHAN ORDONEZ/AFP/Getty Images
The caravan of migrants marching north toward the U.S. ballooned to at least 5,000 on Sunday, as thousands of desperate men, women, and children trudged through brutal heat in search of a better life.
Under intense political pressure from President Trump, Mexican authorities attempted to slow the migrants at the Mexican-Guatemalan border earlier in the weekend. They used tear gas and contained hundreds on a bridge between the two countries, allowing 45 people at a time to cross.
For many, it was not worth waiting. Thousands of migrants crossed the muddy Suchiate River on raft or on foot and continued their journey into Mexico, where locals cheered them on.
Maria Teresa Orellana, who lives near the Guatemalan border and handed out sandals to migrants, told the AP, "It's solidarity. They're our brothers."
According to the Los Angeles Times, most of the migrants plan to continue on to the U.S., despite Trump's warnings about using the military to shut down the border. Here's why they're coming:
"My goal is to find work for a better future for my daughters." Besi Jaqueline Lopez, a jobless business administration graduate, left Honduras with her 4-year-old Victoria and 3-year-old Elisabeth.
"They were going to kill him or kill us." Ingrid Andino left Honduras after a local gang began pushing her 16-year-old son to sell drugs.
"I can do this. I've made highways." Olivin Castellanos, of Honduras, is going to the U.S. in search of work.
"There are risks that we must take for the good of our children." Sairy Bueso, a Honduran mother of two, told The Guardian she began the difficult journey to the U.S. for the sake of her children's future.
"I have to do this for his future." Paola Oviedo left Honduras with her 18-month-old son after her ex husband began threatening to kill her.
"I want to go to a place where people respect me." When Cesar Meijia came out as gay, "his family sent him to a psychologist and the local gang threatened to kill him," the L.A. Times reports. Now he's searching for "the freedom to be himself."
"I miss my PlayStation. I miss Buffalo Wild Wings. I miss my car." Ramon Izaguirre, who lived in Phoenix until he was deported, wants to return to the life he knows best.
"There is no work back home. No future." William, a 20-year-old from Honduras, told CNN that he's just looking for a job.
"It's time for me to go back to the United States. It's a country where I can live my life, unlike Guatemala." Job Reyes, who went to school in Los Angeles, is attempting to return to the U.S. after 14 years back home, he told the Washington Post.
"I loved the beaches in Florida. And the Chinese food buffets." Evin Mata is attempting to return to the U.S. three months after being deported.