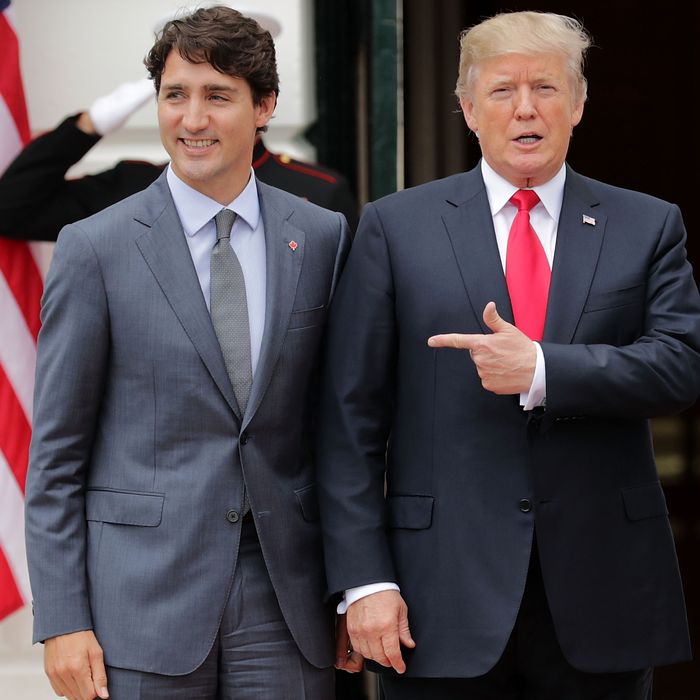 Dealmakers.
Photo: Chip Somodevilla/Getty Images
Canada has reached a deal with the U.S. to rescue NAFTA, the landmark trade agreement that Donald Trump has called the "worst deal ever," according to multiple reports.
The new NAFTA brings Canada into a bilateral deal struck by the U.S. and Mexico last month and comes after a frantic weekend of negotiations as the countries tried to meet a self-imposed deadline of midnight on Sunday.
In a joint statement, Chrystia Freeland, Canada's minister of foreign affairs, and Robert Lighthizer, the United States trade representative, said the new deal "will give our workers, farmers, ranchers and businesses a high-standard trade agreement that will result in freer markets, fairer trade, and robust economic growth in our region." It will also be called the "United States-Mexico-Canada Agreement," or USMCA.
Reuters has some details:
The deal will preserve a trade dispute settlement mechanism that Canada fought hard to maintain to protect its lumber industry and other sectors from U.S. anti-dumping tariffs, Canadian sources said.




But this came at a cost.




Canada had agreed to provide U.S. dairy farmers access to about 3.5 percent of its approximately $16 billion annual domestic dairy market, the sources said, adding that the Canadian government is prepared to offer compensation to dairy farmers hurt by the deal.
Canada also won protection from any future U.S. auto tariffs, but the nature of those protections was not clear. A source within the administration told the Times that Canada and Mexico would receive "accommodations" if Trump imposes auto tariffs. Steel and aluminum tariffs were not resolved as part of the agreement and are being addressed separately.
Trump and Trudeau are expected to sign the agreement in the next 60 days. Then it's likely to be taken up in Congress next year.