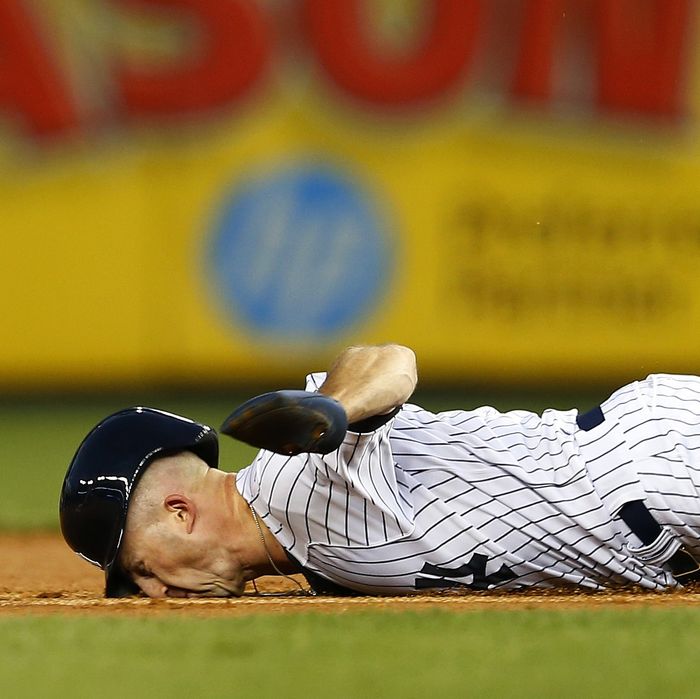 Yankee outfielder Brett Gardner is one of the players who crossed a picket line.
Photo: Rich Schultz/Getty Images
Game one of the ALDS won't be played until Friday evening, but the Yankees, who take on the Red Sox in the series, have already taken an "L."
On Thursday, several players were seen crossing a picket line outside of the Boston Ritz-Carlton. The striking workers — a group that includes cooks, maids, and bartenders — are demanding better working conditions, more stable hours, and protections against job loss. Their slogan is "One Job Should Be Enough."
Brian Lang, president of Unite Here Local 26, which represents the workers, lit into the team for undermining striking workers. "We understand that there's a very intense rivalry between the New York Yankees and the Boston Red Sox, but quite frankly we're a little outraged they would take it out on working-class people who are out here sacrificing to improve their livelihoods," he told Boston Magazine. "This is a slap in the face to all Bostonians."
"The Red Sox would never spit on their fans the way the Yankees are," he added.
The video above shows Yankee outfielder Brett Gardner and reliever Dellin Betances slinking past picketers to enter the hotel. It's worth noting that the team itself books travel for these players, so blame likely rests more with the management than the players.
That's the stance the New York AFL-CIO is taking. "As a lifelong Yankee fan and a proud New Yorker, I am disgusted the management of a team representing the strongest union town in America would choose a hotel where workers are on strike," said Mario Cilento, New York State AFL-CIO president. "Make no mistake, despite the Yankee organization's callous decision to cross a picket line, New York's labor movement stands in solidarity with the strikers and supports all working men and women across the country fighting for fairness and dignity at their jobs."
Baseball players have their own union, of course, and it's siding with the hotel workers. "From what we understand, these workers have been trying to negotiate a fair contract for more than six months. They deserve to be heard and deserve our support," the MLB Players Association said in a statement.