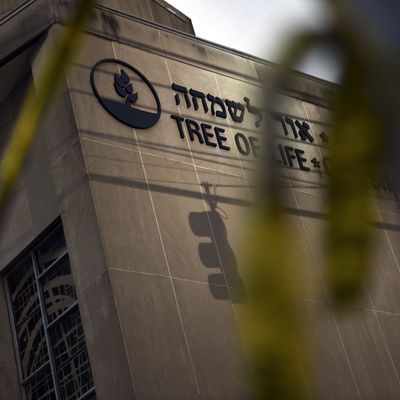 The Tree of Life Synagogue a day after a shooting left 11 people dead.
Photo: BRENDAN SMIALOWSKI/AFP/Getty Images
Eleven people are dead and six injured after a shooter — shouting that he wanted to kill Jews — opened fire during weekly services at a Pittsburgh synagogue on Saturday morning.
What happened?
At 9:50 a.m. Saturday morning, a neo-Nazi gunman walked into the Tree of Life synagogue in Pittsburgh's predominantly Jewish Squirrel Hill neighborhood and shot everyone he could find, ultimately killing 11 people. The gunman, 46-year-old Robert D. Bowers, was armed with an AR-15 style assault rifle and three handguns, and police said he used all of the weapons during the attack.
It seems Bowers may have targeted the synagogue looking to attack the Dor Hadash, a Reconstructionist congregation which rented space in the building, and had partnered with HIAS, a Jewish aid organization dedicated to assisting refugees. Bowers had published numerous posts about HIAS on the Gab social network, and appeared to ascribe to the anti-Semitic conspiracy theory that Jews were financially supporting an invasion of immigrants into the U.S. In particular, Bowers had frequently ranted about the caravan of Honduran migrants which President Trump and his allies on the right have been using to inflame the immigration debate and motivate Trump's base ahead of the upcoming midterm elections. Bowers had posted a list of HIAS's partners on Gab, including Dor Hadash.
At the time of the attack, Dor Hadash's weekly Shabbat services were just getting underway at Tree of Life. Some of the people inside the synagogue ran after the shooting began, while others tried to hide from the shooter. Four minutes after the attack began, the first 911 call came in from someone inside the building, and dispatchers said that witnesses reported hearing as many 30 shots.
Ten minutes after the attack began, at 10 a.m., the first responding police officers made it to Tree of Life. They immediately encountered Bowers, who was exiting the building as they arrived, and he and the two officers exchanged fire. One officer was shot in the hand, and the other received shrapnel wounds from broken glass. The officers, pinned down, reported that Bowers had an automatic weapon.
Bowers then retreated back into the synagogue, and more officers, including a SWAT team, began to arrive. Almost 40 minutes after the attack began, at 10:29 a.m., the SWAT team entered the building and rescued two injured victims, who were both elderly. The SWAT team found spent magazines in the halls of the synagogue, as well as the people Bowers had killed. The FBI agent in charge of the scene later said it was "the most horrific crime scene I've seen in 22 years with the Federal Bureau of Investigation."
The SWAT team encountered Bowers on the third floor at 10:47 a.m., and he opened fire on them, shooting two officers multiple times, critically injuring one. The gunfight continued until was Bowers was cornered. More than an hour and 20 minutes after the attack began, officers convince Bowers to surrender and he is taken into custody. The gunman had been shot several times, and was taken for medical care. He survived his injuries.
Authorities said that Bowers repeatedly shouted about his desire to kill Jews. "They're committing genocide to my people," he told police officers. "I just want to kill Jews."
Bowers was later charged more than 60 counts at the federal and state level related to the attack, including federal civil rights crimes and obstructing exercise of religious beliefs resulting in death.
Pittsburgh's public safety director, Wendell Hissrich, fought back tears when describing the scene to reporters on Saturday:
Who are the victims?
Authorities released the names of the 11 victims on Sunday. Many were adult members of the New Light Congregation, and at least one was a member of Dor Hadash congregation. Both rented space at the Tree of Life synagogue after it could no longer afford its own. All of the victims were adults over the age of 50 and most were elderly. They are:
Joyce Feinberg, 75
A retired researcher who studied learning in classrooms and museums at the University of Pittsburgh's Learning Research and Development Center, Feinberg raised her two children in the Squirrel Hill neighborhood.
Richard Gottfried, 65
A dentist, Gottfriend was remembered Sunday for his generosity and willingness to "serve patients who did not have insurance or were underinsured," the Times reports.
Rose Mallinger, 97
Mallinger had been attending services for decades and rarely missed any. She was well known in the Squirrel Hill community. Her daughter, Andrea Wedner, 61, was attending services with her on Saturday, and was injured in the attack.
Dr. Jerry Rabinowitz, 66
A well-known family physician at UPMC Shadyside. His practice partner since 1985, Dr. Ken Ciesielka, told the Post-Gazette that Rabinowitz was beloved by his patients and, "was one of the finest people I've ever met in my life. He had a moral compass stronger than anyone I have ever known."
In a Facebook post, a former patient wrote that Rabinowtiz was a compassionate doctor who treated HIV patients in the 90s without making them feel less-than-human. "He often held our hands (without rubber gloves) and always always hugged us as we left his office," Michael Kerr wrote.
Cecil Rosenthal, 59, and David Rosenthal, 54
Intellectually disabled brothers who were well known at the synagogue. Cecil would often work as a greeter. "Cecil's laugh was infectious. David was so kind and had such a gentle spirit. Together, they looked out for one another," said Chris Schopf, who works with ACHIEVA, a local non-profit that works with people with disabilities. According to USA Today, the brothers had "Fragile X syndrome, a genetic disorder that often results in mild to moderate intellectual disability."
Bernice Simon, 84, and Sylvan Simon, 86
A couple who had gotten married at the Tree of Life synagogue in 1956, the Simons were the "sweetest people you could imagine," their neighbor told CNN.
Daniel Stein, 71
A leader in the New Light Congregation and the Pittsburgh Jewish community, Stein was a substitute teacher and, after his daughter gave birth recently, a first-time grandfather.
Melvin Wax, 88
Wax was a retired accountant who lived simply after the death of his wife died two years ago. He was big fan of the Pirates, a team he defended despite their endless mediocrity. "He was happy to just watch them. He didn't care if they won or not," a friend told the Times. Wax was leading shabbat services when the shooting began Saturday.
Irving Younger, 69
Younger was a former small business owner and a little league coach. His neighbor told The Pittsburgh Tribune-Review that he was the "most wonderful dad and grandpa."
Who is the alleged shooter?
Robert D. Bowers is a 46-year-old white man who lived in the Pittsburgh area, and was not previously known to police. He is a licensed owner of at least six guns. Bowers was a prolific poster of neo-Nazi and anti-Semitic messages and conspiracy theories on Gab, calls itself the "free speech social network" and is considered a right-wing alternative to Twitter. Bowers also attacked President Trump, who he believed was being controlled by Jews, and said in one message that he did not vote for Trump. He also once posted a photo of three of his handguns on the network.
An archive of his posts, which include graphic and hateful messages, images, and memes, is here.
The attack struck Pittsburgh's oldest Jewish congregation
Founded in 1864, the Tree of Life is Pittsburgh's oldest Jewish congregation, and is Conservative. Three congregations use the building, and the central sanctuary can house more than a thousand people. The synagogue's CEO said they had not received any threats beforehand.
Squirrel Hill, which is near Carnegie Mellon University, is home to more than half of the Jewish residents of Pittsburgh, and was where a white supremacist was arrested after posting neo-Nazi flyers last year.
The third new instance of domestic terrorism in a week
The Pittsburgh shooting comes three days after a white man randomly shot and killed two black customers at a Kroger supermarket in Kentucky after initially attempting to enter a predominantly black church next door. That attack is being investigated as a hate crime.
On Friday, a Florida man was arrested and charged with mailing pipe bombs to several people over the past week, including prominent Democrats, and CNN. The suspect, Cesar Sayoc, was an ardent supporter of President Trump and targeted people who Trump has repeatedly identified as his enemies.
There have been no reports of any direct connection between the three events, but following the synagogue shooting on Saturday, police in Los Angeles and New York dispatched additional police officers to places of worship as a precaution.
This post has been updated throughout.