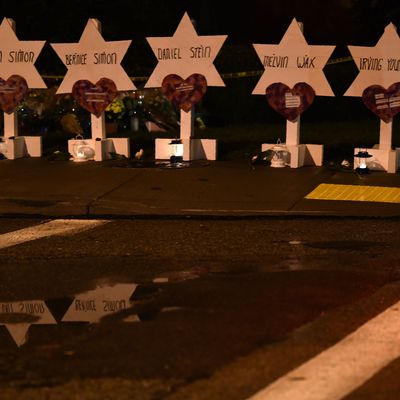 A memorial outside the Tree of Life synagogue in Pittsburgh.
Photo: BRENDAN SMIALOWSKI/AFP/Getty Images
Until Saturday morning, when he allegedly entered a Pittsburgh synagogue and gunned down 11 innocent congregants, Robert D. Bowers was known to his neighbors as an unremarkable man who said little about anything, including his apparent hatred for Jews.
"I wish I had known what was going on in his head," his neighbor Chris Hall told the Post-Gazette. "I wish there was some sort of warning sign."
Bowers's attack on the Tree of Life synagogue killed 11 and injured another six. It took only 20 minutes for him to pull off what became the deadliest anti-Semitic attack in U.S. history. As he was attempting to leave the synagogue, Bowers encountered police and a shootout began. The 46-year-old was eventually taken into custody after suffering multiple gunshot wounds.
"They're committing genocide to my people," he told the SWAT officers who arrested him, according to a federal complaint. "I just want to kill Jews."
Though Bowers hid his anti-Semitic rage from his neighbors, it was on full display online. He was an active member of Gab, the social media site that has become popular with white nationalists, where his posts hinted at the massacre to come.
His last post before entering the synagogue read, "I can't sit by and watch my people get slaughtered. Screw your optics, I'm going in."
Along with his anti-Semitic screeds, Bowers posted photos of three pistols that he called his "glock family." Police say he used three pistols, along with a semiautomatic rifle, in the massacre.
Some have laid blame for the shooting at the feet of President Trump and his constant stoking of racial division. Bowers went out of his way on Gab to say he was no Trump booster. Despite Trump's own embrace of the "nationalist" label, Bowers wrote on Gab that "Trump is a globalist, not a nationalist." He also declared in May that he didn't vote for Trump and had never "owned, worn, or even touched" a Make America Great Again hat.
Like Trump, though, Bowers complained about the caravan of Central American migrants moving through Mexico. On Gab, he wrote that the migrants, who he preferred to call "invaders," were coming to the U.S. to commit violent acts. He blamed the Hebrew Immigrant Aid Society (HIAS) for bringing the "invaders" to "kill our people."
HIAS is an aid organization that has helped resettle Jewish refugees since its founding on the Lower East Side of Manhattan in 1881. In recent years, it has expanded its work to help non-Jewish refugees. As CEO Mark Hetfield has said, "We decided to help, not because they are Jewish, but because we are Jewish."
"There are no words to express how devastated we are by the events in Pittsburgh this morning," HIAS said in a statement. "This loss is our loss … As we try to process this horrifying tragedy, we pray that the American Jewish community and the country can find healing."
Bowers's racism wasn't only directed at Jews, the Washington Post reports.
Many of his rants expressed racism against African Americans, according to an analysis of posts gathered by the Network Contagion Research Institute, a group of scientists and engineers who study online hate.




Half a dozen of Bowers's posts included slurs against women who had relationships with black men. He uploaded many posts that referenced nooses and ropes and hanging. Nearly 20 posts used the n-word.
Bowers faces upwards of 50 federal and state charges for the massacre. On Sunday, prosecutors said they will pursue the death penalty against him.