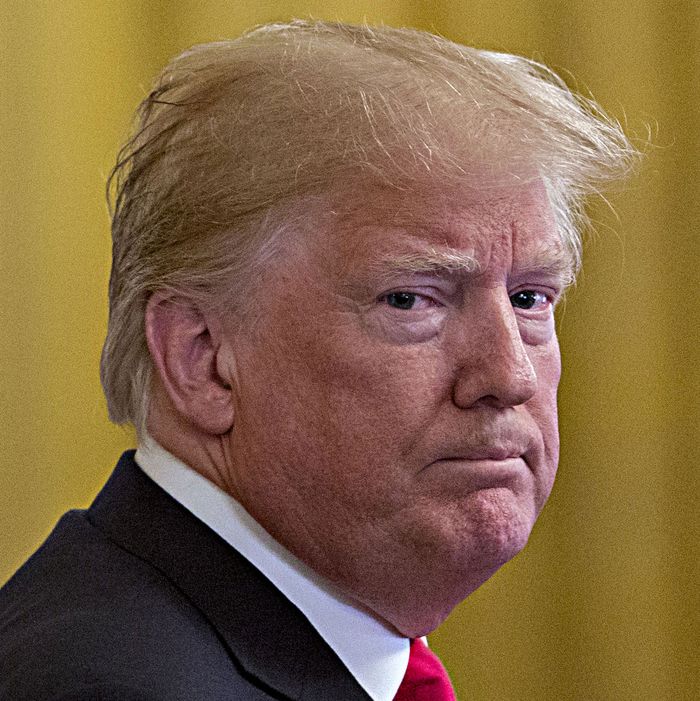 On Friday, Trump complained on Twitter that he has lost significant Twitter followers of late.
Photo: Andrew Harrer/Bloomberg via Getty Images
On Friday morning, Donald Trump fired up Twitter — probably on one of his nonsecure iPhones, which he reportedly refuses to surrender despite the security risk — and started discussing the most important issues facing the United States right now with his 55 million followers. The bombs being sent to prominent Democrats and media outlets. His decreasing Twitter follower count. Or at least that's how we're going to interpret the president saying, "Twitter has removed many people from my account." A phrase that anybody who uses Twitter regularly will tell you doesn't make much sense.
Okay, so just a couple of things to point out here. Trump has seen a decent drop in followers in the past few days. (By the numbers, we're talking in the tens of thousands.) And those followers probably weren't actual human beings using Twitter to read up on his thoughts, so their disappearances are a good thing. (Twitter, if you are reading this, congrats. I'm sure you'll do something new for me to be mad about next week, so let's enjoy this moment while it lasts.)
Twitter has been very vocal about taking steps to eliminate bogus accounts. In January, the platform reportedly removed over a million bot accounts following a New York Times investigation. In March, it removed a number of popular accounts for spam behavior. More recently, in July, it warned users that they might see their follower counts drop after it removed all locked accounts. A locked account — not to be confused with a private account, which is denoted by a lock icon — is an account that's been, well, locked by Twitter until it can verify that the account owner is still in control of the account. Average users were told that they'd lose around four followers, but that number was likely to be higher for larger accounts — say the account of the president of the United States. Twitter has also said that it's working on better controlling spam accounts using automation. "In May 2018, our systems identified and challenged more than 9.9 million potentially spammy or automated accounts per week," it wrote in a recent blog post. "That's up from 6.4 million in December 2017, and 3.2 million in September."
As for Trump's claims that Twitter is making it harder for people to join, in June the platform announced a plan to start making new users verify their accounts more thoroughly via phone number and email. (Twitter has not said whether or not this has actually rolled out yet.) So, yes, Trump. And also no. Twitter is making it harder for non-people to join. It should still be easy enough for actual humans to join.
Trump's Twitter following has seen steady increase over the last six months. This will likely continue despite the bot and spam purges … the man is the leader of the free world, after all, which means that of all the things to be troubling him right now, this should be at the bottom of the list. Following his Twitter complaint, Trump tweeted about the ongoing bomb situation for the … second time. Mostly to tell Republicans to vote, because isn't it unfortunate that news outlets are focused on domestic terror right now instead of talking about how "Republicans are doing so well in early voting"? It's a shame he's got a few less followers this morning to see that logical and tactful missive.