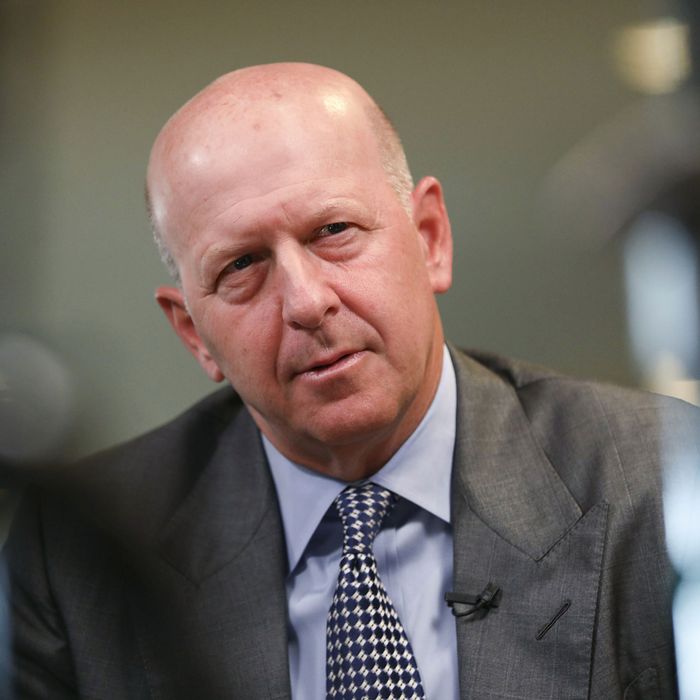 Inconceivable.
Photo: Patrick T. Fallon/Bloomberg via Getty Images
In 2009, the Malaysian government set up a development fund with the ostensible aim of attracting foreign direct investment, and thus increasing domestic economic growth.
But in time, the 1Malaysia Development Berhad (1MDB) (allegedly) came to serve a slightly different purpose — namely, funneling $4.5 billion out of the Malaysian government's coffers and into the hands of former prime minister Najib Razak, prominent businessman Jho Low, and the U.S. investment bank Goldman Sachs, among many others. This multibillion-dollar, globe-spanning corruption scandal toppled Najib's government, undermined Malaysia's economy, and, most regrettably, helped finance Martin Scorsese's The Wolf of Wall Street.
Also, earlier this month, it compelled Donald Trump's Justice Department to charge multiple former Goldman bankers on money-laundering charges, and secure a guilty plea (on similar charges) from another. In said plea agreement, onetime Goldman Sachs partner Tim Leissner confessed to illegally bribing various foreign officials, and conspiring to launder billions in embezzled funds.
The revelation that Goldman Sachs — of all places — could have gotten itself involved in a fraudulent investment scheme, involving billions of dollars — shocked and outraged the bank's current CEO David Solomon (better known as DJ D-Sol). As Bloomberg reports:
David Solomon had a message for Goldman Sachs Group Inc. employees shaken by the firm's involvement in a multibillion fraud scandal: This isn't us.




"I am personally outraged that any employee of the firm would undertake the actions spelled out in the government's pleadings," the firm's chief executive officer said in a voicemail left with employees on Wednesday. "The behavior of those individuals is reprehensible and inconsistent with the good work and integrity that defines work that 40,000 of you do every day."



No one would ever question the sincerity of a Goldman Sachs CEO's visceral hatred of financial crimes — or suggest that the firm's employees are less "shaken by the firm's involvement in a multibillion fraud scandal" than by the plunging value of its shares.
Nevertheless, there are a couple of flaws in Solomon's analysis. For one thing, there is reason to doubt that the Goldman employees who got the firm entangled in the 1MDB scandal were rogue actors: According to Bloomberg, former Goldman CEO Lloyd Blankfein attended a 2009 meeting between Jho Low and Tim Leissner, at which they laid the groundwork for the bank's involvement in 1MDB.
For another, engaging in multibillion-dollar fraud schemes isn't that inconsistent with the kind of work that Goldman is known for doing. For example, in April 2006, Goldman Sachs provided investors with a bullish report on Countrywide's high-quality mortgage loans — loans the bank had helpfully packaged into AAA-rated mortgage-backed securities, thereby offering those lucky clients a low-risk way of profiting from America's housing boom. When the bank's head of "due diligence" saw the report, he typed a four-word email to his colleagues: "If only they knew …"
Ten years later, Goldman reached a $5.1 billion settlement with state and local authorities to make recompense for defrauding investors during the lead-up to the subprime-mortgage crisis. Analysts from Sanford C. Bernstein & Co. expect Goldman to face up to $2 billion in fines for its role in the 1MDB scandal — a sum that they regard as "ultimately manageable" for the firm.
A $5 billion penalty might not have been sufficient to persuade Goldman to cease defrauding its ostensible clients. But a $2 billion fine (when combined with Solomon's impassioned voice-mail) surely will.