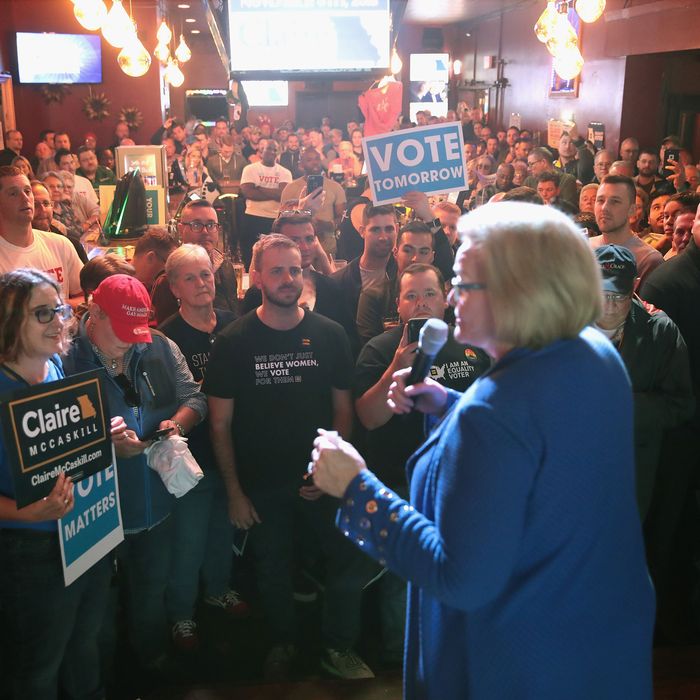 A blue wave just might keep McCaskill afloat.
Photo: Scott Olson/Getty Images
On the eve of the 2018 midterms, blue America has cause for cautious (and/or anxious, and/or petrified) optimism. As of Friday night, the nation's top election forecasters were giving Democrats a greater-than 80 percent chance of winning the House, a better than 50 percent chance of netting at least ten governors' mansions, and an excellent shot of losing no more than one seat (net) to the most unfavorable Senate map any major party has confronted in modern U.S. history.
Over the weekend, those forecasts only grew sunnier. The GOP's hopes of holding the House have long rested on the prospect that late-deciders would turn right, en masse — and the polls that have trickled in over the past 48 hours suggest that, if anything, America's most (bafflingly) indecisive voters are breaking blue.
Here's a quick rundown of the various bits of last-minute good news for the Donkey Party — and then, just for good measure, one reason for liberals to lie awake tonight, constantly refreshing Intelligencer's feed in hopes of fending off nightmares of twitching needles.
The state of the generic ballot is strong.
For most of the Trump era, voters have expressed a preference for a Democratic Congress over a Republican by a roughly eight-point margin. Team Blue will retain that advantage going into Election Day. The last raft of generic ballot polling did produce a couple of eyesores for Democrats: The party's support trended down ever-so-slightly in an NBC News/Wall Street Journal poll (from a nine-point lead two weeks ago to a seven-point one now), while Morning Consult found the party's lead shrinking from eight points to a mere three (which wouldn't be nearly enough to overcome Republican gerrymandering and secure a Democratic House majority).
But Morning Consult's findings were an outlier. The other major polls released over the weekend put the Democrats' lead at no lower than six points — while three separate surveys found the party's advantage swelling into the double digits.
As a result, Democrats' chances of taking the House in FiveThirtyEight's forecast increased by 2.7 percent over the weekend, with the party poised to gain (on average) 39 seats in its model (to win a bare majority, Democrats need to net just 23).
Public surveys, internal polls, and historical trends all point to undecideds breaking for Democrats.
Historically, undecided voters have tended to break against incumbents on the micro level (i.e. in individual races), and for the party that's out of power on the macro level (i.e. across all races, even those without an incumbent). And last-minute polling data suggests that 2018 will be not be an exception.
The New York Times reports that both Democratic and Republican operatives are seeing "a late shift toward Democrats" in their internal surveys of House races. And public, district-level polling from the Upshot/Sienna College is consistent with that story. As Nate Cohn writes:
Across the final Times/Siena polls finished over the weekend, Democrats improved their position by an average of three percentage points over the prior poll of the same district. And Democrats have shown surprising late strength in Times/Siena polls of districts that weren't previously thought to be top-tier contests, like Pennsylvania's 10th, Florida's 15th, Georgia's Sixth and Illinois's 14th.
Specifically, those final polls show African-American activist Lucy McBath opening up a surprise lead on Karen Handel in the district that Jon Ossoff couldn't quite pry from GOP hands in Georgia — and former Health and Human services official Lauren Underwood beating incumbent Republican Randy Hultgren by six points in an Illinois district that voted for Trump in 2016. If Democrats win those districts tomorrow night, Nancy Pelosi will enjoy a commanding House majority next January.
Finally, there are a couple more signs that a blue tsunami just might be cresting offshore. First, as Democratic pollster Nick Gourevitch notes, the final Times/Sienna polls suggest that Democrats aren't gaining in red districts merely by turning out their base and winning independents — but also, by getting a small but significant boost from GOP defectors.
Meanwhile, CNN's final generic ballot poll shows Democrats winning voters over 65 by a whopping 14-point margin. Now, the sample sizes for demographic groups in opinion polls are tiny, and thus, the margin of error is enormous. But CNN's survey isn't the first to find America's elderly (and most reliable) voters turning left in droves:
In CNN surveys conducted in early August and early September, registered voters who are 65 years of age and up preferred Democratic congressional candidates to Republicans by margins of 20 and 16 percentage points, respectively. CNN is not the only news organization to report this kind of GOP deficit among seniors. A late August Washington Post-ABC News survey found that if older voters were casting their ballots today, they would back Democratic candidates for the House of Representatives over Republican candidates by a whopping 22-point margin, 57% to 35%. Similarly, a national poll by Marist College conducted in early September found that among voters 60 years of age and up, they favored Democratic congressional candidates by a 15-point margin.
According to exit polls, America's seniors backed Donald Trump by eight points in 2016. If Democrats can so much as tie Republicans with seniors on Tuesday, they will have a tremendous night. And given how tightly Democratic messaging has focused on the threat that the GOP poses to health care in general — and Medicare in particular — it wouldn't be all that crazy for graying Americans to turn blue.
Claire McCaskill just got her best poll of 2018.
Tomorrow, ten Senate Democrats will seek reelection in states that Donald Trump won two years ago. Only one of them — Heidi Heitkamp — will need an Election Day miracle to survive. The rest are all either ahead by large margins, or else neck-and-neck with their challengers.
Among the latter, Claire McCaskill has long looked like the weakest link. While Jon Tester and Joe Donnelly have maintained small (but stable) leads in Montana and Indiana, respectively, McCaskill has narrowly trailed Missouri attorney general Josh Hawley in a majority of polls over the past two months.
But, as Nate Silver noted last week, most polls of the Missouri Senate race (and of other marquee Senate contests) have been conducted by Republican-leaning outfits without much of a reputation — and their results tend to be friendlier to the GOP than the findings of reputable pollsters.
On Monday, Marist dropped into the Missouri Senate race and showed a fairly different picture: For the first time this year, an NBC News/Marist survey found McCaskill claiming 50 percent support from likely voters, while leading Hawley by three percentage points.
If McCaskill survives, then Democrats' long-shot bid for Senate control becomes considerably more plausible. Especially since:
Early voting numbers look favorable for Democrats in Nevada and Texas.
In Nevada, Democrats have banked a lead in early voting of about 3.5 percent — in the estimation of the state's longtime political report Jon Ralston, Team Blue probably only needed 3 percent cushion heading into Election Day to ensure Republican Dean Heller's eviction from the Senate. Meanwhile, in Texas, turnout in early voting has skyrocketed from the levels seen in both 2014 and 2012.
One should never read too much into early voting totals, which can't say how people are voting (only what party they're registered with), nor whether parties are bringing out new voters or just spending their Election Day votes early. But to overcome his consistent deficit in the polls, Beto O'Rourke needs an unusual turnout pattern — one that defies the likely voter models that all the pollsters have been using. And the surge in early voting keeps that hope alive.
If McCaskill is truly ahead and Ralston's read of Nevada is right and O'Rourke can slay the Zodiac Killer in Texas and Kyrsten Sinema can edge past Martha McSally in Arizona — and every other Democrat who's narrowly favored to keep their Senate seats prevails — then Chuck Schumer will be majority leader in January.
It's always sunny (lately) in the Sunshine State.
The final two polls of Florida show both incumbent Democratic senator Bill Nelson and gubernatorial candidate Andrew Gillum leading with at least 50 percent of the vote.
But there are more than enough razor-tight House races for Republicans to pull out an upset.
All this said, Republicans still have a plausible path to retaining full control of the federal government — and, thereby, learning that abetting corruption and sowing racial hatred is a politically viable governing philosophy. As Nate Cohn explains:
Each of the final 28 poll results in the tossup districts was within the margin of error, and 20 of the 28 were within two percentage points, a margin that pales in comparison with the typical measurement error in a poll.




With so many close contests, even modest late shifts among undecided voters or a slightly unexpected turnout could yield significantly different results, with very different consequences for the government and the future of the Trump presidency.
So, liberals would be well-advised to hope for the best, plan for the worst, and vote like democracy is going out of style.