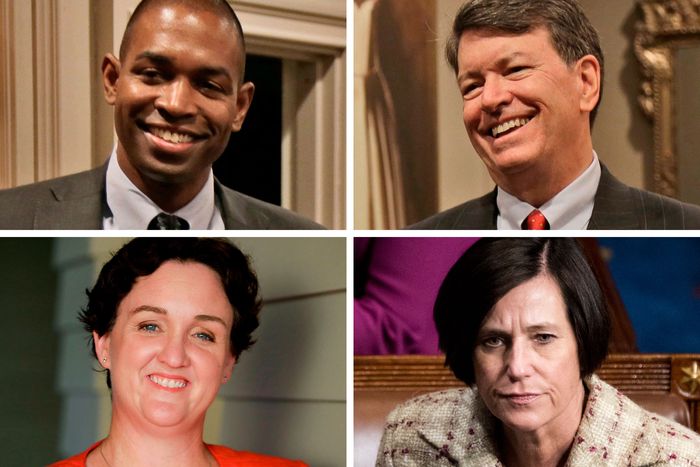 New York candidates Antonio Delgado and John Faso (top), and California candidates Katie Porter and Mimi Walters (bottom), are in key races that stretch from coast to coast.
Photo: Shutterstock; Getty Images
All 435 seats in the U.S. House were at stake in this midterm election, and Democrats were generally given a better-than-even chance of gaining the 23 net seats they needed to take control of the chamber, the speaker's gavel, and the investigatory committees that are a real threat to Donald Trump. As of Wednesday morning, Democrats had gained 30 net seats, with 13 races still unresolved (FiveThirtyEight projects a net gain for Democrats of 34 seats in the end). The final outcome may not be known until later in the week or beyond, as late mail ballots are counted in California. The following is how the results rolled out in key districts.
In this regularly updated post we will note key House races that have been called by a major media outlet (most often the Associated Press) as having been decided, with some additional information on the significance of the particular result.
12:26 AM EST: Trump calls Utah race for Democrat because Republican Mia Love "showed me no love." Republican incumbent Mia Love trails Democrat Ben McAdams by under three percent in the Salt Lake County-based 4th congressional district of Utah. There are a lot of mail ballots to count, and a final call on the race is unlikely before Friday. But in a Wednesday press conference the president said of Love: "She showed me no love, so she lost." It's unclear whether Trump knows something Utah election officials don't know, or was just riffing without facts, as he has been known to do from time to time.
9:47 a.m. EST: Democrat Abigail Spanberger edges Tea Party hero Dave Brat in Virginia. In a bellwether race in the Richmond suburban 7th congressional district, former CIA agent Abigail Spanberger narrowly defeated Republican incumbent Dave Brat, who was famous for upsetting then-House Majority Leader Eric Cantor in a 2014 primary.
9:42 a.m. EST: Republicans flip a Democratic seat as Stauber defeats Radinovich in Minnestota. In a result that was widely anticipated, Republicans managed to claw back an open House seat in the Iron Range region of Minnesota, in a district (the 8th) that went heavily for Trump in 2016. Pete Stauber easily beat Democrat Joe Radinovich after incumbent Rick Nolan retired.
1:36 a.m. EST: Democrat Tom Malinowski has flipped a New Jersey congressional seat by defeating incumbent Leonard Lance. New Jersey's suburban 7th district is another that was carried by Romney in 2012 and (more narrowly) by Clinton in 2016, and was rated a tossup this year. Lance was a five-term incumbent who had never failed to win by less than nine points.
1:00 a.m. EST: Indicted California Republican Duncan Hunter defeats progressive opponent Campa-Najjar after smearing him relentlessly. California's San Diego-based 50th congressional district has been traditionally very Republican. Trump carried it by 15 points, and Romney by 22. But Democrats thought incumbent Duncan Hunter's indictment for massive misappropriation of campaign funds gave first-time challenger Ammar Campa-Najjar a decent chance, especially because the Democrat did an extraordinary job of fundraising. But Hunter and his allies ran a nasty ad campaign suggesting his opponent was a "security threat" because his grandfather, who died long before Campa-Najjar was born, was a Palestinian member of the Black September terror group. It seemed to have worked, or perhaps the district was just too Republican to reject Hunter and his tactics.
12:53 a.m. EST: Pennsylvania Republican Brian Fitzpatrick picks up a rare suburban win for his party, defeating wealthy Democrat Scott Wallace. In the Philadelphia suburbs, Fitzpatrick, who voted against legislation to repeal the Affordable Care act and agains the GOP tax cut bill, edged out self-funder Scott Wallace, who was accused of being a carpetbagger. The incumbent had some Democratic and labor support.
11:51 p.m. EST: In a major upset in strongly Republican district in deep red Oklahoma, Democrat Kendra Horne has defeated incumbent Republican Steve Russell. Horne outspent the incumbent, but this is still a shocker. The race in this Oklahoma City-based district that Trump carried by double-digits was rated Likely Republican by the Cook Political Report.
11:50 p.m. EST: Democrats pick up two seats in Iowa, as Abby Finkenauer easily beats Rod Blum and Cindy Axne edges David Young. Iowa, which went heavily Republican in both 2014 and 2016 (Trump carried the state by a larger margin than he won Texas), is another heartland state showing a major pro-Democratic trend. The win by Finkenauer (one of a few millennial nominees in competitive races) in the northeast Iowa 1st District was widely expected; Blum had ethics problems along with an extremist record. Axne's win over a stronger incumbent in the Des Moines-based 3d district was dicier, particularly since Republicans put a lot of late money into the state.
11:00 p.m. EST: Democrat Antonio Delgado defeats New York Republican incumbent John Faso in a former rapper's revenge. Democrats won another tossup and picked up another seat as Delgado, an African-American Rhodes Scholar with a background as a rapper, defeated Faso in a Hudson Valley district that was carried by Obama in 2012 and Trump (very narrowly) in 2016. Faso's allies ran borderline racist ads suggesting he was some sort of thug more appropriate for a place like Los Angeles. It didn't work.
10:15 p.m. EST West Virginia Democrat Richard Ojeda failed to ride his campaign momentum to victory on Tuesday. The state legislator lost to Republican Carol Miller in West Virginia's Third Congressional District by a margin of about 12 points — which wasn't even even the smallest margin for a losing Democratic congressional candidate in West Virginia that night. Ojeda had earned national attention and some local support for his vehement public support of this spring's teacher walkout. That, combined with a few viral ads and a strong, populist personality, propelled the race into competitive territory. The DCCC even put the race on its Red to Blue List. Ojeda's loss is a blow to West Virginia Democrats and to left-wing populists who considered the candidate a potential game-changer in a conservative state reeling from the decline of coal. Ojeda, who comes from a family of miners, had taken a relatively pro-coal position. But Miller, as Alexander Kaufman wrote for the HuffPost, received significant support from the natural-gas industry, and that may have helped give her the edge. Ojeda's loss also affirms a key trend emerging early on Tuesday evening: there remains a steep political divide between America's urban and suburban areas, and largely rural regions like Ojeda's district. —Sarah Jones
10:12 p.m. EST: Democrat Elaine Luria defeats incumbent Scott Taylor in tidewater Virginia. In a very close toss-up race that adds to the increasingly strong Democratic House performance tonight, Annapolis grad Elaine Luria has defeated freshman congressman Scott Taylor by an eyelash in the military-heavy Second District of Virginia.
10:10 p.m. EST: In another suburban Romney-Clinton district, this one in Kansas, Democrat Sharice Davids has defeated incumbent Republican Kevin Yoder. Davids easily beat Yoder in a suburban Kansas City district and will become Congress's first Native American lesbian former professional mixed-martial-arts fighter after an impressive first run for office.
10:05 p.m. EST: Max Rose upsets Republican incumbent Dan Donovan on Staten Island. This is Team Blue's first bona fide upset of the night. Pollsters figured that the former district attorney and Staten Island borough president would be able to beat back a "blue wave" in a district that went for Trump by nine points in 2016. But army veteran Max Rose rode Democratic mobilization (and, possibly, gentrification-induced shifts in the district's demography) to a narrow win. With Donovan gone, as of this writing, the New York Times' live forecast gives Democrats a greater than 95 percent chance of winning a House majority.
9:30 p.m. EST: Democrats win another suburban district won by Clinton, as Jason Crow defeats Republican incumbent Mike Coffman in Colorado. Obama as well as Clinton carried this central Colorado district, and Crow comfortably won a race rated by Cook as Lean Democratic.
8:42 p.m. EST: Kentucky Republican incumbent Andy Barr ekes out a win over Democrat Amy McGrath. This race seesawed back and forth between the candidates for a good while, but finally incumbent Andy Barr was declared the winner over challenger McGrath in the Lexington-based Sixth District. This was a pure toss-up contest, and represented more good news for the GOP.
8:25 p.m. EST: Riggelman wins in Virginia for the first really good news for House Republicans. In the open Republican-held Fifth District that runs from northern to southern Virginia, Republican Denver Riggleman has defeated Democrat Leslie Cockburn. This race was rated Lean Republican by Cook, but Democrats were optimistic about winning it.
8:08 p.m. EST: Shalala hangs on to flip South Florida district for Democrats. In Florida's 27th District, held by retiring Republican Ileana Ros-Lehtinen, but that had been carried by both Barack Obama and Hillary Clinton, former U.S. secretary of Health and Human Services and University of Florida president Donna Shalala defeated Republican local news anchor Maria Salazar. This was a race rated Lean-D by Cook, but that Democrats were worried about.
7:30 EST: Wexton defeats Comstock in Northern Virginia in a widely expected R-to-D flip. This was no surprise: a suburban Washington district that Hillary Clinton carried by ten points rejected incumbent Republican Barbara Comstock in favor of Democrat Jennifer Wexton. This was a classic Romney-Clinton district with a highly educated population unsympathetic to Trump.