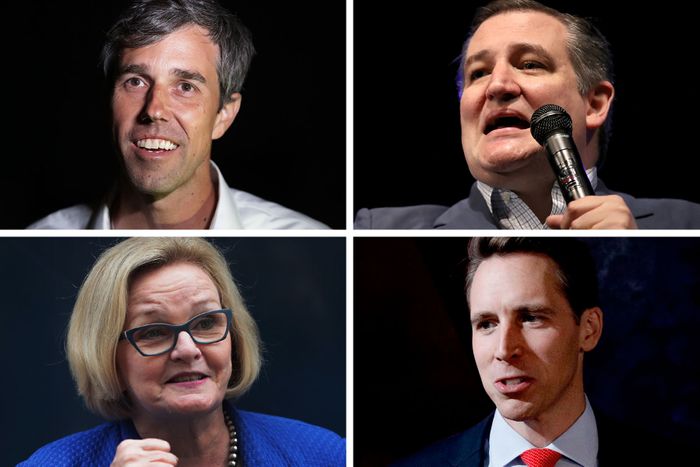 Texas candidates Beto O'Rourke and Ted Cruz (top), and Missouri candidates Claire McCaskill and Josh Hawley (bottom) are in two of many very close Senate races that will be resolved as votes roll in.
Photo: Getty Images; Shutterstock
Thanks to a 2018 landscape in which there were far more vulnerable Democratic seats (26 out of 35, which includes special elections in Minnesota and Mississippi), the GOP was favored to hang onto or even increase its narrow margin of control (currently 51 senators, plus the insurance policy of the vice-president's tie-breaking vote). But there were a lot of very close races on tap. The Cook Political Report rated nine of them as toss-ups, and another four as competitive. In the end Republicans knocked off at least four incumbent Democrats while losing one of their own, with two races (Arizona and Nevada) still unresolved. There will be a November 27 runoff in Mississippi for a GOP-held seat in which the Republican will likely be favored. Here's how the results rolled out in real time:
In this regularly updated post we will note competitive Senate races that have been called by a major media outlet (most often the Associated Press) as having been decided, with some additional information on the significance of the particular result.
1:05 p.m. EST: Montana Democrat Jon Tester will hang on to his seat in race against Republican Matt Rosendale. Tester was ahead by just over a thousand votes on Wednesday morning, but the AP finally called the race for Trump's Democratic foe around 1 p.m., helping Democrats mitigate Republican gains.
12:07 p.m. EST: Republican congresswoman Martha McSally has a very narrow lead over her House colleague Kyrsten Sinema in Arizona. McSally is up by less than a percent with nearly all the election day ballots counted. But there are about a half million late mail and provisional ballots left to count; a definitive call probably won't be made until Thursday at the earliest unless candidates claim victory or concede defeat.
10:13 a.m. EST: Florida Democratic senator Bill Nelson appears to have narrowly lost to Republican governor Rick Scott. In another Senate race where a Democratic incumbent lost a late narrow lead in the polls, Florida's Bill Nelson fell short by less than a point against the free-spending two-term governor of the state, Rick Scott. State law requires a recount if there is a gap of less than 0.5 percent, and Nelson confirmed on Wednesday morning that "we are proceeding to a recount." Still, it looks highly likely that this will be the end of Nelson's political career, which dates back to his first congressional win in 1978.
9:41 a.m. EST: Mr. Romney finally goes to Washington. Though it's certainly no surprise, it's worth noting that Mitt Romney has been elected Utah's next senator. He'll be the first politician in 173 years to serve as governor of one state, then senator of another. Romney was one of the most prominent "Never Trumpers" in 2016, but backed off that criticism during the campaign, saying last month, "President Trump was not the person I wanted to become the nominee of our party but he's president now." Some have predicted Romney will now be a thorn in Trump's side, but his waffling should never be underestimated.
2:29 a.m. EST: Democrats finally clawed back a Republican-held seat as Congresswoman Jacky Rosen defeated incumbent Dean Heller in Nevada. In a test of the two parties' organizational strength, Democrats prevailed narrowly in the early voting and then on Election Day. Heller went from being an underdog to a narrow favorite in the home stretch — but is now a former senator.
2:00 a.m. EST: Mississippi Senate special election goes to a runoff between incumbent Republican Cindy Hyde-Smith and Democrat Mike Espy. Because it was a nonpartisan special election to fill out the term of former senator Thad Cochran, a majority was required to avoid a November 27 runoff. The main surprise here is that Hyde-Smith barely ran ahead of Espy, a former congressman and Clinton administration Secretary of Agriculture, despite facing underwhelming Republican opposition from fiery neo-Confederate Chris McDaniel. But in this heavily Republican state, the incumbent will be a strong favorite in the runoff.
11:11 p.m. EST: Democrats lose another heartbreaker as Claire McCaskill loses to Josh Hawley in Missouri. McCaskill's luck in this red state finally ran out, as terrible losing margins in rural areas sank her against the state's attorney general. This was a race she looked to be narrowly leading in, and another in which Trump will take credit for the late win.
10:15 p.m. EST: Beto O'Rourke loses, officially killing Democrats' dreams of holding the Senate, and ousting Ted Cruz. Though the race was close enough to drag out hopes of Betomania well into election night, the Texas Senate race ended how most recent polls said it would: with O'Rourke narrowly losing to Cruz. Ultimately, O'Rourke's massive fundraising haul and Cruz's profound unlikability was not enough to turn Texas blue. Should we blame Beyoncé for waiting so long to announce her endorsement? Were Republicans secretly hoping to rid themselves of Cruz while keeping the Senate? Will failing to actually win dampen Beto 2020 enthusiasm? There will certainly be plenty of pieces pondering these questions and more in the days to come.
9:30 p.m. EST: Democrat Joe Manchin survives again in pro-Trump West Virginia. In an outcome that would have mattered a lot more had Democrats done better in other red states, Senator Joe Manchin defeated Republican attorney general Pat Morrisey, who had been gaining some momentum down the stretch. Manchin helped insulate himself against Republican attacks by voting to confirm Brett Kavanaugh.
9:05 p.m. EST: Republicans win in Tennessee — chances for a blue Senate are basically kaput. For a long time there, Democrats felt good about Tennessee. No longer: Congresswoman Marsha Blackburn, a close Trump ally, has beat Phil Bredesen, the popular former governor running as a moderate. Bredesen always said he'd win as long as the race didn't get nationalized, but he started slipping in polls around the time of the Kavanaugh fight. In the end, even Taylor Swift's endorsement couldn't give him the win.
8:49 p.m. EST: Mike Braun prevails over Joe Donnelly in Indiana.
Mitch McConnell's job appears to be secure. In preelection polls, Donnelly looked like one of the safest Democratic incumbents from a heavily pro-Trump state. But on the strength of overwhelming support from rural areas, businessman Mike Braun put an end to Donnelly's Senate tenure — and, in all probability, to the Democratic Party's hopes of winning a majority in the upper chamber Tuesday night.
8:30 p.m. EST: Bob Menendez holds onto his Senate seat in New Jersey. When the Cook Report classified Menendez's race as a toss-up recently, things got tense for Democrats over a race that under normal circumstances they would have won going away. What was not normal was that Menendez had been indicted on corruption charges and escaped with hung jury. Contrary to political custom he chose to run again anyway. After some moments of doubt, the voters of New Jersey seem to have decided to hold their collective noses and vote to keep the Senate seat blue rather than give it to GOP challenger Bob Hugin — and Mitch McConnell.
8:08 p.m. EST: Sherrod Brown wins easily in a state Trump carried by eight points. Left-leaning Ohio "populist" Democrat Sherrod Brown, thought initially to be vulnerable in a state that Trump carried by eight points, was quickly called the winner over Republican congressman and Trump buddy Jim Renacci soon after the polls closed. It's potentially another sign of midwestern buyer's remorse over Trump and his allies. And Brown is sure to be mentioned as a 2020 presidential possibility.
7:15 p.m. EST: Sanders and Kaine cruise to reelection. No one thought that Vermont's Bernie Sanders or Virginia's Tim Kaine were in any trouble. But these two national Democratic figures won instantly when the polls closed in their states. And while Sanders was never in a scintilla of trouble, it is significant that Kaine easily dispatched Trump ally and neo-Confederate hero Corey Stewart, who nearly won the GOP gubernatorial nomination last year.