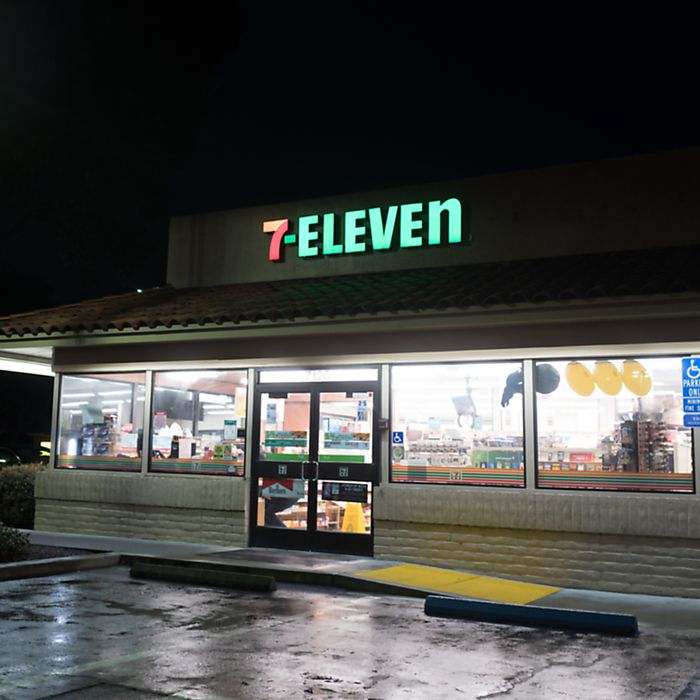 An immigration story turns ugly.
Photo: Smith Collection/Gado/Getty Images
7-Eleven franchisees believe the corporation is using U.S. Immigration and Customs Enforcement to target critics, Bloomberg Businessweek reported on Monday. As the corporation's CEO, Joe DePinto, tightens his grip on franchises — demanding, in Businessweek's words, "more inventory, more money, more adherence in matters large and small" — the company has chosen draconian methods to discipline franchisees who step out of line:
As detailed in a series of lawsuits and court cases, the company has plotted for much of DePinto's tenure to purge certain underperformers and troublemakers. It's targeted store owners and spent millions on an investigative force to go after them. The corporate investigators have used tactics including tailing franchisees in unmarked vehicles, planting hidden cameras and listening devices, and deploying a surveillance van disguised as a plumber's truck. The company has also given the names of franchisees to the government, which in some cases has led immigration authorities to inspect their stores, according to three officials with Homeland Security Investigations, which like ICE is under the jurisdiction of the Department of Homeland Security.
In January, the New York Times reported that ICE agents raided 98 7-Elevens in 17 states and arrested 21 workers in what appeared to be a coordinated assault. At the time, ICE described the raids as a "follow-up" to a 2013 investigation that put nine franchisees and managers in prison for hiring undocumented workers. Businessweek's new report adds more dimension to a grim picture. 7-Eleven told the magazine that it had "no advance knowledge" of the raids, but reporters say they documented at least four raids on franchisees who'd openly criticized DePinto's practices. One, Gurtarn Sandhu, had participated in two lawsuits against the corporation.
7-Eleven's reputed collaboration with ICE also reinforces the racialization of the American dream. For immigrant franchisees like Sandhu, the opportunity to own a 7-Eleven presented itself as a path to prosperity in a new country. 7-Eleven itself promoted that belief. As Bloomberg reports, 7-Eleven's heavily immigrant workforce made its stores hate-crime targets after September 11. The corporation's former CEO, James Keyes, "aired commercials that celebrated immigrant store owners," after vandals threw bricks through the windows of several stores, Businessweek noted. Keyes even held the company's 75th anniversary party, in 2002, on Ellis Island.
But times have changed, and the prospect of work at 7-Eleven does not promise security for either franchisees or rank-and-file workers — if indeed it ever did. Instead, 7-Eleven's franchisees and workers face assaults from two directions.
Within 7-Eleven, DePinto wields massive power as CEO, "building a group of ex-cops and private eyes charged with identifying stores that were cooking the books, skimming cash, or otherwise gaming the system." The corporation's franchise structure also exempts it from certain overtime and expense-reimbursement obligations to franchisees, a California court ruled in March. The average 7-Eleven worker already occupies the bottom rung of a system ordered against their interests, and franchisees aren't much better off.
Meanwhile, external to 7-Eleven, ICE has a White House mandate to step up immigration enforcement and deport undocumented workers from the U.S. — even if they're married to U.S. citizens or have clean criminal records. 7-Eleven may not have had advance knowledge of the ICE raids, and DePinto does not have the legal authority to tell ICE to do his dirty work. In practice, however, ICE agents reportedly behaved as the enforcement arm of DePinto's own private surveillance state.
Businessweek's story is cautionary. For a corporation that possesses unchecked power and a paranoid suspicion of its own workers, a federal agency with the power to root out vulnerable people is a useful weapon.