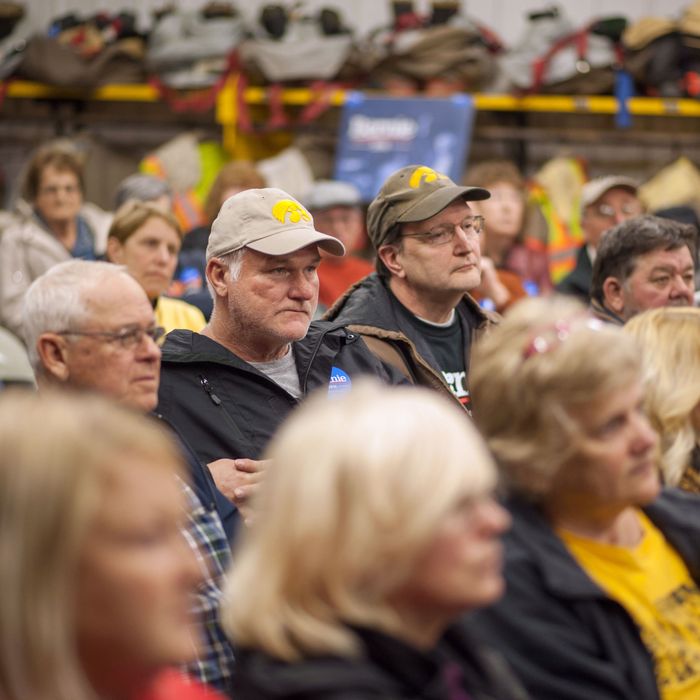 Iowa Democrats are serious about their presidential caucuses, as these 2016 participants illustrate.
Photo: Michael B. Thomas/AFP/Getty Images
2014 was a really tough year for Iowa Democrats. They lost a U.S. Senate seat that Tom Harkin had occupied for 30 years, upsetting a bipartisan balance in senators that many Iowans had long considered sacrosanct. They also lost two of the state's four U.S. House seats. And just four years after Republicans ended a 12-year stretch of Democratic governors, veteran GOP governor Terry Branstad defeated his Democratic opponent by over 20 points. Then two years later, it got worse. In this state that Barack Obama had carried twice, Donald Trump won by over nine points, a bigger margin than in Texas. Republicans held onto the two House seats. And in a big breakthrough, they won the state senate and consolidated their first "trifecta" control of Iowa state government since 1998.
While late-breaking states like Wisconsin, Michigan, and Pennsylvania got a lot more attention, no heartland state broke more decisively against Democrats in 2016 than Iowa. And given the Hawkeye State's demographics — featuring few minority voters and a lot of noncollege educated white voters — there was reason to think it had been realigned toward Republicans despite the state's long and proud history of well-organized and often successful Democratic politics and governance.
And so going into the 2018 midterms, signs of Republican weakness in Iowa and in other midwestern states indicated a degree of buyer's remorse that had potentially enormous implications for Trump's reelection bid in 2020. The impact of Trump's trade war on agricultural producers like Iowa's soybean farmers was sufficiently negative that a strong backlash against Republicans in the farm belt seemed possible (though the administration mitigated some of it with new crop subsidies). Strong candidates were recruited for the governor's race (in which Ambassador to China Terry Branstad's appointed successor Kim Reynolds looked shaky) and all three Republican-held House districts.
When the dust had settled on the evening of November 6, the results in Iowa were decidedly mixed. Democrats took back those two House seats they had lost in 2014, electing Abby Finkenauer and Cindy Axne, the first two women ever to represent Iowa in that chamber. They also threw a scare into iconic nativist congressman Steve King, who was held to the lowest winning margin in his nine election campaigns in a profoundly conservative northwest Iowa district.
But at the same time, well-regarded and lavishly funded Democratic gubernatorial candidate Fred Hubbell fell short against Reynolds. And Democratic hopes of breaking the GOP trifecta also failed at the state legislative level. While Republicans lost five state House seats, they won four more state senate seats to maintain their majorities.
So where does that leave Democrats as Iowa prepares to begin the 2020 presidential nominating cycle in the caucuses that are scheduled to be held on the evening of Monday, February 3, less than 15 months from now?
They have every reason to be confident that their state is not destined to stay red, as the congressional results this year showed. But Iowa Democrats have an acute sense of the power their spot on the nominating process calendar gives them to change the country as well as their state, and a corresponding sense of responsibility for guiding national Democrats in the right direction. That could be particularly significant in 2020, where an unusually large Democratic presidential field really needs to be winnowed in the early contests. There's a longstanding cliche that there are "three tickets out of Iowa" — three candidates, or sometimes just two, that remain viable after the caucuses. With more than 20 candidates, some with fame, some with money, and some just with ambition, approaching the starting line, Iowa's winnowing function could be crucial to the task of producing a nominee ready to take on Trump.
This certainly seems to be the operating assumption of most 2020 wannabes. According to the Iowa Starting Line blog, 27 potential candidates have made a total of 116 trips to Iowa so far, most of them paying their dues by helping local Democrats campaign and/or raise money. Even some who haven't yet made the pilgrimage to Des Moines or Cedar Rapids or Waterloo or Council Bluffs are making their presence known. Elizabeth Warren has deployed a staff member to the state, and has done a plethora of remote but significant work for Iowa Democrats, from fund-raising to policy advice to appearances in Washington with candidates. Bernie Sanders, Joe Biden, and Martin O'Malley have past caucus experience. All the 2020 likelies will be hiring up and recruiting volunteers very soon.
You can expect Iowa Democrats to be unusually discriminating this time around. Despite the progressive activism for which the state is well-known, there is a pragmatic streak among caucus-goers that led them to prefer Al Gore to Bill Bradley in 2000, John Kerry to Howard Dean in 2004, Barack Obama to Hillary Clinton in 2008, and then Clinton to Bernie Sanders in 2016. The candidate who can depict her- or himself as a tough, progressive, and above-all electable nominee will have a leg up in Iowa, and thus nationally. To a considerable extent, Iowans measure these characteristics by the quality of caucus operations a candidate puts together in their union halls, community centers, fairgrounds, and living rooms. With the midterms now over, that calculation will begin right away.