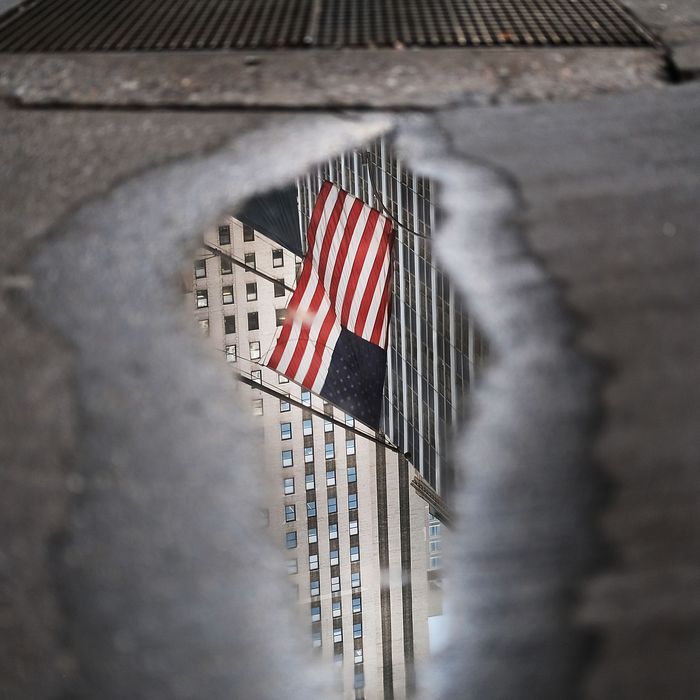 Voters are signaling that they are ready for a robust voting rights agenda. Will Democrats listen?
Photo: Spencer Platt/Getty Images
Brian Kemp will likely be Georgia's next governor. The Republican may eke out a narrow win over Democrat Stacey Abrams, but the legitimacy of his election is undeniably in question: Kemp served as the state's secretary of state during his race, and as New York's Zak Cheney-Rice previously reported, he oversaw an election marred by repeated irregularities. On Kemp's watch, the state purged around 340,000 voters from the rolls and announced an investigation of the Georgia Democratic Party for allegedly hacking voter-registration files. Kemp offered no evidence to support his investigation, which he announced two days before the election; the day of the vote, many Georgians reported long lines and broken ballot machines.
Kemp is not solely responsible for voter suppression, and Georgia was not the only place Republican sought to erect legal barriers to voting rights. It's long been a favored tactic of Republicans, and their efforts seemed to tick up as the election approached. Days before the vote, a federal judge declined to block a North Dakota law that required a residential address on a state or tribal ID from voters. As ABC News reported early on Tuesday, the law disproportionately affected Native Americans living on reservations, and potentially disenfranchised many right before an election. Tribes rushed into action, printing thousands of new IDs in order to get members to the polls.
As serious as these incidents are, Tuesday's results provided new reasons for optimism about the future of voting rights. Voters in several states moved to radically expand voting rights, and rejected candidates like Kris Kobach, who campaigned on his own record of voter suppression only to lose his race for Kansas governor. In Michigan, voters approved Proposal 2, which combats gerrymandering by creating an independent, nonpartisan citizens voting commision. "The proposal would bar partisan officeholders, their employees, lobbyists, and others with ties to the current system from becoming commissioners," the Detroit Free-Press reported on Tuesday evening.
Proposal 2 wasn't an outlier. Colorado voters passed Amendments Y and Z, which, like Michigan's Proposal 2, creates independent, bipartisan commissions charged with redrawing congressional and state legislative districts. The commissions would have bipartisan membership, in an attempt to block partisan gerrymandering. In Missouri, voters approved Amendment 1, a sweeping ballot measure that allots redistricting power to an independent commissioner and places caps on allowable lobbyist gifts to state legislators and staff at $5. North Carolina elected Anita Earls, a civil-rights attorney who is a vocal opponent of voter ID laws and gerrymandering, to the state supreme court. And Florida voters approved Amendment Four, which extended the franchise to 1.5 million people convicted of nonviolent felonies.
Voting rights are still at risk. But voters themselves achieved no small measure of progress on Tuesday: North Carolina, Florida, Colorado, Missouri, and Michigan shored up voting rights at an especially pivotal moment. That's good news for civil rights, and it's a clear repudiation of the party of Donald Trump. Democrats should take notice — out of a moral commitment to civil rights, and for pragmatic reasons, too. If the party didn't already grasp the need to organize around voting rights, tonight's results should reinforce the point. Whatever platform the party debuts ahead of 2020 must feature voting rights at the center. Progressive causes are interconnected: The 2018 midterms were about health care, certainly, but health-care reform and voting rights share a vital characteristic. They both improve the material circumstances of working people, especially people of color. The Democratic Party's "better deal" starts here, with the vote.