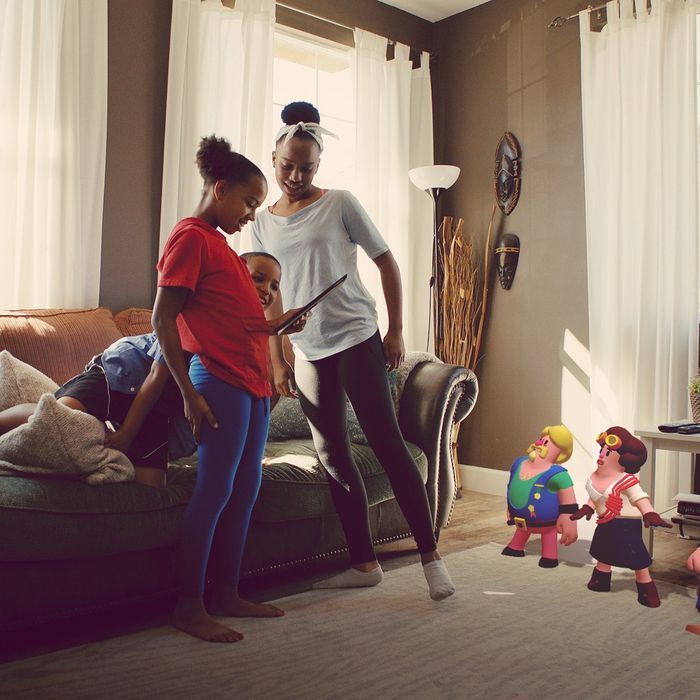 Screen time and kids is perhaps the big moral panic in parenting right now — my wife and I recently had our first, and we've had a number of conversations with other parents ranging all over the place about how much (if any) screen time is appropriate for a kid.
But for parents with younger kids, I've got at least one thing that could assuage some of that guilt about screen time: Wonderscope, a new app out this week on iOS. A mixture of a storybook and game, it's a bold attempt at creative narrative experiences that adults and kids could enjoy together.
Augmented reality — the tech that lets your phone or tablet drop digital overlays on top of the real world — has generally been a bit of a letdown so far. If you asked me what AR app I would recommend to really blow someone away, I wouldn't have much. But storytelling apps aren't something I've really seen done in AR yet, and it holds some real appeal. "There's some very functional AR utility apps, like measuring apps or placing furniture in room," says Chris Milk, CEO of Within, the maker of Wonderscope. "But in the realm of storytelling, it's pretty unexplored."
In action, Wonderscope uses AR to create 3D narratives that take place on any flat surface you have in front of you, whether that's a coffee table, bedspread, or living-room floor. Aimed at kids between 7 and 11, it threads that tough needle of being interactive and interesting enough to encourage multiple viewings, but fun and silly enough to keep the attention of a second grader.
Milk ran me through two stories in demo here at New York's offices: "A Brief History of Stunts by Astounding People," which takes kids through the history of real-world daredevils like Betty Bromage, an 88-year old grandmother and wing-walker; Helen Gibson, Hollywood's first stuntwoman; and Charles Blondin, the first man to walk a tightrope across Niagara Falls. The other, "Little Red the Inventor," is an update on Little Red Riding Hood with a beautiful paper-craft aesthetic where Red is an inventor who (spoiler alert) eventually helps invent a way to stop the Big Bad Wolf from eating her grandmother.
I was impressed by how much the stories drew me in — "A Brief History of Stunts" uses the action in each story to keep you moving around the room, while "Little Red the Inventor" laid out a bread-crumb trail of small puzzles to solve to keep me intrigued. Both stories also subtly play to both sides. Parents will like that the stories have their kids speaking to characters on screen via text prompts, improving reading skills, while kids should appreciate the goofy humor.
For now, Wonderscope is a free app that comes with "A Brief History of Stunts by Astounding People." For $4.99, you can also get "Little Red the Inventor." Milk and company hope that Wonderscope becomes a platform for storytellers, taking some of the hard work of getting AR to work off their hands, while being a central destination for parents and kids to find more stories to play around in.
My own daughter is a little too young to appreciate Wonderscope right now, but I can see it being a happy middle ground that we could enjoy together once she's a bit older. My big fear with her and smartphones is the same basic fear I have about myself and smartphones — it's far too easy to use it as a way of distracting your way through life.