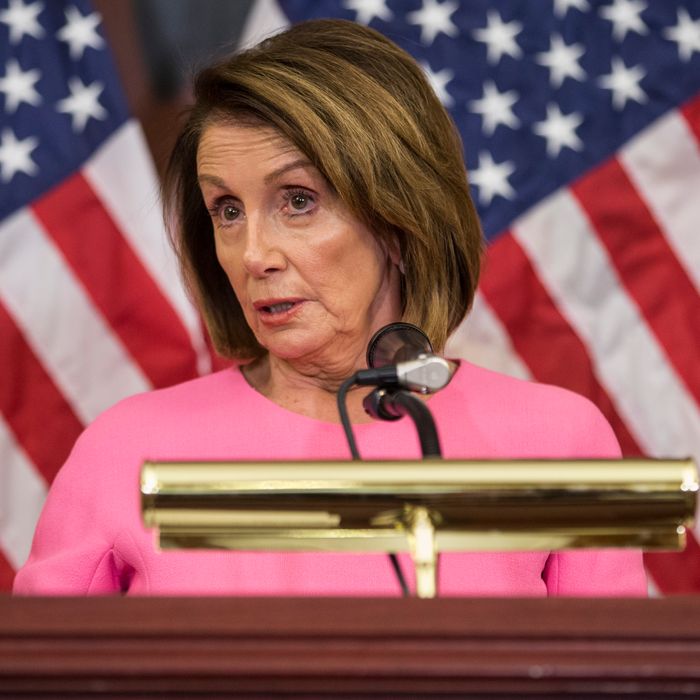 Once and future House Speaker Nancy Pelosi is fighting back against attempts to oust her.
Photo: Zach Gibson/Getty Images
The next speaker of the House will be a Democrat. That much we know. Just who that Democrat will be, though, is not exactly clear.
House minority leader, and former speaker Nancy Pelosi is the obvious front-runner. But after an election season that saw some Democrats promise to oppose her and others cry out for new leadership, the California Democrat doesn't have the position locked up.
Now, according to the Washington Post, a group of a dozen or so anti-Pelosi Democrats have begun plotting to prevent her from retaking the gavel. The group is led by Representatives Seth Moulton of Massachusetts, Kathleen Rice of New York, and Tim Ryan of Ohio. Ryan, you may recall, challenged Pelosi for the minority leader job in 2016, but only got 63 votes from his fellow Democrats.
Politico adds more names to the mix, including five sitting lawmakers and two who will be freshman come January.
The die-hards held a conference call Wednesday to discuss their plan. According to the Post, they flirted with and discarded an idea to publicly come out against Pelosi. Instead, they're going to work behind the scenes, Politico explains:
Meanwhile, the anti-Pelosi faction — whom some have dubbed the "revolutionaries" or the "rebels" — are working to grow their numbers. Eight of them joined an hour-long conference call Wednesday night to discuss strategy and messaging. They've divvied up the names of just-elected candidates who have called for "new leadership" and are reaching out to encourage them to vote against Pelosi on the floor.




These members' pitch to incoming lawmakers is this: You're not alone.
But Pelosi isn't sitting back quietly. On Wednesday, she sent a letter to Democratic lawmakers outlining her vision for the next two years as speaker. On Thursday, she worked the phones. "Leader Pelosi is confident in her support among Members and Members-elect," her spokesman told Politico. "Democrats don't let Republicans choose their leaders. The election proved that the GOP attacks on Pelosi simply do not work."
There's already evidence that Pelosi's campaigning has changed minds. Politico notes that two lawmakers who had signaled opposition to Pelosi have thrown their support behind her. Representative Robin Kelly of Illinois, who had previously signaled her opposition to Pelosi, is one of them. On Thursday, she told Politico, that Democrats "need an experienced person at the top to help get that together, get us organized and start off on the right foot as we get back to work for the American people."
One thing the Pelosi opposition does not have at this point is a person willing to challenge her. Ryan said Thursday on Fox News that he has no intention of repeating his 2016 challenge, but he hopes someone does. " I think it's important for us to have this competition," he said.