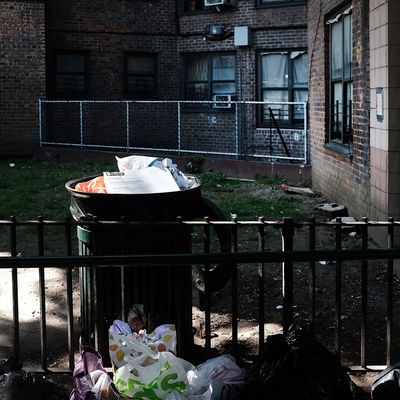 Photo: Spencer Platt/Getty Images
There's no end in sight to New York City's public housing crisis. The New York Times reported on Tuesday that a federal judge, William H. Pauley, rejected a proposed settlement between the New York City Housing Authority and the Manhattan district attorney's office that would have provided $1.2 billion in city funds to repair crumbling public housing units. The NYCHA, which manages the nation's largest public housing system, currently faces $32 billion in unmet capital needs, according to the Times. The settlement also would have appointed a court monitor to oversee necessary overhauls. That disrepair puts residents in danger — 15,000 people in NYCHA housing lost heat during a snowstorm last winter, and in April, Shola Olatoye resigned from her role as head of NYCHA amid reports that she falsely told the city's Department of Investigations that NYCHA inspected for lead paint in its units.
In his verdict, Pauley conceded the endemic character of NYCHA's collapse. According to the Times, the judge "deplored the 'breathtaking scope' of the squalid living conditions in the city's public housing complexes. He rebuked the city for its mismanagement of the agency, and said the federal government had abdicated its legal responsibility to overhaul the nation's largest stock of public housing that is home to about 400,000 vulnerable New Yorkers." Though he rejected the city's proposed settlement, partly due to a perceived lack of enforcement mechanisms, he did propose a number of alternatives. Among Pauley's suggestions: NYCHA could be placed into a receivership under the U.S. Department of Housing and Urban Development.
There's some logic to Pauley's plan. In the cold war between New York City mayor Bill de Blasio and New York's governor, Andrew Cuomo, NYCHA's disrepair has become a pawn. "Both men cite a lack of investment from others, both decry a history of mismanagement, and both have a fondness for blaming culprits outside of their own leadership circles for those ills that have befallen entities they effectively control," Politico reported in January.
For Cuomo, NYCHA's troubles make it a useful anti–de Blasio talking point. As Clio Chang reported for Splinter News in April, Cuomo has repeatedly sniped at de Blasio over the state of the city's public housing. "You're hypocrites if that's what you call progressive," the governor said after a March tour of an East Harlem public housing project. It's certainly true that de Blasio could have done more; though he recently ordered the placement of 14 new boilers, in addition to six mobile boilers, in its developments and committed $80 million to strip lead paint from its units, the city's investments in NYCHA haven't kept pace with the housing authority's needs. One possible reason is the mayor's own affordable-housing project, which as WNYC reported in August, is separate from NYCHA. But Cuomo can't completely divest himself of responsibility, either. As governor, his commitment to NYCHA is suspect. "Compounding the city's money woes, the state still hasn't given the city $450 million it promised for NYCHA. A spokesperson for Gov. Andrew Cuomo said the state won't give money to the city until a monitor is in place to make sure the funds aren't squandered," CBS News reported in October. In the meantime, NYCHA residents can only hope de Blasio's new boilers will get them through the winter.
Under a different president, HUD oversight might well improve the living conditions of NYCHA's residents. But there's little reason to think that a receivership under HUD, as currently administered by Ben Carson, would do anything but cut the housing authority's wobbling legs out from under it. The case of East St. Louis is cautionary. As ProPublica reported in August, HUD took over public housing in East St. Louis in 1985, ostensibly to improve living conditions. Carson ended the receivership in 2017. But according to ProPublica, the city's public housing complexes remain in crumbling shape, plagued by crime and in need of "$42 million to immediately renovate units and building systems to HUD standards and another $180 million over 20 years." If receivership didn't remedy conditions in East St. Louis — and if its terms are subject to Carson's whims — it's hard to see how receivership is the best option for NYCHA. In fact, Carson has already cut funding for NYCHA since taking office.
New York City isn't the only locale affected by Carson's restrictive approach to HUD funding. On Tuesday, NBC News reported that "more than 1,000 out of HUD's nearly 28,000 federally subsidized multifamily properties failed their most recent inspection — a failure rate that is more than 30 percent higher than in 2016, according to an analysis of HUD records." In May, Carson floated a proposal to raise rents for families in public housing; the Washington Post reported at the time that Carson's plan would have tripled rents for extremely low-income public housing residents, with impacts concentrated in cities with high costs of living. Carson also suspended the Obama administration's "affirmatively furthering fair housing" rule, a desegregation measure that required communities that receive public funds to track and then address racial bias in their housing trends.
With a new Democratic trifecta in place, New York could establish itself as a national leader on the issue of housing. That's the outcome NYCHA residents need from legislators. The alternatives are dire.