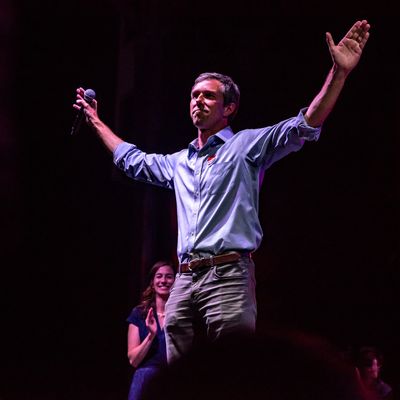 Look out, Democratic rivals! Beto 2020 is a real possibility.
Photo: Sergio Flores/Bloomberg via Getty Images
While there remain more than a few practical obstacles to a 2020 presidential run by Texas political sensation Beto O'Rourke, one is now in the rearview mirror: his earlier pledge not to do just that. Politico reports his change of opinion:
Beto O'Rourke said Monday that he is no longer ruling out a run for president in 2020, a reversal that thrilled his legion of loyal supporters while clouding an already-crowded Democratic primary field …




Asked if his position on 2020 is different than it was before the November election, when he said he would not run for president, O'Rourke said, "Yeah, yeah it is."
While Republicans and those backing potential Democratic rivals will undoubtedly call this a flip-flop, O'Rourke can plausibly say he's got plenty of time on his hands now that he doesn't have to set up a Senate office and then serve in the World's Greatest Deliberative Body.
"Running for Senate, I was 100 percent focused on our campaign, winning that race and then serving the next six years in the United States Senate," the Texas congressman told reporters after a town hall forum here. "Now that that is no longer possible, you know, we're thinking through a number of things."
And why shouldn't he? The early speculation has already vaulted him over a host of theoretically more qualified potential candidates:
A POLITICO/Morning Consult presidential primary poll last week put O'Rourke in third place among Democratic voters, behind former Vice President Joe Biden and Sen. Bernie Sanders (I-Vt.).
This has to be profoundly dispiriting to pols who have been climbing the slippery pole to national prominence for many years, and now find themselves looking up in the polls at someone they probably had never heard of two years ago. And polls aside, he's getting noticed in the most important place for 2020 candidates, just 15 months before its caucuses decisively winnow the field:
O'Rourke — who raised a stunning $38 million in the third quarter of his race — is widely considered capable of raising millions of dollars quickly, according to interviews with multiple Democratic money bundlers and strategists, catapulting him into the upper echelons of the 2020 campaign.




Mikal Watts, a San Antonio-based lawyer and major Democratic money bundler, said several donors and political operatives in Iowa, after hearing from other potential candidates in recent days, have called to ask whether O'Rourke is running, a sign of his impact in the first-in-the-nation caucus state.
As Newsweek reports, the Beto Buzz is reminding Iowans of the last Democratic candidate who set that state afire:
"We would love to host him," Polk County Democratic Chairman Sean Bagniewski told the [Dallas Morning News] in a report published Tuesday.




"It's real. In Iowa, everybody knows the next person that they want to meet, and by far he is the No. 1 person that's being requested right now—volunteers, elected officials, our membership base," Bagniewski said. "Everybody right now is asking for Beto."




Bagniewski called O'Rourke "unapologetically progressive" and likened O'Rourke to former President Barack Obama, who similarly rose suddenly in popularity but who'd won a Senate seat first, unlike the Texas congressman.
You can make a pretty good argument that it was Obama's 2004 Democratic National Convention speech, delivered when he was a state senator, that made him an instant contender in Iowa four years later — not his anticlimactic Senate win over extremist Republican rival Alan Keyes. Beto-mania would have undoubtedly been enhanced by a win over Ted Cruz, a man most Democrats love to hate. But he's already guaranteed himself a hearing on the presidential campaign trail, if he chooses to go that way.
Beto could take it a little slower, as Andrew Rice pointed out recently:
[T]here is another race O'Rourke could run in 2020. The other incumbent Texas senator, John Cornyn, is up for reelection, and there are rumors he wants to retire. A year ago, any conversation about a Democrat's statewide chances began with the relative unpopularity of Cruz, but now O'Rourke would start with a base of support, name recognition, a wealth of experience, and that donor list. Smith says that Democrats in Texas had been "living in a hope-free universe," but the Beto campaign has transformed their expectations. "You've got a guy who is maybe a once-in-a-generation candidate," he says. "Who is able to magnetize the electorate."
A once-in-a-generation candidate might just as easily decide to aim high, when his party's supporters will be frantic to defeat Donald Trump, and wary of another non-charismatic champion. Stranger things have happened, including the election that placed the country in its current plight.