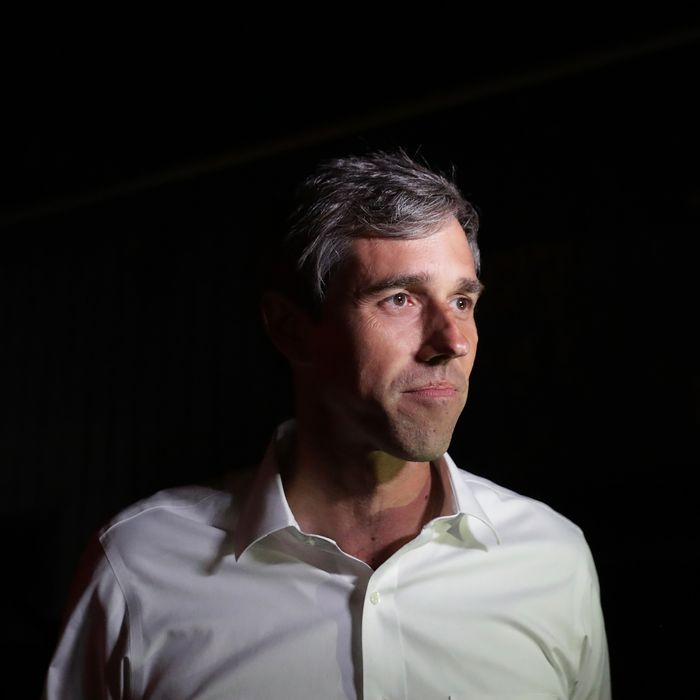 Beto O'Rourke campaigning in Texas over the weekend.
Photo: Chip Somodevilla/Getty Images
Late last week, as Donald Trump vowed to unilaterally rewrite the citizenship provisions of the Constitution, dispatched the military to the Mexican border, issued racially loaded warnings about the distant migrant "caravan" and casually suggested soldiers might fire on it, Beto O'Rourke, as is so often the case, headed in a diametrically opposed direction. He drove from Corpus Christi all the way down to the Brownsville, the southernmost point on the border. The trip to the Rio Grande Valley — a Latino-dominated agricultural region full of potential Democratic votes — was long-planned by the campaign. But with Trump's pre-election demagoguery in the air, it felt like a rebuttal to the president.
"This idea that we can scare each other about each other, based on where we are from, what language we spoke before we came to this country, the color of our skin, the nationality that we claimed before we claimed that we were Americans — it's preposterous," O'Rourke said at a speech to voters at an agricultural fairground in Robstown on November 1. "It's un-American. It's not who we are. This state is perhaps the most diverse state in the United States of America. That is a point of pride."
Immigration and border security are local issues in Texas, and they have been bitter points of argument in the race for Senate between O'Rourke and the right-wing firebrand Ted Cruz. But by reigniting a national controversy, Trump has made the midterm elections — and the race in Texas in particular — into a referendum on his raw brand of nativism. He is making little effort to conceal his calculations. ("Did they energize our base or what?" Trump gloated on Saturday, referring to the caravan and reiterating his baseless accusation that Democrats were somehow responsible for it.) But for O'Rourke, Trump's move may offer a final opportunity. Immigration is the El Paso congressman's defining issue. He is making his last stand on familiar ground — at the border.
Over the years, I've spent some time reporting about the border region, and it's a truism that the closer you get to the dividing line, the less stark it appears. "We're living in occupied Mexico," Ricardo Bosquez told me after the Robstown speech. A 71-year old retiree who described himself as an "activist Mexican-American," Bosquez was wearing a straw hat with a "Beto" sticker affixed to it, and carrying an enormous black-and-white campaign sign. He said he had been first drawn to Beto by the candidate's name. "I thought he was half-Hispanic," Bosquez said, a misimpression I've heard from many people in Texas and elsewhere. ("Beto" is a nickname that O'Rourke, who is of Irish descent, picked up a child in El Paso.) But really, Bosquez said he was just looking for a candidate who would offer resistance to Trump, whom he called a divisive "dumb ass."
"We're going to win in Texas," Bosquez said. "It's coming — the wave."
The pundits and the quants say the chances of a true Democratic wave — the kind that would flip both the House and Senate — are remote, although as I wrote on Friday, there's reason to question whether one would be recognizable in advance. In fact, a wave may be precisely as possible as O'Rourke's election, because given the trends elsewhere on the Senate map, the Texas race could end up being Democrats' best shot at winning a 51st seat. Polls show O'Rourke — like several other Democrats in tight Senate races — picking up support in the closing stretch, and his supporters see heavy early voting turnout, and reports of a huge increase in participation by young voters, as a positive sign. But as I wrote back in June, if the Democrats are ever going to win a statewide race in Texas — something they haven't done in nearly 25 years — they will have to turn out massive numbers in minority communities, most importantly Latino areas. For decades, Democrats in Texas have been trying to build this coalition, and it's never materialized.
O'Rourke has used social media to build a network of fervent supporters, centered in affluent cities like Dallas and Austin, and to raise $70 million, including an astonishing $38 million in the third quarter of this year alone. But he's needed all that money to overcome the structural disadvantages of running as a Democrat in a state with a weak party organization. His campaign has built a field operation that stretches across the enormous state, hiring about 800 staffers according to a recent Texas Tribune analysis, in contrast to just 18 working for Cruz. (The incumbent can rely on the state Republican Party's formidable turnout machine.) O'Rourke has also opened 727 "pop-up offices," which are mainly overseen by volunteers. He has made his presence felt in areas that previous Democrats have struggled to mobilize, like the Rio Grande Valley.
O'Rourke's campaign swing next took him into the tropical region of Texas, to a small town called Raymondville, where almost all of the population was of Hispanic origin and 40 percent was living in poverty. O'Rourke's attacks on Trump grew more heated as he traveled south. Speaking to reporters outside a reception hall, he decried the "cruelty and torture" of the family separation policy and other elements of the Trump administration's draconian approach to immigration. "We're being tested right now," he said. "Are we going to submit to this kind of fear-mongering, and the president trying to stoke paranoia, the racism that he's employed in describing immigrants as rapists and criminals? It's very clear from whom he wants to take birthright citizenship. And it's very clear that a caravan that's still 800 or 700 miles from the U.S.-Mexico border, that poses no threat to this country is being used to instill fear and panic in anticipation of an election."
He then set out a sobering choice. "Either that's who we are, that's who we've become, or we remind ourselves that we are strong, we are confident, we are safe and secure."
Inside the sweltering hall, a few hundred people were waiting — on a weekday — to hear the Democrat speak. As he often does, O'Rourke presented himself not just as a progressive — he favors Bernie Sanders's approach to health care reform and speaks about renewable energy and climate change at every campaign stop — but as a sort of temperamental antidote to political madness. In his speech, O'Rourke referenced "the smallness, the meanness, the pettiness, the paranoia, the hatred, the partisanship that defines so much of the national conversation. Turn on cable news if you dare, that's what you're going to see coming right back at you. … We can be the answer to that."
When I hear O'Rourke speak like he did in Raymondville, about returning to some former state of political grace, I am sometimes reminded of another eloquent Democrat with funny first name, and I don't entirely mean that entirely as a compliment. During his latter years in office, Barack Obama often expressed similar sentiments, memorably wondering when the Republican "fever" would break. But the temperature has never cooled. After the speech was finished, the attendees formed a long line, as always, like they were going to communion, and O'Rourke spent an hour or so posing for selfies.
As the ritual was going on, his campaign staff, reporters and local Democratic dignitaries milled around, making conversation and sharing fragmentary intelligence. I struck up a conversation with Filemon Vela, the local congressman, who told me that early voting turnout in this county had been roughly in line with what it was during the 2016 presidential election, and far above what it usually what Texas usually sees in midterms. But turnout has been high in Republican counties, too, as conservatives have rallied around Cruz. But Vela predicted that "Beto is going to outperform" in such areas.
"I think there's been an adverse reaction to the president," Vela said. "I think he went a bit too far, even for conservatives, in the last few days."
Of course, Democrats have been saying that for two years. And still the fever rages on.
Later that day, O'Rourke's reveries about the past and the future were interrupted by the reality of American politics in the present. Project Veritas, the gonzo media outfit run by the conservative activist James O'Keefe, published an undercover video that purported to show outlaw behavior inside the Beto campaign operation. Posing as a volunteer, I was later told by the campaign, a Project Veritas operative infiltrated one of the campaign's "pop-up" offices, and filmed an O'Rourke field staffer, formerly an immigration activist at the University of Texas-El Paso, talking about furtively redirecting campaign funds to assist a group of asylum seekers who had recently been dropped off by federal authorities at a bus station in El Paso. The amount of money involved was small, less than $300, and went to buy items like baby wipes, diapers and granola bars for the migrants, who were being assisted by well-known local Catholic shelter called Annunciation House. And it's not illegal for political campaigns to make charitable donations, so long as they are properly reported. But in the hands of O'Keefe's group, the compassion was a scandal.
Cruz gleefully picked up the video and clubbed O'Rourke, whom he has been attacking for months as a coddler of "illegals," and fanning the speculation, prevalent in the right-wing media, that Democratic financiers were behind the migrant caravan. Cruz's campaign posted on his official Twitter account: "Two basic Qs every reporter should ask Beto today: (1) should the 'caravan' be allowed to cross illegally into Texas? (Beto refuses to answer.) And (2) did your campaign dollars illegally fund their doing so?"
The suggestion was absurd, but the video was an embarrassing distraction for O'Rourke, if only because it forced him to spend a little of his precious last moments on the defensive. It also demonstrated, in dramatic fashion, the potential for indiscipline inherent in relying on a decentralized, volunteer-driven field operation. A few hours before the video posted, O'Rourke spoke in the border city of Brownsville, where I noted the mood among his staffers was unusually tense. Speaking to press before the speech, O'Rourke brushed off a question about an attack ad that demonized immigrants. "I'm not getting to watch a lot of TV these days," he said, in a tone that suggested otherwise.
In his speech, O'Rourke once again criticized Trump's policies as hostile to the economy and culture of the border region. "He wants to send over 5,000 soldiers to this community and other communities of the border," O'Rourke said. He closed, as always, with a mobilization message, hopefully citing the big early turnout numbers in the city. "On a personal note, because this may the last time I get to visit Brownsville before we decide this election," he said, "you make me so fiercely proud to be from the border, to be a Texan." The auditorium erupted, drowning out whatever he said next.
After Brownsville, O'Rourke flew north to campaign in the Dallas area, and I stuck around in the south, to get a sense of what was happening when he wasn't around. I talked to organizers in the Democratic turnout operation, both professionals and volunteers. "I worked for the Ann Richards campaign," said the veteran field operative Gilberto Ocañas, who was coordinating efforts in the Rio Grande Valley over the weekend. (He was referring to the last major Democratic victory in Texas, all the way back in 1990.) "We never had this kind of enthusiasm in the Valley. Everything is surging up."
"Beto, he's a rock star right now, he's Elvis Presley," said Maximo Anguiano, who was running a phone bank in San Antonio for a progressive nonprofit group called the Texas Organizing Project. The organization, which pays people $15 an hour to canvass, mainly in low-turnout areas, has been knocking on an average of around 6,000 doors a day, asking its targets to prepare a detailed plan for voting, and helping to get them the polls. (A local volunteer group that calls itself the "Burro Brigade," organized by a local artist, has been arranging rides.) On Saturday, an army of volunteers wearing "Beto" T-shirts fanned out across towns and cities around the state, hitting a cumulative 225,000 doors. (The campaign's goal is to reach 1 million by Tuesday.) In Lockhart, a town south of Austin best known for its storied barbecue, I walked the streets with a group of campaign canvassers, who used an app on their phones to find potential Democratic households.
"I don't know, I'm not all that into politics," said a young father who answered the door of one modest clapboard house. "Is that his real name, Beto?" he asked, laughing when he heard the answer about the nickname. "So he ate a taco and now he's Beto?"
But campaign volunteer Cari Marshall patiently turned the conversation around, stressing pocketbook issues like O'Rourke's stance on health care. By the end, the voter seemed intrigued.
"So I take it you're not Trump supporters," he said. "We agree on that."
On Saturday morning, in the historically minority dominated (and now fashionable) area of East Austin, I met up with some activists at a former industrial complex that now houses artists' studios. They were affiliated with a group called Jolt, a youth-oriented political group that focuses on "Latinx engagement." They split in bilingual pairs and headed out into the neighborhoods, looking for "unlikely voters," which in this case meant mainly Spanish-speakers. It's slow and sensitive work, because such households often contain both citizens and noncitizens, and they are wary about knocks on the door.
I went out with a pair of professionals in their early 20s, Mario Solis and Alejandra Valeriano, who had both moved to Austin to attend the University of Texas. Solis told me he was from the Rio Grande Valley, and came from a family that came to the United States a couple generations ago, as migrant farmworkers. "My whole life, I never cared much about politics," he said as we drove to the target area. Then came Trump, and a girlfriend, who got him involved in the resistance. Valeriano grew up in Palm Springs, as the child of a landscaper and a domestic worker who immigrated illegally from El Salvador before she was born. (They are now citizens.) After crying through Hillary Clinton's 2016 concession speech, she became an active in Jolt. "It's really shown me that brown is not just beautiful, but really powerful," Valeriano said. "Because we have the numbers."
Our destination was a neighborhood of small ranch houses and many mangy dogs, where some houses displayed Mexican flags. At one house, a man was outside taking down a prodigious Halloween display, and he and Mario talked in Spanish. He said he wasn't eligible to vote, but his wife was going to do so at a nearby grocery store on Tuesday. At many other houses, the iPhone app the canvassers were using, which is constantly updated with new data, said the residents had already voted early.
At one door, a young woman wearing a nose ring said that she and her sisters, who were listed as voters on the app, had all voted early. "I don't know if you have my brother on there, Jose," she added. "He voted yesterday, because I'm so annoying."
Mario gave the voter a high-five.
"Beto's just so energizing, you can feel it," Valeriano said. Nonetheless, she and Solis, having been disappointed before, were tempered in their expectations for Tuesday.
"Win or lose," Solis said. "Turnout is already way up." Their work was almost done.
"If we get within three points of Ted Cruz," Valeriano said, "it's a Texas miracle."