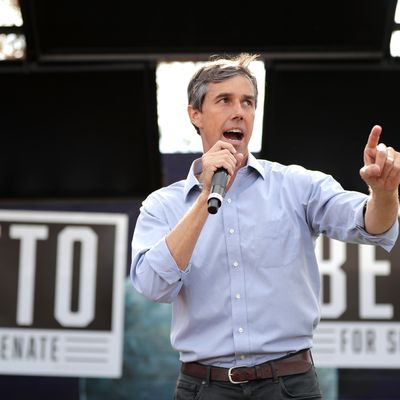 Beto O'Rourke is making his final push.
Photo: Chip Somodevilla/Getty Images
This morning in Houston, the city that is absolutely crucial to whatever chance Beto O'Rourke has of staging a shocking upset in his bid for the U.S. Senate, the candidate delivered an impassioned argument for the unpredictability of elections. Standing before a packed-in audience at the House of Blues — O'Rourke, a former bass player, is fond of appearing at music venues — the Democrat went on a long riff about "the cynics and the pundits and the pollsters and the consultants and those who get paid to read the tea leaves on these elections." O'Rourke had made his rejection of such experts' advice — he refuses to take PAC donations and keeps a skeptical distance from national Democratic Party organizations — a central selling point of his insurgent campaign against the incumbent, Ted Cruz, a Republican few gave O'Rourke any chance of beating at first.
"The consensus that we were getting from them, at least a couple of weeks ago," O'Rourke said, "was that there are a lot of excited people, there's a lot of hope right now. Folks are inspired … But does that turn into anything? Isn't Texas a red state?"
It's a good rule of thumb in politics that, any time a candidate starts attacking the pundits and pollsters, it's because the candidate is losing. Citing favorable data points — huge early voting turnout, including a nearly fivefold increase in young voters — O'Rourke spent the final week of the campaign making a compelling case for irrational optimism. But Democrats have been down this road before, memorably in 2016, when Hillary Clinton derived too much confidence, in retrospect, from strong early voting numbers. And for every data point O'Rourke cited, there was one that cut in the other direction.
In his House of Blues speech, he cited the enthusiastic turnout in Harris County, the immense area around Houston. Nearly 40 percent of the registered electorate turned out in the early voting period, twice the number that voted during the same period during the last midterm election. But turnout was even heavier in Collin County, the populous conservative area surrounding Plano, where nearly half the electorate voted early. In Texas, where a Democrat has not won statewide office in a quarter-century, an election with equal levels enthusiasm on both sides is likely to be an election O'Rourke loses.
Of course, O'Rourke is right to say that unexpected things can happen on Election Day. One thing that is eminently predictable, though, is the recriminations that are likely to fly if he doesn't end up winning. Coincidentally or not, the day before his final visit to Houston, Politico magazine published a long, scathing feature, headlined: "Did Beto Blow It?" Citing Democratic and Republican strategists, it took him to task for failing to run toward the center against Cruz, claiming that O'Rourke squandered an opportunity to appeal to moderate Republicans, instead choosing to emphasize his progressive stances on hot-button issues. As an example, writer Tim Alberta cited the famous viral video of O'Rourke delivering a heartfelt soliloquy about NFL players' rights to protest during the national anthem, reporting that the answer was actually prompted by a question from a person who worked for Cruz's top campaign adviser. The answer was maybe more pleasing to the crowds on Facebook, Alberta suggested, than to the Texas electorate.
When I talked to some of Cruz's advisers earlier this year, though, they told me that what most scared them about O'Rourke was his ability to raise huge money, seemingly effortlessly, from his devoted national following — a capacity that seems directly connected to his willingness to tap into the passions of the national resistance. And it's hard to argue O'Rourke should have followed the example of, say, Phil Bredesen, who has run a stubbornly centrist campaign against a Tea Party radical, and is lagging by an even larger margin in the polls than O'Rourke is. Ironically, O'Rourke is to some extent a victim of his stunning success. If he'd never captured the imagination of Democrats around the country, raising hopes and expectations, few would have cared about his loss.
"If we lose by ten points," says an unaffiliated Democratic strategist in Austin, who admires what O'Rourke has done, "get ready for the circular firing squad."
For one more day, at least, the future remains unwritten. At the House of Blues, O'Rourke marveled that the campaign was down to "22 hours — and we've been on the road for 22 months." He begged his supporters to take time off of work, to cut school — "you can learn that stuff later" — and to hit the streets for one more day of campaigning.
"Can a guy from El Paso, Texas — can he really do this?" O'Rourke asked, rhetorically, as he looked out over the audience. "Here's your answer, Houston."
A lone voice called out from the audience, "You better believe it!"
The crowd burst into a huge cheer. O'Rourke grinned, speechless for once, and bathed a moment longer in the spotlight shining down from the roof above.