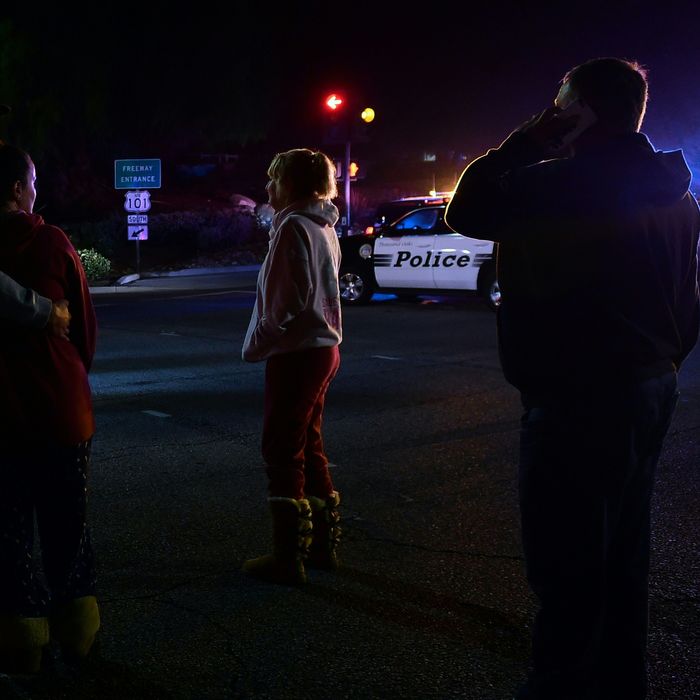 People watch police responding to the shooting on November 7, 2018.
Photo: FREDERIC J. BROWN/AFP/Getty Images
A gunman entered a bar and dance hall in Thousand Oaks, California, late on Wednesday night and fired multiple shots, killing at least 11 patrons and a sheriff's deputy. Police said the gunman was also dead when officers arrived at the scene.
Ventura County sheriff Geoff Dean said there are "multiple other victims of different levels of injuries." He added that they have no reason to think there was a link to terrorism, "but we certainly will look at that option."
"It's a horrific incident," Dean told reporters. "It's part of the horrors that are happening in our country and everywhere, and I think it's impossible to put any logic or any sense to the senseless."
Captain Garo Kuredjian, a spokesperson for the Ventura County Sheriff's Office, said the shooting at the Borderline Bar and Grill started at about 11:20 p.m. The venue, which describes itself as the county's largest country dance hall and live music venue, was hosting a "College Country Night." About 100 people were inside at the time.
Teylor Whittler described the scene as gunfire erupted. "I saw him shoot," she told the New York Times, adding that someone yelled, "Everybody get down."
"People started running to the back door," she said. Someone yelled "Get out — he's coming," and she fled as the gunman fired another round of shots.
A man and his stepfather interviewed by ABC7 Eyewitness News said they heard about a dozen shots before they were able to flee out the front door.
"He fired the first shot," the stepfather said. "And I knew it was real. My son thought it was a joke, so I pulled him down and got some cover. I looked up, and he was moving to the right. He shot the front doorman, who was just a young man. Then he shot the cashier, just a young girl."
He said the gunman, who was wearing a hat and a black jacket, then threw a smoke grenade. Eyewitnesses said people used chairs to break the windows and escape.
Chandler Gunn, 23, told the San Diego Tribune that when he heard about the shooting he rushed to the bar and called a friend who works at Borderline, who like many of the bar's regular patrons was also at the Route 91 Harvest music festival in Las Vegas when a gunman killed 58 people and wounded hundreds.
"A lot of people in the Route 91 situation go here," he said. "There's people that live a whole lifetime without seeing this, and then there's people that have seen it twice."