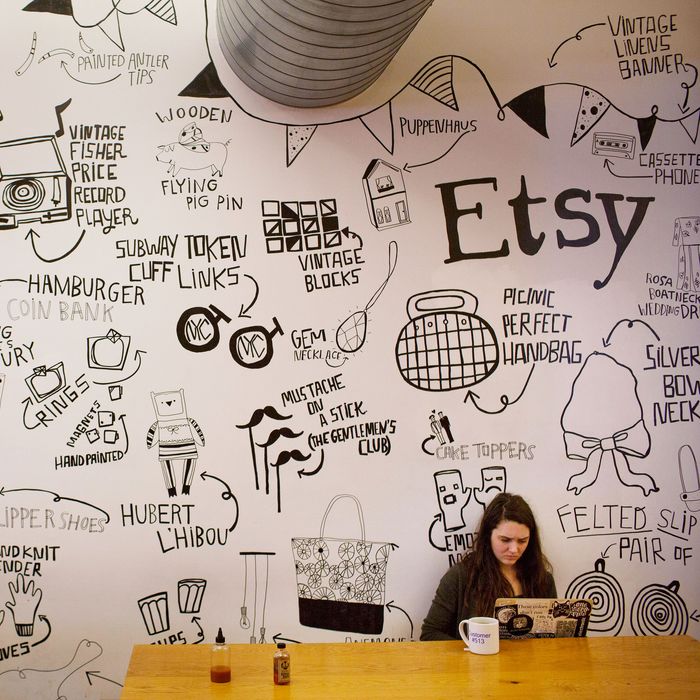 Photo: Victor J. Blue/Bloomberg via Getty Images
Last November, Etsy debuted a new, slightly dystopian mission statement: "Keep Commerce Human." For the previous five years, the massive online marketplace offering handmade goods and perfectly kitschy vintage was classified as a B Corp, valuing environmental and community standards as much as quarterly profit and growth. But under new CEO and former head at Skype Josh Silverman, the bottom line became, well, the bottom line. On his first day in May 2017, Etsy let 80 employees go; soon after, another 140 people were on their way out. Employees were afraid that company culture — prioritizing the kind of inclusivity and altruism that's often talked about in tech, but rarely realized — would change. According to one staffer, Silverman's first day felt "decidedly un-Etsy."
From a business perspective, maybe it was necessary. Etsy came out of the gate hot, with a $4 billion valuation on its first day of trading in April 2015. But nine months later, the stock was down 75 percent. Then, in October 2015 came the really bad news: Amazon was starting its own marketplace, Handmade. It was a direct challenge from a e-commerce juggernaut not known for being nice to its competition.
Within his first year, Silverman was able to right the ship, topping $1 billion in gross merchandise sales for the first time in the final quarter of 2017. And in June, the company announced a fee increase to its sellers, from 3.5 to 5 percent in an attempt to boost revenue. Though shares are currently down $10 from their high in September, the stock price is currently four times what it was when Silverman took over.
Can Etsy's banner year continue, or will the pursuit of growth alienate its artisan roster? What happens when a former unicorn known for its post-capitalist, peer-to-peer vision starts to pay attention to quarterly profit?
Buy!
In the short term, Etsy's strong third quarter, with $922.5 million in gross merchandise sales, is obviously a great sign for investors, and shows that sellers have responded well to the summer's fee increases. That third-quarter growth is up 20 percent from Q3 last year, and investors should take that as a direct sign that shoppers are staying with Etsy.
In the long run, Etsy's personal touches are what have made it a force in e-commerce, and I don't see that going away. Consumers like to be engaged, they like to shop as a form of entertainment, and Etsy really delivers that, whether it's the reviews and ratings of past customers or its clean design. There's almost a social-media element to it, too. Each individual seller has a unique online storefront — same way you walk by a store and get curious about what's in it. As a buyer, you feel connected to that storefront or you don't, and that has to deal with the collective experience that customers are having with that one store. It's entertainment throughout that entire purchase process, and no other marketplace delivers that as well as Etsy.
Etsy's strength is in connecting sellers to its buyers, and they're finding new ways to do that, whether it's events or recent pop-up shops. Whether they know it or not, everyone selling something on Etsy is working as a micro-influencer, with leverage among those people visiting their site. It's a really natural growth model, and it's going to help the community to grow from the ground up, regardless of what the C-suite is doing.
Across social media right now, people are inspired by the handmade. In a world with a lot of cookie-cutter stuff, customers want these niche items made by real-life artisans. If they can't actually make it themselves, they turn to Etsy. Boomers still have the most disposable income, but one out of four millenials are now parents, and they're turning to the handmade market with this purchasing power. Sellers that stay are going to be rewarded — that combination of convenience and quality, small-batch goods is going to go a long way. —Nicole Leinbach Reyhle, founder of e-commerce publication Retail Minded
Sell!
I've got five reasons to sell, starting with the recent increase of merchant fees this summer. The jump from 3.5 to 5 percent on each item sold can juice profitability in the short term, but it can alienate the community in the long run. Merchants weren't thrilled about it this summer — some said they would pass the fees on to consumers, which isn't a great precedent to set, although that damage hasn't set in yet, as their Q3 growth has shown.
Reason two, I think Etsy is overvalued compared to their growth expectations. They've had a very good run-up in recent years, including a huge 2018, doubling the stock price since January. That growth is worth paying for up to a certain point, but you have to look at its PEG ratio — which measures the price-to-earnings ratio relative to expected growth moving forward. Etsy's PEG is almost double that of other tech companies like Twitter or Facebook, which means they're growing quickly but it's already priced into the stock. It probably means they're overvalued.
Then there's a simple macro reason: Tech has had a pretty good run over the last five years. Relative to the S&P, it's been up as high as 54 percent — where one-year growth for the S&P has been 5.3 percent and Nasdaq 11.4 percent. Usually whole industries don't outperform like that in perpetuity.
I see longer-term threats as well. Right now I think Etsy is a superior option to Amazon Handmade for most products. They've got a better culture for it, their fees are lower, and their makers have more control. But when Amazon gets into a market, they're really willing to get into it — to hold on and change and tweak their formula until they reach success. Amazon has the patience to be competitive with Etsy, and they're the last company you want to go head-to-head with.
Finally, I think Etsy's decision to allow sellers to list mass-manufactured goods — as long as they're based on a model of their own homemade product — is going to undermine their marketplace if they don't police it well. It's been on the books for three years now, so this erosion is clearly not an overnight one. But if they don't continue to police it well, it might lose its creative advantage to Amazon. —Andrew Youderian, founder of business community ECommerceFuel
Buyer's Counterpoint
I see the fee increase as an opportunity for Etsy to reinvest in themselves, not as a grab from their sellers to boost profit. They're going to put that money back into the marketing, and use it as fuel for growth.
I don't anticipate Amazon will replace Etsy as it tries to boost Handmade. I'm not suggesting Amazon isn't going to do well — they've just opened 100 physical stores, and they can pretty much do anything — but I don't think they're going to lead the market in handmade. We haven't seen Amazon customers respond to the small-batch marketplace in the same way as they do to their other services. And Amazon's fee is triple that of Etsy's, which distances sellers. In the past two years, Etsy has doubled, or almost doubled its stock price. Shopping there is memorable and fun, with great products and the type of convenience that you need to be competitive. And they're going to stay competitive. —NLR
Seller's Counterpoint
I would agree in the short run. In the next one or two years, barring some major shift in the way that Amazon Handmade operates, Etsy is going to continue to do well. But Amazon has proven the ability to outlast competitors. They can invest at a loss for years to get to where they want to be. If they want to be competitive, they'll shake things around to get there. Maybe they lower the fees to entice Etsy's premier sellers, or change the fee structure for low-volume transactions — already, they've waived their monthly seller's fee through the end of 2019. They don't have a lot of sacred cows.
Amazon wants to be in every market. They see that higher-quality heirloom products are having a bit of a renaissance, and they want to be there if younger consumers really start to flip from buying mass-market stuff from Asia. That's Amazon, man — they're trying to be the everything store. —AY