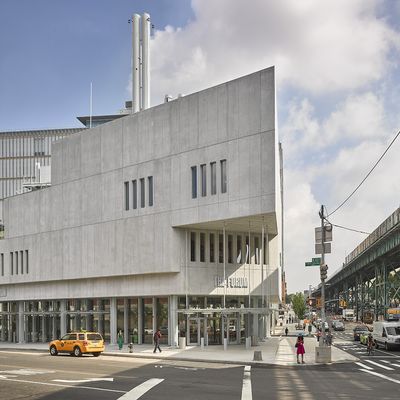 The Forum, Columbia's newest Manhattanville building.
Photo: Frank Oudeman/Courtesy of Columbia University
Columbia is feeling celebratory these days. It's built itself the first wedge of a new campus that will one day cover 17 acres in Manhattanville, a valley between two viaducts north of West 125th Street. And not just an old-fashioned bunch of buildings, either, but "a new kind of urban campus," according to the university's president, Lee Bollinger. The architect Renzo Piano waxed even more enthusiastic on opening day, announcing that henceforth Columbia would be "not just in the city of New York, but in the streets of New York." What manner of thing is this 21st-century campus, so new, so New York, so street? Behind closed doors, researchers and artists dig up inconceivable answers to immense questions. When it comes to architecture and urbanism, the university grappled with an age-old pedagogical question: How do we get the townies to like us? The answer, for now, is three conventionally Piano-esque buildings and a timid little plaza. Oh, and coffee.
The Manhattanville campus was always going to be more than an uptown outpost or a cluster of containers for advanced intellectual labor. Columbia has committed 16 years and $6 billion to expressing in architecture values of openness, good citizenship, and a welcoming attitude toward "the community" — that is, everyone who doesn't have a Columbia ID. That's partly intended to expiate the history of 50 years ago. In 1968, anger over plans to build a new gym in Morningside Park, with a separate entrance for Harlem residents, mixed with fury over the Vietnam War and combusted into student strikes and protests. The gym was scrapped but its memory remained, and, when Columbia announced plans to expand into another section of West Harlem, it was once again accused of high-handedness and gentrification. Though the university tried to project an open-armed image, it wound up securing the land through eminent domain.
Piano's mission was to execute a nifty architectural trick: design a campus for an elite university that would love to invite the whole world in but that also prides itself on excluding almost everyone. First came the Jerome L. Greene Science Center, a sleekly businesslike structure, all steel bones and glassy skin. The glass-walled ground floor contains a classroom where schoolchildren can come and learn in full view of passersby. There's also a bouldering gym with a climbing wall (offering steep student discounts) a wellness center, and an interactive exhibit on the brain. If these are the sorts of amenities that get local residents to flow en masse through the great glass doors, there's no evidence of that yet.
Next to open was the Lenfest Center for the Arts, which serves creativity so frictionlessly that graduates will spend the rest of their careers dreaming fondly of its facilities. How can a budding filmmaker ever get back to the Eden of a screening room ready for anything from their grandparents' 16-mm. home movies to the latest digital format? And any artist would covet the vast, column-free expanse of the Wallach Gallery, where exhibitions are free and open to the public.
This fall, Piano completed his trio of buildings with the Forum, gateway and gathering spot for both insiders and out. Like the new Whitney that Piano designed near the High Line, the Forum seems ill at ease on its site. Hull-shaped and battleship gray, it appears ready to cast off and sail into the Hudson River. Like the old Whitney (now the Met Breuer and soon to be the temporary Frick), it's a stepped concrete-clad block that expands as it rises. The upper floors are stingy with windows, which keeps the auditorium inside soundproof and dark, but also gives the supposedly open-armed building a glowering, bastion-like mien.
The Forum's main public attraction is a coffee shop with a wraparound transparent wall. Surely he imagined this as a ground-floor urban living room that the populace would flock to in gratitude and awe. If so, he forgot to design one. The glass perimeter makes it feel exposed — neither grand nor casual, but chilly and raw. The sidewalk's concrete pavers edge into the polished concrete floor indoors, perhaps to suggest that the glass membrane filters out weather but not people. Whenever I have been there, almost everyone was hunched over a laptop, and conversations were kept to a library murmur. I may have been the only interloper without a Columbia ID. (Full disclosure: I will have one next semester, when I teach a seminar in the architecture school.)
Maybe the secret to all that industriousness lies in the factory-like décor: a dull-gray palette with accents in fire-extinguisher red; ostentatious trusses; and a high ceiling that is a symphony of struts, ducts, vents, sprinklers, dangling light fixtures, and spray-on fireproofing. If it weren't so quiet and airy, you might think you had wandered into an ocean liner's engine room. Piano refers to the university as a "factory of ideas," and his buildings as "new kinds of machines for doing scientific research, for presenting the arts, and … for bringing people together and communicating." Yet the spaces he's designed, like innumerable lofts, art galleries, and restaurants, are not industrial so much as industrial-ish.
From the beginning, Piano promised powerful buildings that would levitate on pillows of glowing glass. "They will be floating," he said, and they do, sort of. And yet in his desire to harmonize with the muscular machine-age idiom of the viaduct across the street, he is also at pains to point out just how firmly rooted the Forum is. Each gray steel I-beam column drives down into a base secured with eight bolts and eight triangular stiffener plates; the whole thing presses like a massive square footprint into the concrete floor. Four rows of these brawny babies march through the building, two at the flanks and two inside, converging at the western prow. Piano doesn't hide the weight bearing down on the ground; he fetishizes it.
For now, the rest of the campus is bounded by plywood hoarding, and two Business School buildings designed by Diller Scofidio + Renfro are under construction. There will be more open space, including a central walkway and grand central piazza to supplement the rather grim paved square that was designed by Field Operations but conceived by Piano.
For Piano, a piazza is the ultimate urban good. He has designed them outdoors and indoors, spacious plazas and symbolic patches, always as the organizing principle in a vast range of projects. His piazza fixation began with the Centre Pompidou in Paris, where he and Richard Rogers divided the site into flamboyant structure and open space, which became a fulcrum of public life. The original buildings at the Morgan Library and Museum revolve like arms of a pinwheel around a central atrium. His latest art institution, the Astrup Fearnley Museum in Oslo, spills out onto a public sculpture green and urban beach. And his freshly unwrapped shopping mall, City Center at Bishop Ranch, in San Ramon, California, "is entirely conceived around a generous" — you guessed it — "piazza," he said.
In Piano's native Italy, the piazza is central to the idea of civic life. Scendere in piazza means to take to the streets in protest. Ci vediamo in piazza: I'll see you … in the place where I always see you. A scontro di piazza is a riot or brawl. Tutti in piazza! is the universal call to gather outdoors, no address needed. The simplest of urban forms has the most complex set of identities. It's a focal point, where people gather to eat, drink, chat, argue, fight, celebrate, commemorate, strike, play soccer, perform, beg, grumble, kill, exercise, buy, sell, steal, and sort into generational cohorts. It is usually vital, not always benign.
Piano has simplified this rich cultural reference point into a career's worth of public-ish squares, hybrid places where people have no inherent right to be. Everyone is allowed in at the management's discretion, as long as they follow the rules. The same is true at Columbia's mother campus on Morningside Heights, designed by McKim, Mead & White in the 1890s, which signals the university's exclusivity and social mission through design. Walk through regal iron gates, past a guard's booth, and you find yourself in a set of interlocked quads and walkways encircled by academic buildings. Columbia polices the heart of its campus, locks gates when it chooses, and considers some activities acceptable, others disruptive. Frisbee is tolerated; skateboarding is not.
I find the Morningside campus a pleasurable place to work and wander through, but I can understand why many would find it foreign and forbidding, a preserve of privilege where all may enter but where few belong. It is that sense of strangeness that Columbia and Piano declared they would do away with at the Manhattanville campus, and that they wound up reproducing.
The elite university occupies fraught territory in today's culture. A public trust with global reach, it also excludes all but a tiny fraction of all those who bang on its doors. Conservatives have come to see higher education as a negative force, even as they demand that colleges drop affirmative action. The Ivy League schools are all watching closely the legal case in which Harvard is desperately trying to protect its admissions policies against accusations that it discriminates against Asians. Columbia inaugurates a new arts building even as, nationally, the number of humanities and arts degrees is shrinking. The new science center tries to find its footing even as the Trump administration arms its war on knowledge and science with attempts to slash the National Science Foundation budget. A Gallup editorial recently suggested repackaging the elite college's central mission into something that would sound more palatable to pragmatic conservatives: "Putting the words liberal and arts together is a branding disaster."
Maybe no architect could answer these trends and tensions, or manage this combination of ambition and defensiveness. But Piano's solution is to answer a set of radical challenges with deeply conventional architecture and then claim that it's never been seen before. He didn't exactly invent the urban university. A few miles downtown, NYU is growing block by block, commandeering the Village and Washington Square Park as its social spaces. You might even say that its campus is not just in the city of New York, but in the streets of New York!
I am not accusing Piano of bad faith. I have no doubt that when he says his buildings levitate or pay homage to learning as an industrial process, or welcome "the community" with open arms, or represent a radical new advance in the educational urbanism, he wants all those statements to be true. Good architects get clients to swallow their bullshit; great architects believe it themselves.