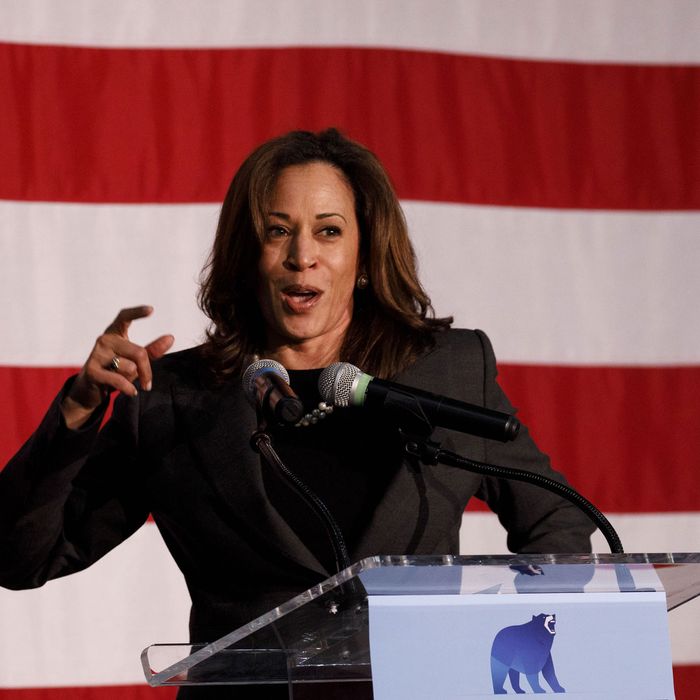 Kamala Harris.
Photo: Patrick T. Fallon/Bloomberg via Getty Images
Don't be shocked when presidential hopefuls' usual Des Moines–to–Manchester route adds a few stops in Los Angeles, Austin, and Chicago this time around.
That's because when next year's Democratic primary process gets started, it sure looks like the voting, and the all-important delegate counting, won't actually, technically start in Iowa. Instead, because of early-voting rules, the increasing popularity of early voting, and a reshuffled primary calendar, a handful of huge, diverse states could see troves of ballots returned even before some of the traditional small and largely white early-voting states do — a shift that just might herald real changes to the way Democrats nominate their presidential pick, and quite possibly the nominee's identity.
"It's not baked in yet — a lot of the conversations now are, 'Which of the first four states should I really concentrate on?' rather than 'How can I build an infrastructure that will be enough to get me through Super Tuesday?'" says David Huynh, Hillary Clinton's director of delegate operations in 2016. Now, though, "the people who are interested in running for president are going to have to basically build a national infrastructure, rather than camp out in an early state and hope that early state is enough to propel them to a win."
The nominating calendar is far from finalized, and states' early-voting guidelines could still be subject to change in the coming months, too. But early versions have begun circulating, and strategists aligned with potential contenders' teams are already starting to plan for 2020 by operating under the assumption that early voting in California — the state with the most delegates up for grabs — will start the very morning of Iowa's evening caucuses, the traditional kickoff. (Vermont's primary voting will have already begun by that point, if the current expected schedule holds.)
Usually, all the attention then shifts to New Hampshire directly after Iowa. This time, though, Ohio and Illinois could both begin their own early voting before the Granite State's day in the spotlight, and Georgia and North Carolina could start the day of New Hampshire's primary. Then the windows could open in Tennessee, Texas, Arizona, and Louisiana before Nevada's caucuses, let alone South Carolina's primary.
It remains to be seen how this shift plays out if the schedule holds — day-of voting is still far more popular than early voting in many states, and early-voting procedures vary widely from state to state, making planning complex — but with a wide potential roster of candidates, and with early voting more popular than ever before, the introduction of new paths to win delegates early in the process could significantly change the hopefuls' individual strategies. And with that massive field of candidates now forming, those strategy shifts could start playing out in the coming months. (California's primary was fairly high up on the calendar in 2008, too, but early voting has become far more popular since then, and there are far more likely candidates now.)
Last time around, Clinton built an early lead over Bernie Sanders not only with "superdelegates" — the party machers who will no longer have the same kind of say in 2020 — but by winning by large margins in southern states, often with the deep support of African-American voters. Sanders complained about the front-loading of southern votes at the time. Now, candidates could spend more time courting votes in other enormous diverse states even more, even earlier.
The fact that California delegates could be up for grabs even before Iowa's caucuses begin has been a frequent topic of discussion among some Kamala Harris supporters, and Texas's early potential delegate haul has not been lost on those trying to push Beto O'Rourke into the race. Ahead of a nationwide contest that could come down to a delegate-counting exercise simply because of the sheer number of potential candidates, the thinking goes, any marginal advantage counts.
"It won't stop candidates from doing all the early state stuff, but it changes the calculus overall," says one Democratic fundraiser aligned with Harris, who's spoken with national strategists how the calendar shift will play out. "It changes where you put your resources."
The early front-runners will still almost certainly spend significant time Iowa and New Hampshire, whose contests are usually largely about setting a media narrative rather than piling up huge delegate totals for the candidates.
But if the possible candidates see a months-long scrap for delegates ahead of them, the new calendar could rejigger how they think about spending their time and (often limited) money, whether it means paying for ads in states that wouldn't usually see such early spending, or veering from the expected path by holding rallies in Raleigh while the rest of the pack is in Las Vegas, for example.
And, because of the multitude of potential White House aspirants, it could also turn the early jockeying into a free-for-all with repercussions down the road: If long-shot candidates decide to invest in racking up early votes but then drop out before those states' formal election days, it's possible they could win delegates who might become chess pieces for remaining candidates if the process eventually turns into a scrap to get enough delegates to secure the nomination. If they want to be influential late into the process, then, it might be to their advantage to stick around longer than ever before.
"The first four [states] used to be kind of an elimination round, but because so many votes are going to be banked early, it makes sense to stay in," predicts Huynh. "It allows candidates to have a reason to stay in past the first four states. It extends presidential runs a lot longer than people are used to."