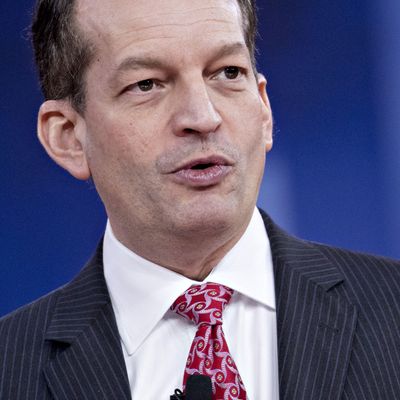 The Acosta doing business?
Photo: Andrew Harrer/Bloomberg via Getty Images
Imagine you are a U.S. Attorney, spearheading the prosecution of an alleged serial sexual abuser of children.
You have statements from dozens of self-identified victims — teenage girls who do not know each other, and yet tell virtually identical stories (even providing corroborating descriptions of the suspect's genitalia). The victims unanimously say that the suspect operated a kind of "sex pyramid scheme," in which he would:
1) Offer barely pubescent girls a lot of money to come to his house and give him a "massage."
2) Coerce them into performing sex acts during and after the massages.
3) Offer those who liked the money — but not the molestation — more pay in exchange for luring other barely pubescent girls to his home.
Your team has uncovered phone records, flight logs, and written messages that corroborate the alleged victims' claims. Someone who worked in the suspect's home has given you a sworn statement, confirming that "young girls" were constantly entering and leaving the house — and that, on one occasion, he "accidentally stumbled on a high school girl" sleeping naked in the suspect's spa.
A search of the suspect's property turned up naked photos of underage girls, written instructions for delivering flowers to a local high school, a dresser drawer full of sex toys, and loose dangling wires all over the property — the suspect having, apparently, removed all of his computer hard drives, surveillance cameras, and videos from the house shortly before your team arrived. The house perfectly matches the alleged victims (uniform) descriptions.
Meanwhile, investigators have begun to uncover evidence that the suspect was involved in bringing 13-year-old girls from Brazil and Ecuador to the United States to work as prostitutes at his sex parties. As that investigation is moving forward, the suspect's attorneys offer you a deal: The suspect will plead guilty to two state-level prostitution charges, in exchange for:
• Immunity from all related federal criminal charges — not only for himself, but also for "any potential co-conspirators'' who might have been involved in those alleged federal crimes. This provision would effectively forbid the FBI from looking any further into the evidence of international sex trafficking, and, essentially, make it retroactively legal for anyone to have conspired with the suspect to rape any of the alleged victims.
• A 13-month sentence, to be served in a private wing of a county jail – except for the six days a week when the suspect works. On those days, he will be allowed to commute to his private office, and "work" for 12 hours.
• A commitment that this agreement will be kept secret from the self-identified victims, so that they do not have the opportunity to protest the arrangement in court (even though keeping a plea agreement secret from victims is an ostensible violation of federal law).
Would you accept this plea agreement?
If you are Donald Trump's Labor secretary, then the answer is yes.
All the facts described above are not actually from a bizarre hypothetical, but rather, from the actual prosecution of billionaire hedge-fund manager Jeffrey Epstein, as detailed by a bombshell investigation from the Miami Herald. In 2008, then–U.S. Attorney Alexander Acosta agreed to derail an active FBI investigation into a sex-trafficking ring — and let a man who was transparently guilty of molesting and/or raping dozens of underage girls serve a 13-month sentence (the Palm Beach County Sheriff's Office then approved his 12-hour-a-day, six-days-a-week work-release arrangement). Acosta would later attribute the leniency of the agreement to, in part, harassment from Epstein's high-powered legal team — which, according to the Herald, hired private investigators to dig up dirt on the billionaire's victims, on the police officers investigating Epstein's crimes, and on federal prosecutors.
But emails and documents obtained by the Herald suggest that the relationship between federal prosecutors and Epstein's team was often more collaborative than adversarial:
It's clear, from emails and other records, that prosecutors spent a lot of time figuring out a way to settle the case with the least amount of scandal. Instead of charging Epstein with a sex offense, prosecutors considered witness tampering and obstruction charges, and misdemeanors that would allow Epstein to secretly plead guilty in Miami, instead of in Palm Beach County, where most of the victims lived, thereby limiting media exposure and making it less likely for victims to appear at the sentencing.




…The email chain shows that prosecutors sometimes communicated with the defense team using private emails, and that their correspondence referenced discussions that they wanted to have by phone or in person, so that there would be no paper trail.




"It's highly unusual and raises suspicions of something unethical happening when you see emails that say 'call me, I don't want to put this in writing.' There's no reason to worry about putting something in writing if there's nothing improper or unethical in the case,'' said former federal prosecutor Francey Hakes, who worked in the Justice Department's crimes against children unit.
Conspiracy theorists often fantasize about nefarious, elite cabals that sexually abuse and traffic children with impunity, because their secret, private power supersedes that of all national governments.
It is hard to examine the facts of the Epstein case and not wonder if those folks in the tin-foil hats aren't onto something. Epstein had no shortage of powerful friends, including Bill Clinton, Donald Trump, Prince Andrew, and Alan Dershowitz — all of whom, at various points, frequented planes and properties that Epstein allegedly used for sexually abusing girls, sometimes with other men.
At least some of Epstein's powerful friends appear to have been aware of his crimes. For example, the current president of the United States told New York Magazine in 2002, "I've known Jeff for fifteen years. Terrific guy. He's a lot of fun to be with. It is even said that he likes beautiful women as much as I do, and many of them are on the younger side. No doubt about it — Jeffrey enjoys his social life."
One of Epstein's alleged victims, Virginia Giuffre, has claimed in court papers that she was recruited into the billionaire's child sex ring when she was 15 — and working as a towel girl at Mar-a-Lago. She also claims that Dershowitz and Prince Andrew participated in her sexual abuse. The star attorney and British royal have vigorously denied those allegations.
Still, the incomprehensible leniency of Epstein's plea deal — and the extraordinary provision immunizing any unnamed co-conspirators who participated in his trafficking ring from federal charges — both invite the dark suspicion that federal prosecutors felt compelled to protect an individual, or individuals, who were even more powerful than Epstein.
The Herald floats an alternative explanation for the prosecutors' behavior — but it's less than satisfying:
The Herald learned that, as part of the plea deal, Epstein provided what the government called "valuable consideration" for unspecified information he supplied to federal investigators. While the documents obtained by the Herald don't detail what the information was, Epstein's sex crime case happened just as the country's subprime mortgage market collapsed, ushering in the 2008 global financial crisis.




Records show that Epstein was a key federal witness in the criminal prosecution of two prominent executives with Bear Stearns, the global investment brokerage that failed in 2008, who were accused of corporate securities fraud. Epstein was one of the largest investors in the hedge fund managed by the executives, who were later acquitted. It is not known what role, if any, the case played in Epstein's plea negotiations.
Generally speaking, American prosecutors do not take corporate securities fraud more seriously than serial child molestation and sex trafficking. But whatever the motivation behind Acosta's decision, his acceptance of Epstein's plea agreement surely disqualifies him from leading a federal agency responsible for combating sex trafficking.
Anyhow, this summary only scratches the surface of the Herald's incredible investigation, which is worth reading in full. You should also check out New York Magazine's contemporary reporting on the investigation into Epstein. Although, be advised: Reading about Jeffrey Epstein for longer than 45 minutes may lead one to conclude that 4-chan posts about "Pizzagate" paint a more accurate picture of the American ruling class than, say, all those uplifting speeches at John McCain's funeral.