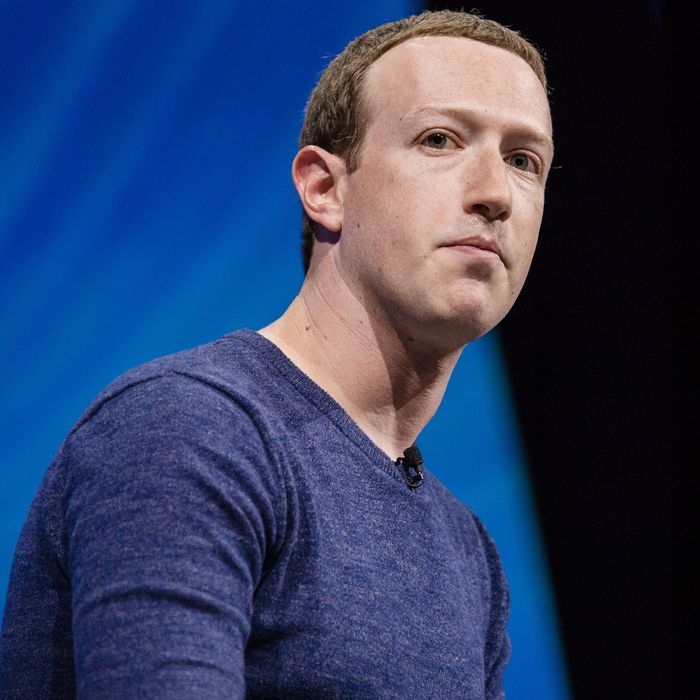 Mark Zuckerberg.
Photo: Marlene Awaad/Bloomberg via Getty Images
Facebook is on the defensive again, after yet another unflattering report about how the company is handling the ever-increasing scrutiny and criticism aimed in its direction. Yesterday, the New York Times explained how Facebook had contracted a conservative consulting firm called Definers Public Affairs and former Jeb Bush aide Tim Miller to spin flattering news about Facebook and unflattering news about its competitors, such as Google and Apple.
That Facebook would hire a PR firm to protect itself is not that surprising. Mark Zuckerberg described it as a "typical D.C. relationship" in a conference call on Thursday and said he only learned about Definers from the Times' report. If Definers is a "typical" D.C. press shop, though, maybe we should be concerned.
Here is how the Times described its work, publishing posts critical of Apple and Google and downplaying the Facebook/Russia controversy:
NTK is an affiliate of Definers, sharing offices and staff with the public relations firm in Arlington, Va. Many NTK Network stories are written by staff members at Definers or America Rising, the company's political opposition-research arm, to attack their clients' enemies. While the NTK Network does not have a large audience of its own, its content is frequently picked up by popular conservative outlets, including Breitbart.
Regarding the public discourse over privacy in the digital age, Facebook is "happy to muddy the waters," Miller told the Times.
Using a third party to push your line of argument into the public sphere without having it easily traced back to you is, like I said, not a novel concept. But it is something that Facebook is actively engaged in preventing its users from doing.
When someone else does this on Facebook, Facebook calls it "coordinated inauthentic behavior," and it has made a big show of shutting down such operations from Russia and Iran in recent weeks (Thursday's call was intended to be not about the new Times report but about Facebook's continuing efforts to police its user base). Here is what Facebook said of the Iranian effort it took down.
The Page administrators and account owners typically represented themselves as US citizens, or in a few cases UK citizens — and they posted about politically charged topics such as race relations, opposition to the President, and immigration. Despite attempts to hide their true identities, a manual review of these accounts linked their activity to Iran.
NTK similarly masks its origins while posting about "politically charged" topics. It does not identify itself as related to Definers or America Rising in a clear way. Its "About" page does not mention the other firms, though the three named staffers do identify themselves as Definers-affiliated in their linked Twitter profiles (hardly upfront). Additionally, none of the articles on NTK are bylined by actual people; they are all from one author, "NTK Staff."
A staffer told NBC News that NTK is Definers' "in-house fake news shop," meaning that NTK's purpose is to publish supposedly unbiased stories on behalf of clients in the hopes of having them picked up by larger, more established outlets like Breitbart. Facebook might not have explicitly paid for NTK's work, but NTK "would run positive stories about clients 'at the end of the day' simply to 'fill up space' on NTK Network's website and feed, even if they didn't specifically pay for NTK's suite of services through Definers."
Using un-bylined posts masquerading as news articles to push the talking points of paying clients into the news cycle through a website that does not readily identify itself as the subsidiary of a political consulting firm sure seems like "coordinated inauthentic behavior," but that's just my interpretation. Maybe it is, as Zuckerberg said, "typical D.C."
On a conference call yesterday, I asked Zuckerberg how the tactics used by Definers and those practicing "coordinated inauthentic behavior" differed. Here is his full answer:
I need to understand it in more detail. One of the things that people were saying was that Definers was spreading misinformation. When I asked our team about this after learning about this yesterday, from what I can tell, that isn't true. We certainly never asked them to spread anything that's not true, that's not how we want to operate. And we don't have any detail now that would suggest that they have. So I don't think that the analogy that you're making makes a lot of sense. But, look, in general, I think that a lot of D.C.-type firms might do this kind of work, and I understand why other companies might want to work with them, but that's not the way that I want to run this company. So when I learned about this, I looked into it. I'm certainly going to follow up and do a broader evaluation to make sure that I fully understand how this happened and that we have a better sense of the different firms that we're working with going forward.
That Zuckerberg wants to avoid "D.C.-type firms" and their tactics in the future is nice, but it doesn't say a whole lot. He claims to not even know who hired Definers and said repeatedly that he learned about their work from the Times. His aversion to this stuff doesn't matter if he's not calling the shots.
Primarily though, Zuckerberg seems to think that I was implying that Definers put out false information — but that wasn't the question. Definers milled out accurate (or at least, subjective, and therefore, not untrue) information that helped burnish Facebook's image and criticize its opponents. Similarly, look at the content Facebook has taken down for "coordinated inauthentic behavior" and you won't find a lot of blatant falsehoods.
Here are a couple of typical removed posts from Facebook's own reports on the issue.
This is not misinformation. These are posts meant to push a certain point of view, published by people misrepresenting their identities, motives, and goals. Again, the question is, how is what Facebook's consulting firm did to push talking points different from the "coordinated inauthentic behavior" of Iran or Russia? I posed a more expansive version of the question I asked Zuckerberg to Facebook's comms team, but have not received a response as of the time of publication.
Meanwhile, Facebook is spinning this by denying something that the Times report never asserted. "We absolutely did not pay anyone to create fake news," Facebook COO Sheryl Sandberg told CBS News. "We're doing a thorough look into what happened but they have assured me that we were not paying anyone to either write or promote anything that was false. And that's very important." That's all well and good, but it's also a technicality. An Instagram page run by a Russian troll factory posting a picture of a pride parade isn't fake news either; it's just signalling.
When Facebook took down American pages in October for "coordinated inauthentic behavior" it had this to say: "Of course, there are legitimate reasons that accounts and Pages coordinate with each other — it's the bedrock of fundraising campaigns and grassroots organizations. But the difference is that these groups are upfront about who they are, and what they're up to." A pillar of Facebook's rule system is that people represent themselves honestly. It's why the company requires users to supply their real names and penalizes those who don't — in most cases. Facebook doesn't seem to have any issue, for instance, with a major oil-industry trade association using a shell organization to mask who is actually paying for the ads it runs. Maybe it's only an issue when the check doesn't clear.
That Zuckerberg would say of Definers' worker, "I think that a lot of D.C.-type firms might do this kind of work and I understand why other companies might want to work with them," shows that he doesn't quite grasp the problem here. "Coordinated inauthentic behavior" cannot be a threat that must be stomped out on Facebook and also a "typical" public-relations tactic that Facebook pays for to manipulate the news cycle.
Perhaps the only difference between Definers and the "coordinated inauthentic behavior" banned by Facebook is that only one of them happened on the social network itself. That someone at Facebook thought that using these same tactics to protect the company was a good idea is another piece of evidence for poor judgment and weak leadership at the top of the company's hierarchy.
Update, 11:07 a.m.: This piece has been corrected to more accurately describe Tim Miller's relationship with Definers. He says he is "an independent contractor who partners with Definers on clients such as Facebook."